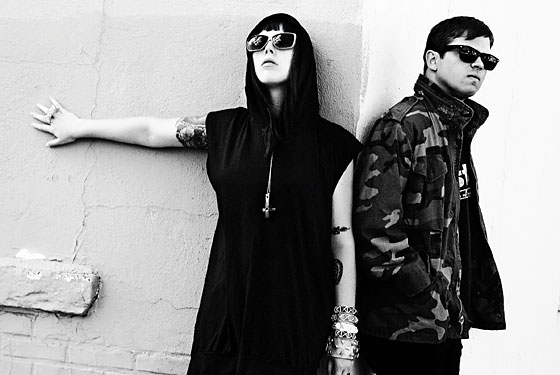 The inaugural Hard NYC festival on Governors Island July 24 will feature hot topic M.I.A. as well as a lineup of emerging hip-hop and electronic acts with her endorsement (a few appear on M.I.A.'s label, N.E.E.T.). Here are the four you shouldn't miss.
SLEIGH BELLS
Who: New York–based noise-pop duo Derek Miller and Alexis Krauss, who were introduced by Krauss's mother. "Derek was working at a Brazilian restaurant in Williamsburg, and my mom and I were sitting outside having some drinks," Krauss says. "She's super-friendly; Derek's super-friendly. They struck up a conversation." Miller had been living in New York for four months, working crap jobs, writing songs, and searching for the perfect girl singer to match the sound he was developing in his head. "When I told all my hater friends back home in Florida, 'I'm going to go to New York,' they were like, 'How are you going to find a singer?' I said, 'I'll ask everyone I meet.' And I literally did that." As a teenager, Krauss had been cast as the singer and bassist in a prefab all-girl pop band, and she later worked as a for-hire vocalist, all of which left her disillusioned with the industry; she abandoned music to become a teacher. When Krauss's mom volunteered her as Miller's vocal muse, she was horrified. "I said, 'Oh, Mom!' and gave her one of those looks." But a week later, Krauss was sitting next to her future bandmate on a Brooklyn park bench listening to an early version of "Infinity Guitars," Sleigh Bells' breakout single. "My immediate impression was, 'Wow, this is refreshing; I haven't heard anything like it.' "
Sounds Like: The band's debut, Treats, is a madcap collection of loud, violently joyful, mostly three-minute songs that layer Krauss's pitch-perfect bubblegum vocals over Miller's thrashing pop structures. "In the beginning, I was writing everything and producing to an absurd degree," Miller recalls. "Down to, like, syllables." Most collaborators would find this level of micromanagement oppressive, but not Krauss. Miller says he could throw the most abstract ideas at her, like " 'It's gotta be more … sparkly,' and she'd know exactly what I meant."
Bring on the Backlash: Sleigh Bells have the kind of Hot New Band pedigree people love to hate. They're connected: Spike Jonze played Sleigh Bells for M.I.A., who signed the band to her label, N.E.E.T., and hired Miller as a producer on her new album. They're successful and critically adored: Treats reached the Billboard Top 40 and was well reviewed. "I'll read stuff where people are like, 'I can't wait for this band to go away,' " Miller says. "And I just think, 'I feel really bad for you, because we're just getting started.' "
The One Thing You Must Bring to Their Show: Your mojo. "People getting laid is our No. 1 goal," Miller says. "You can come to see us and maybe you're not even facing the stage because you're dancing with somebody and you're both in such a good mood because the music is good and you go home together. For us, that's mission accomplished."
NINJASONIK
Who: Cheeky New York–based rappers who met skateboarding, then connected over deeper pursuits. "We both like [women] and alcohol," says Telli Gramz (Telli Federline) about his bond with D.J. Teenwolf (Kevin Ross; a third member is named Reverend McFly, so there's a whole Michael J. Fox thing going on). "We're just representing us," Gramz explains. "There's no off switch. Tonight I'll probably go hang out, drink some more, go see a show. Every bar down here is home."
Sounds Like: So-stupid-it's-smart electro-rap. Their underground hit "Art School Girls" mixes appealing beats with tequila-fueled utopian ideology and a sleazy, Ol' Dirty Bastard–inspired vibe (song titles include "Somebody Gonna Get Pregnant"). "Think of Beastie Boys 'Fight for Your Right to Party'—just think of that video, but in live streaming and not in the eighties," says Teenwolf, "and everybody is getting along. We've got hood kids, punk kids, alternative kids, nerd kids, and there's no 'I don't chill with those guys' " attitude, which springs directly from the skateboarding ethos.
The Fans: Are not unlike the band. "On my birthday I got a toilet seat with condoms on it," Gramz says. "But I got so wasted I lost it."
The One Thing You Must Bring to Their Show: "Your PMA"—that's positive mental attitude—says Teenwolf.
DIE ANTWOORD
Who: Flamboyantly attired, trash-talking South African rap trio consisting of lanky team captain Ninja; pint-size, Care Bear–voiced Yo Landi Vi$$er; and D.J. Hi-Tek. (Vi$$er has been in the news lately as director David Fincher's dream girl for his American adaptation of The Girl With the Dragon Tattoo.) Ninja and Vi$$er both grew up in Port Elizabeth and ended up in Cape Town. Ninja started writing rhymes at 14, inspired by a rap scene in the eighties hip-hop flick Breakin'; Vi$$er fell into rapping through a friend "who was really good at making beats. He would say, 'Come say that cute thing into the mike,' and he would make it sound really cool without me having to do anything." Ninja recruited her five years ago. "I trained under Ninja," she says. "Ten push-ups every day at five in the morning. That's Ninja rap training."
Sounds Like: Nothing you've ever heard. The two M.C.'s rhyme in a mesmerizing combo of accented English, the occasional Dutch, and their native Afrikaans. Their rawly absurdist lyrics can make you laugh out loud.
The Master Plan: "We're only doing five albums," Vi$$er says. And they're serious about that: Ninja has a series of tattoos that plots out their five albums, some as yet unrecorded. Their debut album, $O$, will be released in America by Cherrytree/Interscope Records on October 25. "Our second," says Ninja, "will be called Ten$ion; the third, Yo-Landi's first solo album, Voice;and the fourth, my solo album, will be Dominator." The fifth's title is still a secret, but the two intend on releasing their solo efforts on the same day. "It's a battle to see who sells more," says Ninja.
The Fans: They can be a little scary. One of Die Antwoord's songs, "Fishpaste," includes the phrase jou ma se poes, slang for "your mother's vagina," says Ninja. "It's a hard dis, a ghetto dis." According to Vi$$er, "some guy in the Netherlands tattooed it on his arm and sent us a picture. We were like, Jesus Christ!"
RYE RYE
Who: Nineteen-year-old Baltimore rapper who grew up in the projects, watching MTV and mimicking Aaliyah and Missy Elliott. Rye Rye (Ryeisha Berrain) planned to become a choreographer or backup dancer but (M.I.A. producer and Baltimore heavyweight) DJ Blaqstarr persuaded her to try rapping. "He was a friend of my sister's, and they were on the phone when I was singing a song I had wrote," she says. "He asked if I knew how to rap and I was like, no, because I was shy. But then I rapped in his answering machine."
Sounds Like: Playful, celebratory summer dance jams. DJ Blaqstarr's "Shake It to the Ground," featuring Rye Rye, showcases an innocent naughtiness that she says you'll hear more of on her debut record, Go! Pop! Bang!, out in September.
She's Young, but … In the past year, Rye Rye gave birth to her first child (a daughter, Kennidi) and received word, while on tour in Europe, that the father had been paralyzed by a gunshot wound. "We're still together. I try to keep him happy," she says. "I have been through a lot in the last year," she adds. "I've been thinking about doing a serious song, like a soundtrack to my life, but I feel like it's not needed right now. You have moments where you sit and try to figure out why it happened and how it would be if it wouldn't have happened, but mostly I look at it like, it's life and it's done and you just have to move forward."