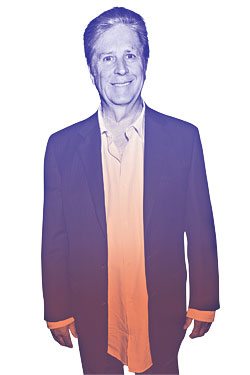 H ard-core Beach Boys fans—a more high-strung bunch than you might expect, what with all those good vibrations—are about to get rained on. "No," Brian Wilson says flatly when asked about cousin-bandmate-antagonist Mike Love's assertion that Wilson would rejoin the band for a 50th anniversary reunion tour.
But never mind. The surf-sound mastermind has landed a new collaborator, and he's proving considerably easier to work with: George Gershwin. Wilson's new record, Brian Wilson Reimagines Gershwin, may be the summer's most stunning mash-up, a marriage of two of popular music's most influential and well-loved composers—New York sophistication meets SoCal rapture—that casts both in a new light. Tackling everything from standards ("It Ain't Necessarily So," "Someone to Watch Over Me") to little-known rarities, Wilson has created gorgeous and unexpected arrangements that strip away decades of familiarity. "They're unlike anything I've heard before," says Adam Gershwin, George and Ira's great-nephew, who helps manage George's estate. "But I would expect nothing less from Brian."
Wilson was around 5 years old when he first heard "Rhapsody in Blue." "All I remember is I loved it," he says. And when he began writing his own music, it was Gershwin who "inspired me to write good harmonies." Adam Gershwin believes his great-uncle and Brian to be kindred spirits. "They each had success early in their careers, and in both cases they not only transcended the fairly limited genres they were working in but expanded into a much wider range of musical expression, with 'Rhapsody in Blue' and 'Good Vibrations.' " Of course, they also both collaborated closely with siblings—though, as Adam notes, the similarity ends there. "I'm not sure Brian had quite the same relationship with Carl and Dennis that George and Ira did," he says of the Wilson clan's troubles and fallout.
Wilson began the project with a careful study of Gershwin's catalogue, including more than 100 forgotten or unfinished pieces, which he listened to over and over until he got to what he believed to be each composition's essence. "On 'I Got Rhythm,' I wanted to make it sound like that guy really loves that gal," explains Wilson, who, after years of seclusion, has been expanding his public appearances for the past decade. "Or on 'Summertime,' I wanted to make it sound like it really was about summertime. I tried to put so much emotion and feeling into it, to really do justice to the music, so people would think, Hey, Wilson really knows what's going on with Gershwin." To illustrate his point, he breaks into song, which is how he has always communicated best. "I loves you Por-geee, don't let him take me," he croons. Even at 68, his voice is redolent with innocence and longing. "Don't let him handle me, and drive me mad … "
Brian Wilson Reimagines Gershwin
Disney Pearl Series, $13.98.