Photographs by Thomas Prior
At noon on a sunny Friday in February, an orderly procession of vacationers is streaming through the cavernous, carpeted lobby of the Carnival cruise line's docking area in the Port of Miami. Included are the sort of people you'd expect on a three-day trek to the Bahamas and back: neat groups of slow-moving retirees, a mother and daughter in matching pink visors, giddy Hispanic college kids. And then there are those you might not expect: a line of what look like refugees from Williamsburg—pale, tattooed twentysomethings in skimpy vintage dresses and skinny jeans.
A few are carrying guitar cases, including the Black Lips, a garage-rock band from Atlanta. Once onboard, they settle at a back table in the cafeteria, where the three-day nonstop buffet has already begun. It's week one of the epic Charlie Sheen media blitz, and drummer Joe Bradley is discussing the particulars: "People are just haters," he says. "He's partying, having a great time, writing $30,000 checks. God bless him." "They could have kept the show going if they wanted," adds guitarist Cole Alexander. "The show was doing great." The conversation meanders, then settles on women. "I see hipsters all the time," says bassist Jared Swilley. "I wanna hook up with a normal girl." Two attractive possibilities hover near the table. A waiter comes by, pushing the day's tropical-drink special. No takers. Cassie Ramone, the guitarist for the Brooklyn band Vivian Girls—in a pair of notably snug black jean cutoffs—intently piles fruit onto her tray. The Bruise Cruise, the world's first-ever indie-rock cruise, is setting sail.
That the words indie rock and cruise would be contained in one sentence might strike music purists as the height of incongruity, even hilarity. Cheesy hair-metal bands, classic rock, jam bands—sure. But independent music was born as an alternative to all that; it came built with snooty elitism. Yet consider the recent Grammy Awards, where Arcade Fire—which records on the long-running North Carolina independent label Merge—won Album of the Year. Along with peers like Vampire Weekend and Band of Horses, they regularly shift as many units, and play the same coveted spacious venues and late-night talk-show spots, as their major-label peers. The division between indie rock and rock crumbles a little more every day. "Fifteen years ago, a lot of bands would have scoffed at this," says Michelle Cable of Panache Booking, an organizer of the cruise along with Jonas Stein, front man for the band Turbo Fruits. But "every band we asked said yes."
The idea came from Stein. "My pops used to work with Vince Neil's Motley Cruise," he says. "I went on a few when I was younger. I thought it would be cool to do a music cruise with bands that I was friends with and liked." Cable, a dedicated booster of small bands, is thrilled to be giving them exposure and income as the music industry combusts.
Only 375 of the 2,000 passengers onboard the Imagination—a sort of floating Atlantic City decked in neon—are Bruisers. Everyone gets the same food (college-cafeteria quality), but entertainment for the majority of the passengers is traditional cruise fare, like hip-hop dance classes and hairy-chest contests. For the Bruisers, each of whom paid $615, the draw was nine indie bands—including the Lips, Vivian Girls, and Surfer Blood (the relatively big names) and up-and-comers like Jacuzzi Boys, Ty Segall, and the Strange Boys.
The first show begins at 5:30 in the Xanadu Lounge (the Punchline Cellar, a comedy club, between sets). The cavernous room dwarfs the 100 or so people huddled by the stage, gamely shimmying with Thee Oh Sees' manic noise-pop. One of the bartenders—Nurbetty from the Philippines, according to her name tag—pogos between orders. Mariah and Jeremy, a Michigan couple in their thirties, are here on a belated honeymoon. The couple consider the Bruise Cruise concept "pretty genius," despite some sticker shock over the $7 beers: "I could get, like, seven shots of Jameson for that in Detroit," says Mariah.
Another passenger, a young woman, has a theory regarding her fellow Bruisers. "Counterintuitively, it's a hipster's wet dream," she says. "Hipsters live a self-conscious life. Going on a fucking embarrassing indie-rock cruise? It's like being perpetually aroused. It's like walking down Bedford Avenue, strutting, for three days straight. In the Caribbean."
Later, in the Pride Dining Room, there's notable excitement over the free bottles of twist-off red wine. The guys in Turbo Fruits play a drinking game; Marcos from Surfer Blood already has his shirt off. At one point, in a ritual that will be repeated throughout the trip, someone on the intercom leads the 40 or so Southeast Asian waiters in a dispirited dance routine, this time to Flo Rida's "Low."
On Saturday morning, after a late night in the hot tubs on the "adults only" Serenity deck, most of the Bruisers sleep through breakfast. The boat will dock in Nassau for the day, and the Black Lips have decided to take advantage of the trip and shoot a music video for their song "Go Out and Get It!" They find an empty stretch of beach, and their two-man crew starts shooting the band's synchronized swimming. During a break, Swilley says, "We've basically been on vacation for ten years. In high school, this teacher told me and Cole we'd have to be mechanics. But now I make more money than all my angry friends that went to college." He tells a story about doing lines in Kid Rock's hotel room and claims Kid made everyone watch a video of a country-music star shooting at pigs.
That night, the shows are happening on land, in a place called Señor Frog's, a chain restaurant with outlets in various spring-break locales. The walls are plastered with sayings like COME AND CHIMI YOUR CHANGA. The kitchen is pumping out chicken wings and potato skins. In between bands, the host hops onstage to dole out shots straight from a bottle and berate people into doing the Stanky Legg. The frat vibe is overpowering, but the Bruisers assimilate admirably.
Out back, the bands smoke between sets, near a clown fashioning balloon hats. I run into Cassie Ramone and wonder if, by participating in the cruise, she's setting herself up to be mocked. She swats the question away. "Maybe because my parents are immigrants, maybe because I grew up poor, but I love mid-twentieth-century versions of luxury," she says. "That's why I love ranch houses with carpeted floors and low ceilings and venetian blinds. And that's why I love the cruise."
The night ends with a raucous Black Lips set, the band nearly tottering off the edge of the stage into a crush of fans. "We're in the capital of date rape," says Swilley between songs. "So don't date-rape anyone, because it happens too much here." On the way out, I accidentally make eye contact with a man who has a woman's bare breast in his mouth.
Sunday morning, not terribly long after a 4:30 a.m. game of Marco Polo, the Black Lips are wrapping up their video shoot with a gaggle of eager bikini-clad volunteers on the deck. Kickball Katy of Vivian Girls is getting a "Drunk and Hap-py" chant going that eventually morphs into the chorus of LMFAO's "Shots." Joe Bradley is mashing a soft-serve ice cream into his face. Two well-tanned women in their sixties, Shirley and Loma, observe from the side. "Is this the Bruise Cruise?" Yes, I tell them. "What … what is a Bruise Cruise?" I explain, then ask them if they're bothered by what they're seeing. "No. I like weird people," says Shirley. She points to one guy: "I like his green socks."
Swilley decides he wants to throw his bass overboard for the video, and everyone quiets down, watching for security guards. "I'll go distract them with my boobs," one girl offers. Swilley chucks it, getting impressive distance, easily clearing the lower deck. Which reminds Surfer Blood's drummer, TJ, of his only complaint so far—that skeet shooting from cruise ships is no longer legal: "I'm just pissed I can't shoot a gun off the back of the boat." Eventually, a big Scandinavian-looking guy in a blinding white officer's suit breaks things up; he looks more bemused than irritated.
Later in the afternoon, I run into two kids, Andy and Chris, who've been offering stick-and-pokes—homemade, prison-style tattoos—from their cabin. "Its really easy, man," Andy explains. "You take a needle, you wrap it—ideally in thread, but we used dental floss 'cause we ran out—just until you have the little bit poking out that you want to go into the skin." Adds Chris: "We had a sign that said FREE STICK AND POKES on our door, and two guys in uniforms came by and were like, 'Dude, you can't be doing this.' " Chris hadn't gotten his yet because Andy is too drunk. "The thing is, you catch him in the morning, he's shaky. You get a couple of drinks in him, he's perfect." A satisfied customer shows me Andy's work: a rudimentary sailboat on his ankle, in honor of the Bruise Cruise.
The last show of the trip is supposed to be Quintron and Miss Pussycat's odd organ-pop in the Xanadu Lounge. But later that night, an informal set pops up in Mirage, the piano bar. Joe Bradley, in a tuxedo, is attentively tinkling the ivories. The tiny room fills up quickly, and through the doors and the heavy cigarette smoke, I can see Swilley and Kickball Katy making out in the glass elevator. So much for the normal girl.
Almost everyone who's asked, rocker and civilian alike, gives the Bruise Cruise a positive review. "It exceeded my expectations a millionfold," says Ryan Sambol of the Strange Boys. A week later, Cable and Stein tell me that Carnival officials were just as enthusiastic; they're already planning Bruise Cruise II.
See Also:
More Photos From
the Bruise Cruise
Vivian Girls Photo: Thomas Prior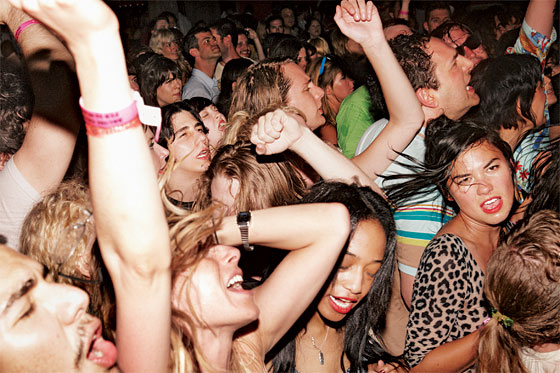 Marcos Marchesani of Surfer Blood Photo: Thomas Prior
Turbo Fruits Photo: Thomas Prior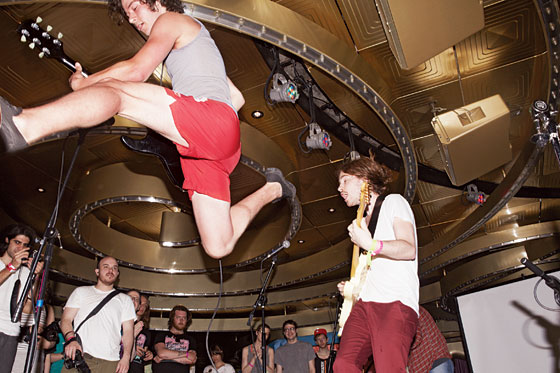 Emcee Ian Svenonius Photo: Thomas Prior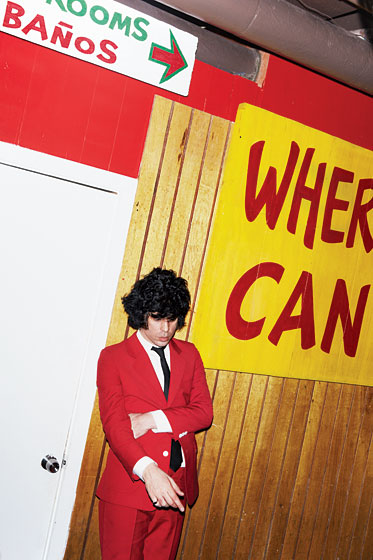 The Black Lips Video Shoot Photo: Thomas Prior