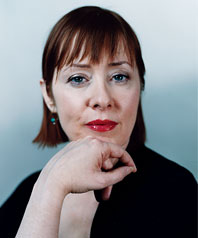 On Labor Day weekend in 2001, Suzanne Vega fell off her bicycle and broke her arm, just as she was rehearsing to go on tour in support of a new album. She could not yet have known that this—pathetic as it was—would turn out to be the least of her troubles.
Vega's youngest brother, Tim, worked at the World Trade Center. And though he was not there on the day that the Twin Towers were destroyed, he lost his job at the Lower Manhattan Cultural Council—and his very tenuous foothold in life. Tim, an alcoholic since his teens, drank himself to death in the eight months that followed the terrorist attacks. Not long after her brother's death, Vega, whose record sales were in decline, was dropped by A&M, the label she'd been with since her 1985 debut. Shortly after that, she fired her manager, divorced her husband, and sank into a depression. The only thing that got her out of bed every day was the fact that she—a single mother raising a child alone in Manhattan—had to feed her daughter and get her off to school in the morning. "For a while there," she says, "it was no manager, no record deal, no songs, no boyfriend, no husband. What am I doing here?"
This week, on July 11, Suzanne Vega turns 48. Last year, she got married to the civil-rights attorney Paul Mills, an old flame who proposed to her over twenty years ago, when he was more popularly known as Poez, the street poet who performed in Washington Square Park in the seventies and eighties. She has hired a new manager, Michael Hausman, the man who helped pull Aimee Mann's career out of a major-label tailspin. Vega signed a deal with Blue Note, the legendary jazz label that now also brings you artists like Norah Jones. And after more than six years, Vega's latest album, Beauty & Crime, will be released on July 17. "I have great expectations for this record as a career changer," says Bruce Lundvall, the president and CEO of Blue Note. "It's an important one for her. Six years is a long time in the music business."
One scorching Sunday afternoon in June, I meet Vega for a late brunch at a bistro on 79th and Amsterdam, a dozen blocks south of the apartment she shares with Mills and Ruby, her 13-year-old daughter from her first marriage, to music producer Mitchell Froom. She arrives in black pointy flats, Capri pants, and a silvery gray camisole. Vega is well preserved. She looks like she could be Macaulay Culkin's older, wiser sister, with her big, doleful eyes, porcelain skin, and poker-straight pageboy. She strikes me as shy and tentative—still a bit fragile. "In many ways I think New York has recovered and I have recovered," she says, methodically poking around in her niçoise salad, "but in some ways it's always kind of there under the surface."
This is actually not the first time we've met. Almost ten years ago, I went on tour with Ani DiFranco for a profile for Spin magazine, and after a week and a half on the bus I wound up in DiFranco's hometown of Buffalo, where she was headlining a festival—and Vega was opening for her. The two women had known each other for years, and it was fascinating to watch them interact, especially on an occasion when Vega, who had sold millions more records, was opening for DiFranco.
It's not easy to remember what a big deal Vega was at the beginning of her career. ("I only felt like the queen of things for about eight months," she jokes.) Her first album, Suzanne Vega, sold nearly 2 million copies worldwide, and her follow-up, Solitude Standing, produced two of the most surprising hits of that decade: "Luka," a childlike song about child abuse, and "Tom's Diner," a spare spoken-word ditty that was remixed by no fewer than 25 dance-music producers around the world and turned Vega into a very unlikely genre-busting international sensation. That album went on to sell nearly 5 million copies worldwide. But after her first two successes, she had been losing currency, falling off the radar. You could practically hear her shrinking backstage in Buffalo.
Vega, I wrote in Spin, had been "compared to Dylan, touted as the eighties savior of folk music in Rolling Stone … But what happened to Vega? Nothing, it seems. After the rush of her first two albums she's had almost no impact whatsoever. She pulled back when fame came calling." In the next issue of Spin, they published an angry letter from Vega in which she took issue with a few things I'd written, particularly the notion that she had "pulled back." "Did I?" she wrote. "How? By launching myself on three more world tours and releasing as many albums to excellent critical acclaim? I don't think so. Celebrityhood came calling, with all the cheap histrionics it thrives on—and that I hate. I prefer to be judged by my work alone. So: Fuck you."
She was right in some ways. Her next three albums were filled with great songs and brave experimentation, but Vega simply could not connect with listeners in the same way she had early on. Feeling a bit like I had kicked her when she was down, I take the opportunity to apologize shortly after we get settled in the restaurant. She accepts very graciously and makes it clear that she does not want to dwell on it. She has moved on.
Beauty & Crime may be the album that connects with an audience again. Informed by Vega's post-9/11 New York, it's a disarming and moving jewel box of a record. At only 34 minutes long (six of the eleven songs are under three minutes), it moves so nimbly through its lyrical and musical ideas that you don't quite notice its brevity. Produced by Jimmy Hogarth, the 31-year-old Scot who made KT Tunstall's 2006 debut shimmer, Beauty & Crime was recorded in London with a full orchestra. (Tunstall sings backup on two songs.) Underneath all of those lush, gorgeous strings, Hogarth then layered the electronic beats, delays, fades, and distortions that lend the album its freshness and vitality.
Vega's voice—once described as Joni Mitchell without the jazz—has become more knowing, more coolly assertive, with age. When she sings "Pornographer's Dream," a bossa nova, she pushes herself outside of her natural key, and the effect is hypnotic. On "Zephyr & I," a song about Vega and a graffiti-artist friend of her brother's hanging out on West End Avenue as they reminisce about the seventies, Vega's voice goes so high and light that it seems to dissolve into pure effervescence behind the accompaniment of the lo-fi drums and guitar.
Through her depression, she clung to the idea of making this record—"a mosaic of little stories about New York based on things people had told me or things I had seen or felt or heard"—though without a record label or a manager it was "sort of a figment of my imagination." Then one day on the street she bumped into another echt–New York musician, Philip Glass. "He said, 'Oh, hi, Suzanne. How's your work going?' And I was like, 'It's not going anywhere, because I don't have a record deal.' And his face lit up and he said, 'Oh, what an excellent situation to be in! Now you can really do what you want!' "
She hired an engineer to come to her apartment every day to teach her how to use the software GarageBand. Without anyone to tell her what she could or could not do, she sometimes just "amused" herself and her engineer. This looseness is reflected in the album, where she plays around with a few lighter themes (an ingenious song about Frank Sinatra and Ava Gardner; a pretty ballad about, improbably enough, Edith Wharton and plastic surgery) in addition to the somber ones.
But it's when she writes about 9/11 that her music—and her sometimes maddeningly elliptical lyrics—becomes hauntingly beautiful. One song, "Ludlow Street," is about her brother's death and the street he lived on for many years, the place where Vega herself attended "two-day parties" in the eighties. ("Each morning after," she sings, "painted in nicotine.") "I remember picking him up on Ludlow Street at dawn and taking him down to Florida to rehab," she says. "And the lyric is one of those things he said on the airplane when he was surrounded by all these women with their poodles: 'I want to go back to Ludlow Street, where people are common and good.' "
Another, "Angel's Doorway," is about her cousin's husband, a cop who was stationed at ground zero after the disaster and arrived home every night to leave his ash- and smoke-infested clothes—and the details of his day—just inside the door. But the most affecting song, titled simply "Anniversary," Vega wrote the day of the first anniversary in 2002. "There was a weird wind blowing around that day," she says. "It was whirlpooling all over New York, and it was very emotional." When she wrote the song, she says, she "was not only marking what had happened to New York, but what had happened to my family, trying to find a way to say this while I was mourning. So I wrote that one song, and then I didn't write anything for a while."
Vega grew up in Spanish Harlem and then on 102nd and Broadway. She was actually born in Santa Monica, but her mother, a computer-systems analyst, and stepfather, a Puerto Rican writer, moved to Manhattan when she was 2. Having lived here ever since, in nearly every neighborhood, she is as qualified as anyone to make an album about New York City. "I feel like there is hardly a street in Manhattan that I have not walked down," she says. "I know the cracks of it, the texture of it—it's just such a part of my life."
She mentions that she's been catching some flak for her album's title. "People say, 'New York is not so full of crime anymore.' " She stares at me. "There will always be crime in New York." I ask her how she feels about the new New York, though, with all the gentrification and hedge-fund money, and far less crime than during her youth. "Well, I keep hearing this has happened," she says. "There are a lot of projects where I live, and there's a big homeless problem pretty much from 96th all the way to 110th, especially if you walk on Broadway. I don't think of New York as a homogenized place, but the city has a bad rap these days. You know, Joe Jackson has moved to Berlin. Apparently, it's not dark enough for him anymore. I think it's different if you're raising a child." She lets out a brief, dark chuckle. "New York is plenty edgy for me right now."
BACKSTORY
Suzanne Vega may have fallen off the radar here—and the French may hate the rest of us—but she is a newly beloved American in Paris. Beauty & Crime was released first in Europe, in early June, and it has sold some 40,000 copies in France in just a few weeks. This had partly to do with the fact that she performed in Paris in April during the Blue Note festival at the club New Morning. The hard-core jazz audience went nuts for her—she received three standing ovations. The buzz and the good press from her performance seem to have created an entirely new audience for Vega. And, yes, she is big in Japan.
SEE ALSO: Five Great Vega Songs That Aren't "Luka" or "Tom's Diner"
Beauty & Crime
Suzanne Vega. Blue Note Records.

Vega plays the Highline Ballroom on Thursday, July 12.