The air-conditioning inside the rehearsal studio has been cranked to near-Arctic levels, but no matter how many times Max Crumm and Laura Osnes, the stars of the new Broadway revival of Grease, gyrate against each other to the tune of "You're the One That I Want," the chills still don't seem to be multiplying. The T-Birds and Pink Ladies have "Ooh-hoo-hoo"-ed energetically through the Burger Palace a half-dozen times. Each time, Crumm and Osnes have mounted the soda counter and taken hold of each other—so far, so good. But just as Osnes tells Crumm that he'd better shape up, the scene starts to wobble from overexuberance. Rizzo and Kenickie share a knowing glance as they lean against the jukebox. "It's easy to jump around," says director Kathleen Marshall, prodding her young actors in a less Footloose, more Fosse direction. "We need tension, like pulled taffy."
Grease, for anyone unfamiliar with high-school theater or afternoon cable programming, is the love story of vulnerable tough guy Danny Zuko and new-girl-in-town Sandy Dumbrowski. This is the third Broadway production—the original ran for eight years; the second for four. What makes this revival, which begins previews July 24, of extreme interest to the New York theater world, however, is that the pair of actors standing atop the soda counter with their limbs awkwardly entwined are new to Broadway. In fact, they're new in town. Crumm and Osnes, a couple of unknown 21-year-olds, were chosen as the stars of this $10 million production not through a massive casting call but by amassing toll-free calls. They were the winners of a particularly bad reality-TV show called Grease: You're the One That I Want. And because of that, not everyone on the Great White Way would be devastated if they fell on their bright young faces.
Last July, a few months before she'd ever heard of Max Crumm or Laura Osnes, Kathleen Marshall was in Chicago doing some last-minute creative spackling on Martin Short: Fame Becomes Me. She'd just directed the sold-out run of the Tony-winning revival The Pajama Game, so the call she received from her agent was unexpected: Would she consider signing on as director of Grease? And would she mind choosing Sandy and Danny on a reality-TV show? After checking with David Ian, who would be producing both the show and the musical, that it would be the type of program where "nobody has to eat a bug," she decided to go for it.
The news that the lead roles in Grease would be filled in the same manner as America's Next Top Model was not received enthusiastically in the West Forties. It didn't help that the idea had originated with Andrew Lloyd Webber, who'd created a hit U.K. program last year titled How Do You Solve a Problem Like Maria?, in order to cast his West End revival of The Sound of Music. Casting directors grumbled. Actors who were called in to read for other roles had reservations. "I'll confess that my initial response was that I didn't want to be involved," says Matthew Saldivar, who later signed on as Kenickie.
Osnes was playing Sandy in a Chanhassen, Minnesota, dinner-theater production of Grease last October when she heard about the auditions scheduled in Los Angeles. Crumm was living in L.A., a struggling young actor whose biggest role had been in a 30-second spot for a cellular carrier as "a robot kid whose head explodes because of all the great deals." His hopes for the tryouts were modest: "I was like, I'm not gonna win this but maybe someone will discover me and put me in another commercial."
Osnes and Crumm happened to land ten spots apart in a line of thousands. (Crumm recalls spotting her because "she was the only girl who was dressed up in, like, a poodle skirt." Osnes insists it was merely knee-length.) He asked to borrow her ChapStick, and they struck up a conversation. She said she was from Minnesota. He asked if she knew his pal Dave. Know him? Why, he was the best friend of one of her friends. A connection was made.
Grease: You're the One That I Want (a title nearly impossible to shorten gracefully; let's just call it GTO) started out strong, with 11.5 million viewers its first week. Unfortunately, the Washington Post's Tom Shales quite rightly called it "a cheaply made and shriekingly tedious imitation of … American Idol." The judges, Marshall, Ian, and Grease co-author Jim Jacobs, were not nearly as wacky or nasty as their Idol counterparts, and by the end of its run, GTO's viewership had fallen to just over 6 million viewers per week. The New York Post's Michael Riedel wrote that GTO "has left everybody—producers, chorus kids, critics, Tony voters, ushers, and columnists—so disgusted, we're going to be gunning for the production."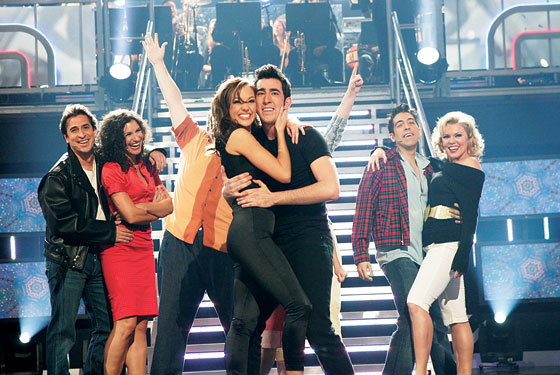 Unlike most reality shows, which end with a check and/or nebulous promises of future employment, GTO led to immediate, very public work. Marshall would be responsible for whatever talent the show brought to Broadway, and she singled out Crumm and Osnes as favorites early on in the program's run. Osnes received near-perfect marks from the judges almost from the first episode; she also had the unbeatable backstory of a girl who postpones her wedding to take a shot at her Broadway dream. Crumm had a bumpier start—producer Ian told him to get a haircut, and Jim Jacobs simply didn't like him. (Jacobs, like a lot of people, thought Crumm didn't look like the Platonic ideal of a Danny; John Travolta does.) Crumm turned the tide with an energetic rendition of "Hard to Handle" and a weepy tale about overcoming Bell's palsy as a child. One of the few high points of the final episodes was when the Crumm-Osnes duo clicked on a sugary sweet duet of "Endless Love." Crumm surged. A few days before the finale, Osnes showed him a New York Times story about the four GTO finalists. He glanced at the accompanying photo and said, "Laura, I think we won."
Crumm and Osnes certainly pass the vérité test as teenagers. Their combined body mass equals about half a Brian Dennehy. On an early-June day, the three of us met for lunch with Marshall at Angus McIndoe. Both actors had just moved into their apartments, which happen to be in the same midtown high-rise. Crumm was excited to be sitting down to a real meal after several days of ramen noodles. (Their paychecks wouldn't start until the following week.) Osnes and her husband of three weeks, a photographer, had driven in with a U-Haul from Minnesota. Both actors were also still trying to decipher Manhattan's codes of cool. (Each had learned, separately, that Broadway stars do not invite people out for drinks at Chevys or Applebee's.) "Wow, this is expensive!" Osnes said with some concern, before deciding on a $17 lasagne.
Osnes has been performing nonstop since she tackled the role of a munchkin in The Wizard of Oz at age 7. "I knew that one day I'd be a Broadway actress," she says, "and that I'd have to wait for years before I'd get anything." The TV show was just an admittedly strange shortcut to fulfilling that dream. "This is so awesome—you're 21, and all this is happening!"
Crumm is more of a wild card. He could easily play the wacky stoner neighbor on a CW series. He grew up outside Phoenix, a theater brat like Osnes. "I would always tell people, 'Yeah I'll be on Broadway one day.' And then I started to realize that it's really hard to get there. After high school, I was going to move to New York, but I went to L.A. because I'm kind of lazy. I was like, 'Ah, I can get into movies and TV.'"
Not everyone here has rolled out the welcome wagon. "I was at this bar and this guy just came up and he was like, 'Max, hi!'" Crumm says. "And I said, 'Hi, how's it goin'?'' And he's like, 'I hate you. I think you are terrible. I cannot believe you won.'"
Marshall rushes to her stars' defense when the question of their validity to play these roles is raised. "When people say, 'Won't this reality show take away from actors who've paid their dues?,' I'm like, they're 21, how many dues are you supposed to pay to play a high-school student?" she says. At the same time, she was clear at lunch that for them to soar, she was going to have to push them out of the nest. Soon. "Once we open, I go away, and you guys have the hard part," she told them. "You don't just have the responsibility to deliver from 8 to 10:30. You have the responsibility of leading the company."
Neither actor seems to be taking success for granted. Osnes took half her lasagne home in a doggie bag.
The big question hanging over Crumm and Osnes is whether they have the chops to carry Grease for the nine months it will take to earn its investment back. (Grease needs to earn $35 million to $40 million to break even, says Ian.) The early consensus is that they just might. "Max may not be perfect for Danny Zuko, physically, but he has an amazing voice," says the actor Seth Rudetsky, who fanatically blogged GTO for Playbill.com. "Laura's gorgeous and has a lovely Broadway voice." Andrew Lloyd Webber appeared as a guest judge on GTO and spent 40 minutes looking like a man who'd eaten bad shellfish—until he was "staggered" by Osnes's rendition of his song "Jesus Christ Superstar."
But will they have the stamina to do eight shows a week? Grease, while fluff, is labor-intensive fluff. Ricky Paull Goldin, who put in 700 performances as Danny in 1994, says, "You have to learn how to pace yourself. I broke teeth, I broke my foot, I ripped a tricep off the bone. One night, I was taken out on a stretcher and somebody had to finish the second act."
'Okay, guys, grab your steering wheels and your hubcaps!" Marshall announces over the Brooks Atkinson Theater's house speakers. It's thirteen days before the first preview, and I've come to see how Operation Reality Grease is working out. Marshall's trying to keep her cast's critical expectations low. "It would be nice to get some respect, but we're not a dark and serious show," she says. "If we were doing the edgy Grease all in black with three chairs, people would say it's radical." As far as she's concerned, Crumm and Osnes are "absolutely right where they should be in the process—they have a great sort of chemistry together, which, quite honestly as a director, is always a bit of an unknown." The box office, says Ian, has already taken in over $14 million in sales, something of a cushion against potential bad reviews.
That same week, Crumm, Osnes, and I catch up over breakfast. His hair has grown out, and he has forever sworn off chain restaurants. ("The last place I went to was Olive Garden, and I was like, 'Never again.' ") Osnes looks more settled, though Marshall told me she hasn't quite taken the step of riding the subway alone. I ask them if they remember what they were doing one year ago today. Osnes was living with her parents and playing the title role in a community-theater production of Peter Pan. Crumm was working as a counselor at a camp for children with HIV, "making canoes and doing all kinds of crazy kid stuff." Neither seems the least weirded out to be sitting on 47th Street, or to be worried about any potential long-term effects of GTO on their careers. "Even if people pan the show, it's still Grease on Broadway and it's fun," Crumm says. "But I'm sure if we get terrible reviews it'll be because of the reality show."
Marshall is right about the Osnes-Crumm bond. I'm not sure if the act of wordlessly handing one's uneaten chocolate pancakes over to a friend, who tears them apart delightedly and offers his toast in trade, necessarily translates to onstage chemistry, but it's entertaining to watch from my side of the booth. If they can just nail that "You're the One That I Want" finale, the stigma of reality TV might vanish as quickly as their fame arrived.
Yesterday, they'd moved into their dressing rooms. The previous occupants, Osnes says, had been Kevin Spacey and Eve Best in Moon for the Misbegotten. Crumm puts down his pancake and swivels to look at her with the same lightbulb-on expression he wore when she'd first stepped out at rehearsal as the sexed-up Sandy. "If you think about it," he says, "that's kind of nuts."