What do jaded magazine critics and Broadway actors have in common? Sometimes, a bunch of jumbled DNA. My (slightly) younger brother Oliver Platt talked to me about his return to Broadway next month as Nathan Detroit in the revival of Guys and Dolls at the Nederlander (the show opens March 1). Among the topics we gingerly touched upon: our wacky overseas childhood, the joys of Peking duck, the potential horrors of singing in public, and the pressures of taking on Sinatra's part.
Adam Platt: Greetings, Mr. Platt.
Oliver Platt: Greetings to you, Mr. Platt.
A.P.: So the thing people keep saying to me, at barbershops, on the subway, and when I am hunkered down in restaurants, attempting to feed, incognito, on giant platters of pork chops, is "I didn't know your brother could sing!"
O.P.: So what do you tell them?
A.P.: I tell them that my brother is a theatrical genius, and one of the great film and stage talents of his generation, and of course he can sing. Then I tell them to leave me alone and to please let me finish my dinner.
O.P.: We'll see if I can sing. My first reaction, when they offered me the part of Nathan Detroit in the show, was excitement mingled with terror. The last musical I played was Annie Get Your Gun, back in high school. I went to a very small, remotely located boarding school in central Colorado. I was a novel idea of Frank Butler, who's the leading man. I also think I was the only one of 50 boys on campus who could remotely carry a tune.
A.P.: Didn't Frank Sinatra play Nathan Detroit in the movie of Guys and Dolls? I hear that he could carry a tune.
O.P.: Yes, but Sam Levene played Nathan Detroit in the original production, and Sam Levene couldn't sing—which is why Nathan has only one featured number in the show, a justly famous and beautiful duet with his love interest, Adelaide, called "Sue Me." Sinatra wanted to play Sky Masterson in the movie, but the part went to Marlon Brando, so they wrote another song for him. Thankfully for me, it's not in the show.
A.P.: So how would you describe your singing voice?
O.P.: People are telling me I have a high baritone.
A.P.: That doesn't make any sense.
O.P.: We singers also call it an upper baritone, although I think they're being diplomatic. The show's in previews now, which is a long, evolving, sometimes grueling process. Maybe they're concerned about my mental well-being.
A.P.: We do come from a long line of minstrels …
O.P.: It's true. Our parents used to be called upon to sing at parties. Our dad was, and still is, an accomplished guitar player. He even cut a record of folk songs during the sixties. He covered Bob Dylan tunes and sang old Chinese folk songs in the original Mandarin to sold-out concert audiences in Hong Kong when we lived there.
A.P.: Why don't you tell our readers a little about our exotic upbringing?
O.P.: I don't know if it was so exotic. Our father joined the Foreign Service at a young age, which meant that we grew up all over the place. You were born in Washington, D.C. Our younger brother, Nick, who's now a prosperous business executive, was born in Hong Kong. I was born in Windsor, Ontario, which is right across from Detroit, when our father was stamping visas there, on the U.S.-Canada border.
A.P.: So what's more fun as an actor? A big pressure-packed Broadway production like this one, or a juicy, highly paid part in a popular though fancifully conceived disaster film?
O.P.: It's always more satisfying doing something in front of people. As an actor in a play, you're telling the story to the audience. In a movie, that's the director's role. Of course, there's a lot of risk that comes with that reward. You can't stop. You can't yell "Cut, cut, cut."
A.P.: I was always jealous of your thespian talents.
O.P.: You thought I was a ham.
A.P.: You acted out your anxieties as a kid. I internalized mine while stewing quietly in the corner and observing the scene. Occasionally, we'd venture out together into these strange foreign cities, to graze on bowls of noodles, or dumplings, or plate after plate of Peking duck.
O.P.: Eventually, the Platt boys grew to an enormous, blimplike size.
A.P.: What sort of influences are you summoning to create this new, postmillennial version of Nathan Detroit?
O.P.: Nathan's an addictive personality. He's completely addicted to that gambling, raffish lifestyle. I think he's also maybe a compulsive liar. He's your standard scoundrel, basically.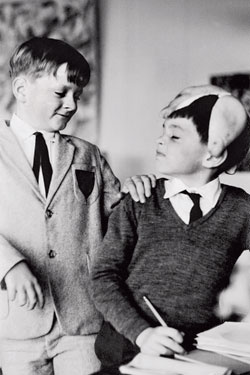 A.P.: That's a familiar role for you.
O.P.: The greatest scoundrel I ever played was Russell Tupper, in the old Showtime series Huff. Tupper made Nathan Detroit look like a tame suburban punter. Anyway, I've been reading a lot of Damon Runyon. I had no idea how influential Runyon was in creating the classic caricature of what it meant to be a New Yorker. It's pretty remarkable, considering Runyon was from Kansas.
A.P.: Both of our parents are New Yorkers, so we actually have a lot of relatives who came from that world. They didn't roll dice, or hang out at the track, but they grew up in Depression Manhattan.
O.P.: They were influenced by the classic Damon Runyon patois, and they didn't even know it. Our grandfather had this lilting, nasal delivery you don't hear anymore. He used to say to me, "Hello, Olivah, I'm ya grandfatha!" It was a kind of street poetry. He talked Runyonese!
A.P.: So when can I get my ticket to the show?
O.P.: It's too early for the critics!
A.P.: I'm not a critic.
O.P.: You can't fool me, Mr. Platt.
A.P.: What do you think of critics, at least the ones who aren't related to you?
O.P.: Why don't you tell me what you think about critics, given that you are one?
A.P.: Critics are upstanding gentlemen and ladies of the press who deserve to be treated with utmost respect, and who are generally correct in their assessments, whether it be of a movie, a play, or a really lousy restaurant dinner.
O.P.: Let's leave it right there, Mr. Platt. I'm not touching that question with a ten-foot bamboo pole.