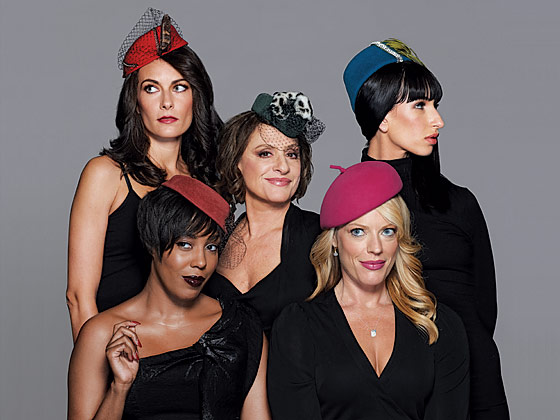 S herie Rene Scott first experienced Pedro Almodóvar's Women on the Verge of a Nervous Breakdown when the film arrived in America in 1988. "It was the most far-out thing I'd ever seen," she says, reflecting on its mad splashes of color and farce. "Interesting-looking women, and everything seemed so extreme but true at the same time. I just remember it blew my mind." Hers wasn't the only strong reaction. The movie's post-Franco Madrileñas established a sexy-nutty-shrewd-powerful new archetype of liberation: the Almodóvar woman.
The actresses onscreen—led by the Spanish stars Carmen Maura and Rossy de Palma (the one with the killer Cubistic nose)—set the bar high for casting the Broadway-musical adaptation that opens next week. After five years of development, workshops, and cast changes (Jessica Biel was an early possibility), composer David Yazbek and director Bartlett Sher—with an assist from Almodóvar—have put together their dream team. "We had no specific people in mind when we started," Yazbek says. "Maybe because it's very hard not to imagine the faces from the movie." By the second workshop, "Pedro asked me, 'Are you sure you're not gay? You write for women like a gay man,' " Yazbek says with a laugh. "And I said, 'No, I just watch your movies!' "
The screwball comedy (modestly reworked here, with fleshed-out principal roles) is, as the title says, dominated by women, all unhinged by love. Scott—coming off the success of Everyday Rapture—here plays the relatively uncrazy Pepa, a voice-over artist trying to track down her duplicitous lover. She's joined by de'Adre Aziza (a Spike Lee protégée last seen in Passing Strange) as brash lawyer Paulina Morales and Broadway neophyte Nikka Graff Lanzarone, whose last stage job was in Vegas. A dead ringer for De Palma, Lanzarone plays the snobby Marisa ("At first Pedro was like, 'You as a person are too nice!' "); for once, her striking features actually helped get her cast. "It's hard to deal with a look like this a lot of the time," she says. "Now it's, no, you can look different and be considered beautiful."
And no, we haven't forgotten Patti LuPone and Laura Benanti, together again, two years after turning the 2008 revival of Gypsy into a once-in-a-generation moment. As Candela, the ditzy model in love with a Shiite terrorist, Benanti is relishing an atypical role. "I'm normally Pepa," she says, "so it's nice to be the person who comes in with the one-liners." (When our photographer asked her to look "more inviting," Benanti spread her legs wide—in her tiny dress—and cheerily asked, "How's this?") The formidable LuPone is the certifiably crazy, jilted Lucia. "I think the part's better written in the musical," she says with a hard grin, very much the Almodóvar gal. "There's just more of her!"
Women on the Verge of a Nervous Breakdown
Music and Lyrics by David Yazbek.
Belasco Theatre.
In Previews for a November 4 opening.