Scott Brown: Before we start squabbling over this year's Tony awards [on June 12], can I just say how nice it is to have a Tonys worth squabbling over?
Jesse Green: The numbers don't lie: 25 new or revived plays opened this season, of which only one or two were outright disasters. Your mileage may vary, of course. Though everyone hated High.
S.B.: Hey, I loved High! I wish I could see it again. Only this time, y'know, high.
J.G.: To look at it another way, at least fourteen of those 25 had something really substantial to offer. That's some kind of record, for Broadway lately.
S.B.: Yet even with all those prospects, there are only two horses (not counting War Horse) in the Best Play race. It's between David Lindsay-Abaire's Good People, a very good play buoyed to greatness by an uncommonly fine performance from Frances McDormand, and Jez Butterworth's Jerusalem, a magnificent, messy hallucination coalescing around a towering talent, Mark Rylance.
J.G.: Is Rylance Broadway's new Meryl Streep—showing everyone how it's done? Actually, I thought he was better in La Bête, even though it was a far less interesting work.
S.B.: The surface similarity of his roles might be the biggest hurdle for Rylance. The combo gives the impression of a more mannered, predictable actor than he is. I think the well-deserved love for Joe Mantello in The Normal Heart—plus a bit of home-team jingoism—might edge him out.
J.G.: Mantello found, within the Larry Kramer–who–makes–you–crazy role, the Larry Kramer you have to love. But Bobby Cannavale was also very strong in The Mothercensored With the Hat. And Jim Belushi was terrific, if overlooked, in Born Yesterday. Which brings us to Best Actress in a Play. Nina Arianda—wow.
S.B.: Let me double down on that "wow." She's one of those preternaturally natural comic actresses who make riffing look like simply being. But Born Yesterday is dainty, dated stuff, and comedy besides; she's got no prayer against Frances McDormand. Good People will likely run away with Best Actress and Best Play, which is a problem category for me. I preferred the overall gestalt of Jerusalem, with its August Wilson–style sprawl and lipsmacking language. Motherf**er—well, I walked out feeling a little under-fucked-with, compared to Stephen Adly Guirgis's more rambunctious early work.
J.G.: Since we agree that the Tonys are inherently ridiculous and frequently just wrong, why quibble? I'd rank those fine plays differently, and also put in a word for Bengal Tiger at the Baghdad Zoo, The Pitmen Painters, and Brief Encounter, un-nominated productions that raised their own particular bars.
S.B.: Totally with you on Brief Encounter. But Pitmen now feels like a dream I had while falling asleep to PBS.
J.G.: I like those dreams! But sometimes it's a question of whether you prefer the play that aims higher and doesn't quite make it (like Jerusalem) or the one that aims lower and nails it (like Motherf**er). And then there's the joy of great performances, which can screw with true north on your critical compass: Arian Moayed elevated Bengal Tiger for me.
S.B.: That's Yul Vázquez in Motherf**er for me.
J.G.: The Featured Actor in a Play category also includes Mackenzie Crook in Jerusalem, John Benjamin Hickey in The Normal Heart, and Billy Crudup in Arcadia. I can get that field down to three, but no fewer.
S.B.: I've run into plenty of folks who defend Crudup's performance. But then, "plenty of folks" also defend Palinomics. Arcadia was solid enough—and The Importance of Being Earnest and The Merchant of Venice are, without a doubt, the most fully effloresced productions in the Revival column—but nothing battered my heart like The Normal Heart and Mantello's Ned Weeks.
J.G.: It played like a good musical. Speaking of which, it was a good year for musicals.
S.B.:The Book of Mormon will likely sweep, but who picks up Best Actor after Andrew Rannells and Josh Gad split the vote? I'll go with Norbert Leo Butz for Catch Me If You Can. His G-man zhlub was inspired.
J.G.: There's a reason Butz keeps winning those Astaire Awards despite not being a dancer: His performances are solid state, 100 percent saturated. Otherwise, I agree that the big Mormon maw will gobble up everything. And I even agree that it deserves to win Best Musical. Nothing made me laugh harder this season (except, again, High), and it's constructed with the greatest of savvy, which is part of what being a Broadway musical is about. But its whole is greater than the sum of its parts—another definition of a great musical. For that reason, I'd give most of the subcategory awards to other contenders, even if the shows they were part of were less successful overall. Especially for Best Original Score. Marc Shaiman and Scott Wittman were bizarrely overlooked for their spot-on work on Catch Me If You Can.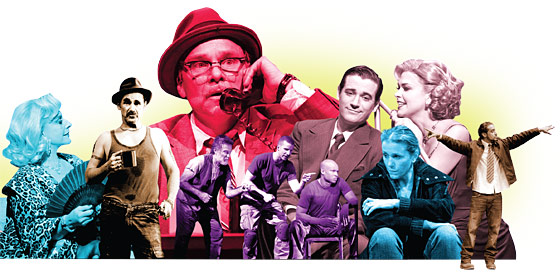 S.B.: I'm with you there. At some point, this perfectly winning, perfectly workmanlike, black box of a show became the one to sniff at. Any other year, it'd be considered a solid double.
J.G.: What is that, a sports reference? Anyway, Women on the Verge of a Nervous Breakdown was even more unfairly maligned. David Yazbek's score, at least on CD, is the best of the season.
S.B.: Can't follow you out on that limb, sir. Verge is still a gaudy blur of lyrical hotdogging, even on the cast album. But listening to "Model Behavior" made me remember what an anime-eyed tour de force Laura Benanti delivered as the ditzy Candela—she'd be my pick for Featured Actress. But this one will go to Victoria Clark, as part of the Sister Act appeasement package. For Featured Actor, my heart's with Mormon scene-stealer Rory O'Malley; in terms of sheer lovability, he barely edges Adam Godley, the lambent Brit-noodle of Anything Goes. Sister Act's Patina Miller was lively, and probably has Leading Actress sewn up, though I think that role has the depth of a baptismal font. By rights, the medallion belongs to Anything Goes's Sutton Foster, whose de-brassed Reno Sweeney is hugely appealing up there.
J.G.: Give Victoria Clark all the Tonys; she's incapable of a false note, even in a false role. I'd also put in a word for Patti LuPone in Women on the Verge—say what you want about the production, but Bart Sher got a disciplined (and therefore thrilling) performance out of her. The Mormons will, as you say, probably take the featured categories. But for Lead Actress I'm betting on Foster—along with her masseuse, trainer, and cobbler as runners-up. Interesting that there was so little depth to that category this season; the committee even had to drop one slot.
S.B.: Oh Sherie Rene Scott, how the pendulum swings!
J.G.: Whereas the director categories are oversubscribed. Trey Parker and Casey Nicholaw will win for Mormon, but I wish voters would save a nod for Susan Stroman, who electrified The Scottsboro Boys—sometimes literally.
S.B.: Agreed. In a year of very cluttered stages, she pursued a bracing austerity policy. And while I know it's fashionable to pooh-pooh Rob Ashford, I thought his stage pictures and dance arrays for How to Succeed constituted some of the best-built stuff this season. I hope he squeaks out Best Choreography, if only on the Daniel Radcliffe sympathy vote.
J.G.: But Kathleen Marshall's nine-minute showstopper to close Act One of Anything Goes should make this category a good tap-off. The Best Direction of a Play category is really competitive, too.
S.B.: With Brian Bedford pointedly excluded, it looks like Daniel Sullivan will win that one, for The Merchant of Venice. Which I can't really argue with: I loved the spooky, literal-and-figurative banker's cage he erected around the play. That show was so hard-core Edwardian, it almost played as steampunk S&M. For me. Funny, though—Pacino looks like a long shot now for Best Actor, especially if the anti-Hollywood wind keeps blowing. So Sullivan, who also directed Good People, will collect all the residual goodwill on Al and Lily Rabe's behalf.
J.G.: I'm not so sure about that; goodwill is not a notable trait along Broadway at awards time. Or casting time. Just ask Kathleen Turner.