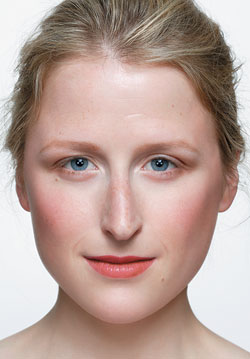 It's possible that the first time you behold the luminous, lemon-haired Mamie Gummer will be on Broadway, in the Roundabout's production of Les Liaisons Dangereuses, where you will watch the dastardly Valmont ravish her, deaf to her convent-girl entreaties. Or maybe you will catch her in the Tribeca Film Festival, where she appears in the romantic short All Saints Day as a mascara-bleared Tinkerbell, making the walk of shame the morning after Halloween. Perhaps you already saw her in Stop-Loss, as the young wife of an Iraq-war vet; or in John Adams, on HBO, as the president's long-suffering daughter-in-law, Sally. But chances are, whether or not you know it, you most likely encountered Gummer long before this prolific April, in the 1986 movie Heartburn, when she appeared as a 2-year-old on the hip of her actual mother, Meryl Streep, and on the lap of Jack Nicholson, who played her dad.
"Bless," Gummer says on the balmiest, sunniest morning of the spring, upon being reminded of that early role, as she sits in a café, awaiting her cranberry scone. Now 24, she's wearing what on a toddler might be called a sunsuit: navy cotton short-alls sprigged with white horseshoes, a matching white T-shirt, red cloth sandals, and an antique charm necklace—gold-plated Victorian penknives ("An old boyfriend gave them to me")—on a chain. She looks, in a word, adorable. "You know," she confides, "I still get residuals from Heartburn. A couple times a year I get a check for $80. I love watching that movie. Whenever I'm having a bad day, me and my sisters turn it on."
She recaps her "bad days" with a comedienne's instinct for self-deprecation. Recently, her struggles have included keeping her cool the first time Valmont dropped trou in Liaisons, and narrowly avoiding bashing into the Steadicam in her first film role (2006's The Hoax). "People assumed I knew what I was doing," she says, but her only previous experience on film sets was raiding snack tables for Gummi bears. Longer ago, she doughtily overcame high-school peer pressure to shun the theater-geek clique (they would "massage each other and wear black") and survived her first audition for a college play, at Northwestern, which required her to do a striptease in front of senior boys. "I remember my face going a shade of purple." (She didn't get the part.) When she graduated in 2005 and came to New York, she had better luck. She tried out for the Roundabout's production of Mr. Marmalade— a play about a 4-year-old girl with a creepy imaginary friend—and got the part.
Todd Haimes, the Roundabout's artistic director, remembers her audition well. "I thought she completely nailed it," he says. "This was practically the first thing she did after finishing school. We saw many women for this role with more experience, but she blew me away." The next year, she was cast in the drama The Water's Edge, directed by Will Frears (who also directed All Saints Day), and received a Lucille Lortel nomination for Outstanding Featured Actress. Frears met her first at the play's auditions. "She was brilliantly feral in this way we liked," he says. "Her first eight lines were sort of, 'Fuck you! Fuck you! Fuck you!,' and she did them fearlessly. She's so good at hiding her characters. She protects them from the world in this way that's really interesting to watch. She doesn't reveal: She conceals things."
A gift for concealment is an asset for an actress with such a public pedigree. In previews of Les Liaisons Dangereuses, audience members could be heard whispering, She looks just like her mother! "In the smaller theaters, it's sometimes the first thing I hear when I walk on the stage," she says. "And I think to myself, Just get past this." But, as a sign of how little her ties to her mother—and father, the sculptor Don Gummer—trouble her, she currently lives with her parents and sisters in the family's new apartment in Manhattan (her older brother lives in L.A.). And although she plans to sublet a friend's place later this summer, she's in no great hurry. "I was living in Brooklyn with a boy, and ended up breaking the lease and breaking the relationship," she explains. "That's fine, it's, actually…" She pauses and flips her hair. "Real estate is apparently expensive in this city," she jokes. "So I'm home, but I get along with my parents. If I was actually living at home in my old room with my Leonardo DiCaprio posters on the wall, I'd probably go nuts, but because this place is new, it's more like, I've got this awesome apartment and my parents are my roommates."
Onstage or on the sidewalk, Gummer projects an overriding impression of youth; it's beyond her control. Almost the first thing she says in All Saints Day, as she chats with an amiable stranger who's watching passersby from his front stoop, is "I'm new." She smiles and shrugs as she says it. And there's no point in denying it. It's impossible to know yet whether her career will overtake the Meryl factor and give rise to its own Mamie factor. One thing to bear in mind: Her mother didn't have the Meryl factor until she was several years older than her daughter is now.
Being the child of a famous actress, Haimes says, is "a blessing and a curse. It gets you in the door, but it doesn't get you the role." Laura Linney, who plays the wicked Marquise de Merteuil in Liaisons, began considering Gummer for the part of Cécile after working with her in John Adams. "She's so much her own person," she says. She recalls Gummer's first day on the set of John Adams, when she was rushed to camera two days early, straight from the airport. "She was given a jacket that didn't fit terribly well—she couldn't move her arms—and she was dealing with two screaming children, one an infant, and one probably 2 or 3 years old." Linney waits to let the predicament sink in. "She handled herself with incredible poise. It was an actor's nightmare, but she handled it beautifully."
In Les Liaisons Dangereuses, Gummer's costumes require a different kind of poise, since Merteuil and Valmont are always scheming their removal. "How are you adapting to the outside world?" Merteuil asks the freshly uncloistered Cécile. "Very well, I think," the girl responds. "I'm so excited to have my own bedroom and dressing room." The audience laughs knowingly—but though they may be more aware of Cécile's imminent future than she is, they may not suspect how much the actress who plays her shares with her character's present. "It's very exciting to have my own dressing room and daybed and my own telephone," Gummer declares, as she takes a bite of scone. "It's very pink and pillowy, and smells of flowers." For now, her own bedroom, in her own place, will have to wait.