Bill T. Jones is not a man of small gestures. Perhaps you remember his Best Choreography win for Spring Awakening at the 2007 Tony Awards. His name called, the sinuous Jones sprang from his seat, loped down the aisle (arms flailing ecstatically), swung himself onto the stage like a teenager jumping a fence, and nearly toppled presenter Bebe Neuwirth.
His ambitions aren't small either. After spending most of his life in the dance world, Jones, 56, has just opened Off Broadway as director and choreographer of Fela!, a musical about the life of musician Fela Anikulapo Kuti, whose political activism made him a hero of the movement fighting government corruption in Nigeria. "What I do in the dance and theater worlds, I've never wanted to say they're different fish," says Jones. "No false modesty here—I'm just not a novice in life."
Jones's Obi-Wan Kenobi–esque baritone resounds in the modest, rustic home he's owned for three decades in Rockland County. It wasn't initially his idea to create a musical based on Kuti's life. He'd been exploring doing a nondance project, reading everything from Things Fall Apart to Brecht. George C. Wolfe suggested he consider "a Spanish morality play. I think I knew what he was getting at," says Jones with a chuckle. "Something that could lend itself to a broad stroke, which I imagine is what a theater person thinks choreography is."
But six years ago, when producer Steve Hendel presented him with the Fela! project, Jones wasn't sure he was right for the job, even though he'd been a fan of Kuti's music since the seventies. Then he recalled a dance he'd made in 1988, set to Mendelssohn's intimidating Octet in E-flat major. "Once I understood [Mendelssohn] was just a young guy trying to express something about the arc of his life, I began to relate to that impulse," Jones explains. "The desire to define oneself on one's own terms, the search for authenticity—a big one with me—gave it a whole new meaning."
Kuti's similar search for authenticity, his human-rights activism, and his pioneering of Afrobeat music (a groundbreaking fusion of jazz, funk, and traditional African beats) were obvious entry points for Jones. But there was another, perhaps tacit parallel in the cause of Kuti's 1997 death from AIDS. After a childhood in upstate New York, Jones met his future life and artistic partner, fellow dancer Arnie Zane, at SUNY Binghamton, where the two helped develop the American Dance Asylum. An interracial homosexual relationship attracted plenty of labels in the mid-seventies: They became the "tall and black, short and white, same-sex choreographic duo," as Jones notes in his lucid 1995 memoir, Last Night on Earth. Zane died from complications of AIDS in 1988, and Jones—thanks to one unfortunate magazine interview—became known as "Bill T. Jones, tall, black, HIV positive."
Prior to 1988, the couple created both a company—Bill T. Jones/Arnie Zane Dance Company (celebrating its 25th anniversary this year)—and a thoroughly moving modern-dance aesthetic. At times euphorically athletic, at others wonderfully meditative, Jones's dances tackle heavy questions about humanity without descending into statement-pounding tropes. Take the kids of Spring Awakening—seductively tracing their changing bodies or jerking and jumping with hormone-fueled agitation. Jones's message was genuine and clear: Being a teenager is alternately confusing and awesome and sometimes just plain sucks.
Though Jones likes to push the boundaries of experimentalism, he says he's not particularly interested in originality. "So much has been done it's an arrogant thing to say anything is original. But I think many people recognize when it's real." The challenge of telling Kuti's story in a way that was relatable to American theatergoers eventually spoke to Jones, in part because it required him to connect with an audience "not in the habit of figuring out the language of an artist." As Jones explains it, the modern-dance fan accepts risks the theater fan doesn't. As a dancer and choreographer, he says, "I wanted to be successful and loved, but I thought it was part of the artist's description to be difficult to pin down. Every dance was supposed to be laying a code that the audience was invited to come in to crack."
The realities of the theater audience meant struggling to cut Fela!'s once-sprawling production. "I've done three-hour dances, you know? Totally excessive," Jones says. But he's come to accept the appeal of a tighter show; two hours and fifteen minutes tops, his advisers recommended. "I'd been told the public gets tired. Now I think I see what they mean."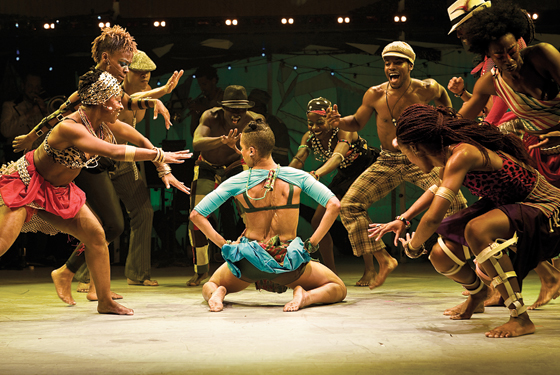 Fela! is as much about music as dance. Afrobeat devotees Antibalas jam exuberantly onstage, and Sahr Ngaujah, in the title role, is a near-perfect vocal match for Kuti. But with Jones, it's the dance that makes the story. Fela's angry recollection of his grandfather's taste for colonial-style music, for example, is an emotional knockout thanks to the solemnity of the accompanying Yoruba processional. Toward the end of Fela!, Kuti marches on the capital carrying the coffin of his mother, thrown from a window by Nigerian soldiers during a raid of Kuti's compound. "Could I do it?" Jones says, staring out the window of his house. "Whose coffin are you willing to carry? It's a big question."
With such challenges to work through, Jones hopes to evade "the ennui of middle age." He's reached a point in his life where he is as famous for the present as he is for the past. Few people who work with him knew Arnie Zane; he now lives with Bjorn Amelan, a sculptor and frequent collaborator. And he's already at work on a set of dance portraits of another mythic warrior: Abraham Lincoln. "A generation ago, I might have said it doesn't matter if the work is getting seen, 'This is my letter to the world undelivered,' " says Jones. "But you have to find a way to complete the conversation." He pauses a moment. "Or at least start the conversation."