Yes! yes! it looks so good, Derek! Hey, Latham! That sounds awesome, man!" There's a towering pile of junk onstage and a man is playing an antique wooden sewing table that he's converted into a slide guitar, and Ethan Hawke is shouting at them both. He's tucked into a back row of the theater, wearing a cord blazer and trucker hat, amid the chaos of a show that starts previews at the end of the week. Lights are being hung; speakers tested; set pieces rearranged. "How are we doing with those mikes?" he asks the sound engineer. Then he points to the set: a magnificent jigsaw jungle of refuse and bric-a-brac, stacked to the rafters, designed by Derek McLane and made up of wheelchairs and pool cues and school desks and lampshades and bookshelves and upturned trophies. "What do you think? Pretty intense, right?" Hawke is stoked. "If you came in here, wouldn't you want to see this play?"
The play, directed by Hawke and set to open on February 18, is a revival of A Lie of the Mind, Sam Shepard's 1985 tale of two embittered Western families, entangled by marriage and haunted by past cruelties. The junk pile, Hawke explains, is meant to represent their interior world, "all the things they've collected and held onto in their lives, surrounding them."
When I ask him about his directing style, he offers an anecdote. "When I was being directed by Gary Sinise, in front of all the actors, he said, 'We're all familiar with the concept that a team is only as strong as its weakest link. Ethan, that's you.' He was not kidding. He was tough as nails. I am somehow the opposite of that."
As he speaks, one by one, his cast trails into the theater for a noon rehearsal. First Frank Whaley, Hawke's longtime friend and one of the guys he founded the Malaparte Theater Company with twenty years ago; then Karen Young, who appeared in the debut production of Lie, directed by Shepard; then Laurie Metcalf, who came up in Chicago's Steppenwolf company; then Josh Hamilton, another of Hawke's old buddies from the Malaparte days. Everyone's seeing the set for the first time and they all have the same amazed reaction.
"I know!" says Hawke, from the back of the theater. "Isn't it incredible? Man, I'm just soaking it in."
The shorthand version of Ethan Hawke's résumé is brief and familiar: Dead Poets Society (when he was 18); Reality Bites (at 23); all the films with Richard Linklater (most notably Before Sunrise and Before Sunset); two relatively well-received novels (which you may have dismissed and never read; they were written, after all, by Ethan Hawke); a few Hollywood highs (a marriage to Uma Thurman in 1998; an Oscar nomination for acting in Training Day; an Oscar nomination for co-writing Before Sunset); and tabloid lows (alleged affairs and a divorce from Thurman in 2004); his subsequent marriage to Ryan Shawhughes, formerly his family's nanny. These are the things you already know. In fact, for an actor with no Top Gun or Ocean's Eleven–style blockbuster in his past, Hawke is remarkably well known—or, as he might say, "remarkable, as in the kind of person who gets remarked about a lot."
What you may not have noticed, though, is that in the past few years he's led another, increasingly intriguing life, surrounding himself with old friends and new collaborators on film and onstage. He's made movies with the likes of Philip Seymour Hoffman and Sidney Lumet (Before the Devil Knows You're Dead) and plays with David Rabe and Sam Shepard (Hurlyburly; A Lie of the Mind). He stars in the occasional popcorn flick (like his current vampire film, Daybreakers) and potboiler (like his next film, Brooklyn's Finest), but he also spent last year touring the world performing Chekhov and Shakespeare in the Bridge Project, a joint production of BAM and England's Old Vic, directed by Sam Mendes. Before that, he appeared in Tom Stoppard's nine-hour, three-part The Coast of Utopia; this on the heels of starring on Broadway in Hurlyburly, opposite Bobby Cannavale, Martha Plimpton, and Wallace Shawn. When he's not turning up in impressive theater ensembles, he's directing Off Broadway plays for the New Group, or making the occasional low-budget film of his own. In short, Hawke now finds himself at the center of a bright and enviable constellation of talent, living something pretty close to an ideal New York artist's kind of life.
Over drinks at a bistro in the Maritime Hotel, however, we're not talking about Stoppard or Shepard or Mendes or Lumet. We're talking about Zac Efron. Hawke and Linklater are close friends, and Linklater's latest film, Me and Orson Welles, released in November, stars the unknown British actor Christian McKay as Welles, and the very well-known Efron—who became famous in High School Musical—as Welles's young protégé. And herein lies a dilemma.
"The irony is, from Rick's point of view, he wants to make a period film. He wants McKay to play Orson Welles. So you need a star to be in it somewhere," Hawke says. "Here's the answer: We'll get Zac Efron to play the young kid. Because they audition him, and you know what? He turns out to be a really good actor. So that's the reason Rick gets the money to make the film. But that's also the reason people struggle to take the movie seriously." This is a predicament that Hawke knows all too well. "A part of my heart goes out for these guys like Zac or [Twilight's] Bob Pattinson. I wish them well," he says. "The world is very mysterious. It has the appearance that it's rooting for them and giving them everything they want. Instead, it's setting a huge trap. And it's very difficult to get out of."
"Badass" is a term that Hawke likes to use a lot. It may be his highest compliment. To him, it conjures a rare combination of authenticity, integrity, and outright awesomeness. He wrote a profile recently of Kris Kristofferson for Rolling Stone, and in it, he says: "Imagine if Brad Pitt had also written a No. 1 single for someone like Amy Winehouse, was considered among the finest songwriters of his generation, had been a Rhodes scholar, a U.S. Army Airborne Ranger, a boxer, a professional helicopter pilot—and was as politically outspoken as Sean Penn. That's what a motherfuckin' badass Kris Kristofferson was in 1979." And when Hawke laments our current artistic culture, which he finds distinctly un-Kristoffersonian, he says, "We live in a funny time. If you don't go corporate, you can't compete. You're relegated as irrelevant. People used to admire that. There used to be something badassed and poetic about it."
It's worth noting that, at roughly the same age that Kristofferson was studying Shakespeare at Oxford, then training to be a Ranger, then struggling as a songwriter in Nashville, Hawke was already a baby-faced movie star. He did his first film at 13 and had his breakout role five years later. "I was being taken around by a press agent at the Venice Film Festival at age 18," he says. "Was it fun? Sure. But it was a dangerous path to be walking on as far as having a substantive life. Because the casualty rate at the Venice Film Festival for 18-year-olds? High."
Hawke is now nearly 40, and if you're around his age (as I am), you might feel like you grew up with him, or at least near him—like he was the popular guy in your high school who, in your memory, never changed or got old. (In Daybreakers, he plays a vampire who celebrates his 35th birthday. "I've turned 35 ten times already," he says wearily, which sounds about right.) He wears a goatee, which at this point is a bit like saying "Woody Allen wears glasses" or "Anna Wintour wears a bob." And he suffers, still, from the curse of the poster boy. When Details did a 2002 retrospective on the nineties and Generation X, the magazine put Hawke on the cover.
He was born in Austin, Texas, in 1970, spent his teen years in New Jersey, and after high school went to Carnegie Mellon to study acting. But he hated college. So when an agent prodded him to read for Dead Poets Society, he looked the script over, saw there were six roles for teenage boys, and thought with youthful bravado, Well, if I don't get one of these, I must suck. Then he told his sister that if he didn't get a part, he was joining the Merchant Marines. Instead, he wound up at the Venice Film Festival.
Still, he did his best to live the badass life. He met a young actor, Josh Hamilton, who introduced him to the playwright Jonathan Marc Sherman, and the three of them took off on a cross-country road trip when Hawke was 20. On the trip, they decided to start a theater company. When they got back to New York, they recruited Hawke's friend Steve Zahn and another young actor, Frank Whaley, whom Hawke had met on the film A Midnight Clear. They called the group Malaparte, after a little-known novel Hawke had read about in a Kerouac interview. They stayed up late watching and rewatching a worn VHS copy of True West, by Sam Shepard (whom they worshipped), starring Gary Sinise and John Malkovich of the Steppenwolf company (which they worshipped). They handed out fliers for their shows to cute girls in Washington Square Park. They haunted the Drama Book Shop, where Sherman would pull plays off the shelf and shove them at Hawke and say, "You haven't read Balm in Gilead? What are you, retarded?"
"They were young men who were very much in love with their lives," says Martha Plimpton, who starred in a Malaparte production in '95 and, more recently, both Hurlyburly and The Coast of Utopia. "They all shared a very attractive, ebullient form of hubris. For a woman looking in, it could be irritating—like, 'You guys are so in love with yourselves.' But it was also very exciting to be around."
They were also becoming famous, fast, with Hawke the fastest of all. They were constantly taking off to do movies, jetting to L.A., flirting with celebrity. Whaley starred in Swimming With Sharks in 1994, where he was berated expertly by Kevin Spacey, playing Hollywood's most evil boss. Hamilton did Kicking & Screaming in 1995, Noah Baumbach's first film, about hyperarticulate slackers cast adrift after graduation. And, in 1994, Hawke starred in Reality Bites. His role as Troy Dyer, the snarly, sensitive, brooding Gen-X heartthrob, was part Ferris Bueller, part Christian Slater in Heathers, and part Brando in The Wild One. "I am not under any orders to make the world a better place," Troy quipped aphoristically, as though dictating it for an eventual T-shirt.
"The year it came out, there was a strong current pulling me toward Hollywood, toward superhero movies and things like that," says Hawke. "And there was this other strong current pulling me toward Malaparte and those friendships." I ask him if his success caused tension among his New York friends. "Absolutely. We all stayed friends. But the company fell apart." They fought about who would raise the money (Hawke, mostly), which plays to mount, and who would play the leads. Hawke was adamant about waiting for their friend Sherman to hand over his new play, but Sherman, after finishing the first act, slid into an extended stretch of writer's block, lubricated by alcohol. "That stalled us out, and the air dissipated," says Hawke.
Meryl Streep asked Josh Hamilton and Ethan Hawke about their rehearsal process. They said that they'd known each other since they were 18. "Oh. You cheated," she said.
Reality Bites also left Hawke at the brink of stardom, gazing into what he later recognized as a trap. It was Linklater who pulled him back. "Ethan was on a track then that, had he taken it, he'd have had a very different career," says Linklater. "He was getting offered every film in Hollywood. He chose Before Sunrise instead."
Linklater was coming off the success of Slacker and Dazed & Confused, so they were like Gen-X bookends: the indie auteur and the poster boy. Linklater had seen him act in a play in New York, Sophistry, and gave him the script for his next film, about a guy who meets a woman on an overnight train trip from San Francisco to Texas. Hawke read it and told him, "If you'd just asked me to be in your next film, I'd have jumped at it. But I have to tell you, reading this script, I have to say no." Linklater said, "I'm not offering you the part. I'm offering you an audition."
They wound up relocating the story to Vienna and reworking the script into Before Sunrise. "Rick was a great director for me to work with right then, because he can't stand posing," Hawke says. "He'd say to me, 'What are you doing?' And I'd say, 'Rick, everybody else thinks it's great when I do that.' And he'd say, 'Real people don't do that. It looks like you're trying to look cool.' And I'm like, 'I am trying to look cool.' "
Looking back, Linklater jokes, "I probably bit into his future income pretty substantially."
"What I didn't know then was what a crossroads I was at," says Hawke. "I thought that crossroads would exist forever." There were other crossroads to come, of course; "You know, I auditioned for Titanic. Sometimes I muse on what would have happened. That would have been such a different life." Another came after his Oscar nomination for Training Day. But "by then, I was more sure of who I was. Before, in your mid-twenties, the paint is still wet on who you are."
A decade after Before Sunrise, Hawke and Linklater reunited with Julie Delpy and made a sequel, Before Sunset, in which the openhearted idealists of the first movie meet again in Paris to find each other more battle-hardened, knocked about by life, and burdened by success. (Hawke's character has written a successful novel.) Then, in 2006, Hawke got a call from Sherman, who'd finally written the second act to his play. He gave the play to Hawke to direct, and Hawke cast Hamilton in one of the leads. "We set up a reading at the Public Theater," says Hawke, "and blew the lid off that place." The play, Things We Want, opened in November 2007. As recorded in a review in this magazine, Sherman had "entrusted it to a movie-star friend with no Off Broadway directing experience," which seemed like a "hipster train wreck in the making." Yet the play was well received: "slightly whimsical, slightly affecting, largely entertaining … Give Ethan Hawke credit for some assured and (usually) understated direction." It was Hawke's professional debut as a theater director, about ten years after Malaparte broke up.
Following a recent rehearsal of A Lie of the Mind, Hawke, Whaley, and Hamilton head across the street for some cheap Japanese. Since Things We Want, the three have found themselves working together again, a lot. Hamilton and Hawke, in particular, now seem to come as a kind of theatrical package deal. When they were doing Hurlyburly together, they got a visit backstage from Meryl Streep. She complimented them, then asked about their rehearsal process. They explained that they'd known each other since they were 18. "Oh. You cheated," Streep said.
As for the string of collaborations, "it's not by design," says Hamilton. "But you're usually trying to figure out what you're doing next while you're doing the thing you're doing. So you'll ask, 'What are you doing next? Oh, that sounds cool. Do you mind if I call them, too?' "
"Does being sexually involved have anything to do with it?" says Whaley, deadpan.
"No, not at all," says Hamilton. "That's a totally separate thing. Being men, we can compartmentalize very well."
"Because you have your separate compartments," says Whaley.
"Where we put things," says Hawke.
And just like that, everyone is 18 years old again.
Together, they have the easy rapport of brothers. Whaley, who's 46 and now focuses mostly on writing and directing unflinching indie films (his debut, Joe the King, was a quasi-autobiographical story about a rough childhood in upstate New York and co-starred Hawke), is like the eldest: sharp, funny, occasionally caustic, and not in the least bit romantic. The Golden Globes just aired the night before, and he says, "Every year I tell myself I'm never going to watch it, and then I have a few drinks and forget everything I forswore. So I'm watching, and I'm just cursing. I'm about to throw my shoe at the screen. And my wife is like, 'Honey, should I turn this off?' And I'm like, 'No, no, no.' " The name of one winner comes up, someone they all knew from the New York theater scene and who they agree is good but not exceptional. Whaley shrugs. He says drily, "Sometimes luck is with you, sometimes it's not. Look at me. I haven't had luck in ten years. I'm sitting here eating seaweed salad. I could be eating seaweed salad in Bel Air."
Hamilton, with his scruffy beard and easy charm, is like the middle child: conciliatory and quick to steer the stories back on track and remind the others (well, mostly Frank) that he might not want to deride that millionaire blockbuster director right into a reporter's recorder. Hamilton is a recent dad, and he recalls the breakup of Malaparte like this: "We were all getting a little older. We didn't necessarily want to hang out with each other every night."
"That's it," says Hawke. "Monogamy was the death of Malaparte."
Hawke, despite being their director, seems like the youngest brother: the enthusiast. He's excited by ideas. He likes to collect, and keep handy, memorable quotes: "People who succeed and do not push on to a greater failure are the spiritual middle-classers" (Eugene O'Neill) or "You can always come back, but you can't come back all the way" (Bob Dylan). If he likes a book or film, he wants to know what you thought of it, and if you haven't seen it or read it, he wants you to run out and see it or read it right away. He's happiest when he gets to work with his friends. "For me, the fun thing about directing a play is that everybody in it is somebody I like," he tells me. "It creates a very warm, safe, sandbox feeling. That's where I succeed." On the eve of the last week of rehearsals, he wrote everyone in the A Lie of the Mind cast a personal letter. That's not the kind of thing that happens on a Hollywood set. "I have worked with some very notable actors," Hawke says, "where I've been genuinely moved by the depth of their gift, yet also wanted to fucking jab a stake through their heart. They're so narcissistic and horrible. I can't work like that."
Earlier, he'd said to me of his friends, "Josh is my friend who we've really learned about acting together. When we were all younger, he was a good actor, but mostly he was kind of good-looking and had this likable, affable way about him. Over the years, he's developed into a tremendous actor," and it seemed clear that Hawke could well have been talking about himself. And when he said of Whaley, "He's one of the most massively underrated artists in this country. He's like our Cassavetes. Frank's out there hustling his movies on the Internet, doing things the hard way, making movies on a dime," he could well have been talking about the person he sometimes wishes he could be. His celebrity has always insulated him from that kind of hustling. But he can still get a contact high from the romance of struggle.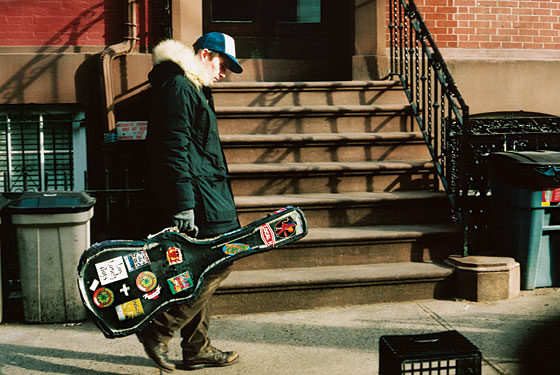 At one point, Hawke recalled how, when he worked with Philip Seymour Hoffman in 2006, he'd stare at Hoffman and wonder, Why you? They'd known each other back when they were in their twenties, and Hoffman was a script-reader at auditions and Hawke was a movie star. Now Hoffman is arguably his generation's greatest actor. And Hawke wanted to know: Why?
"It's been harder for Phil than it was for me. That's what's made him so great," Hawke says. "Playing smaller parts. Doing two scenes in a movie. And all those years that Phil's doing that, I'm off doing White Fang and I'm getting paid and girls are asking me to sign their pictures. And I'm taking it for granted that I'm allotted this slot. Working with Phil, I realized I needed to work harder."
Not long after, when Hawke was contemplating joining the Bridge Project, he asked Richard Easton, the great stage actor with whom Hawke had worked in Henry IV and The Coast of Utopia, for advice: "Do you really think I should play two supporting parts for a nine-month commitment for no money?"
Easton answered, "If you want advice on being a star, call somebody else. If you want advice on how to have a substantial life in the arts, and then you're going to tell me that you're somehow above working on Shakespeare and Chekhov for nine months of your life—that your star is so bright you can't be in ensemble pieces anymore—then I don't want to talk to you."
"I got what he meant," Hawke says.
It should be said that this is not the simple story of a young pilgrim who, when tempted by the tawdry lure of celebrity, nobly turned his back on Hollywood. For starters, Hawke is a celebrity, and you can go see him in a vampire movie right now. (And, you know, as far as vampire movies go, it's pretty good.)
Rather, it's the story of a question: "What does it feel like to survive a lifetime in the arts with your integrity intact?" This isn't a question I ask Hawke. It's a question he asked Kristofferson. The answer was simple and appropriately koanlike: "What is even more difficult than failure," Kristofferson told him, "is when you are perceived as a 'success' and you are failing."
"When you work in a Hollywood movie, they have all these things they want from a Hollywood actor, and I've never been terribly interested in that," Hawke says. "But it's misleading to say I wasn't interested in the success of it. I have a pervading noise in my head that if I'm not at least minorly successful in the movies, the whole thing will all go away. Do I get to direct this play because people have heard of me? Do I get a book published because people have heard of me? There's a lot of great actors in America, and I got to be in Tom Stoppard's play at Lincoln Center. The movies helped me get that part. No one's denying that. If that goes away, does the whole thing get shut down?"
So he makes his movies, which allow him to be here, on the fourth floor of a midtown office tower, in a room that looks like an abandoned squat. A few mismatched plastic chairs surround a thrift-store coffee table, and a naked mattress on a cot serves as a couch. In an adjacent room, his musicians, Shelby and Latham Gaines, are bent over their homemade slide guitar. Whaley is waiting, with a rifle slung over his shoulder and an American flag folded in his arms. This is the home stretch of rehearsals for A Lie of the Mind. "You're about to witness an exciting moment," Hawke whispers conspiratorially. "I'm going to fire Frank."
He's kidding.
Whaley starts into a monologue. The two musicians pound out a percussive rhythm on the strings of the guitar. Hawke stands by, bobbing lightly. As he watches he pulls the gray tweed page-boy cap from his head and kneads it in his fists, worrying it like a rosary. When Whaley finishes, and the musicians stop, Hawke says, "Yes. Yes! I think that was badass."
Later, over dinner, Whaley says to Hamilton and Hawke, "To sit in that room, it feels like the same rehearsal room we were in way back then."
"But the best of what we were going for then, we're still after," says Hawke.
"We can think about things rationally, without the egos involved," Whaley says.
"Now that we have families, it's a little less complicated," says Hamilton.
"It's the kind of work we always dreamed of doing together," says Hawke