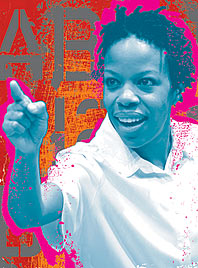 A heat wave makes it easier to appreciate the joys of No Child—a heat wave and DruidSynge. The other day I trekked to Lincoln Center for Garry Hynes's staging of John Millington Synge's plays, a marathon production that lasted more than eight hours. I adore Synge and was glad to see maybe four of the six works—particularly the overlooked Well of the Saints—but eight hours? It felt like an event for an event's sake, not an especially shrewd way to savor great writing. At least the air-conditioning held out.
Nilaja Sun, meanwhile, has written a slender slip of a play, one you could have seen in the dinner break of DruidSynge with time to spare. In No Child, she brings to life more than a dozen students and teachers in a beaten-down Bronx high school. Alone onstage with a couple of chairs, a prop or two, and zero costume changes, she and director Hal Brooks make this difficult thing look easy. When the ludicrous heat has got New Yorkers rationing their every move, to convey a lack of strenuousness—a casualness that's still exuberant—for 70 minutes onstage seems like just about the greatest achievement there is.
By itself, of course, all the grace in the world won't get you very far. But Sun has her fundamentals in place: She's got a good story, and she tells it well—making it, for instance, almost funnier than it has a right to be, considering its subject. A few years ago, Sun worked as a teaching artist at the perennially troubled Martin Luther King Jr. High School. This is her fictionalized account of getting some extremely skeptical tenth-graders to learn, rehearse, and perform Our Country's Good, Timberlake Wertenbaker's play about prisoners in Australia who put on a show. Like Sarah Jones, she uses her voice and body as a conduit for the city's riot of ethnicities. But where Bridge and Tunnel presented its immigrant characters in an orderly row, Sun lets hers tumble out all at once. The kids—black, Latino, Asian, you name it—often yammer away on alternating lines.
The more the students talk, the more depressing it gets to hear how easily they relate to the experiences of penal-colony inmates. To enter the school, they have to navigate "two metal-detecting machines, five school guards, two armed police officers, and seven metal-detecting wands." The lavish gizmos make a gruesome contrast to the rest of the building—the crumbling walls, punctured ceilings, and pervasive air of neglect. "All the bathrooms on the third floor, they broke," says the janitor, who narrates the play in the fashion of Our Town's Stage Manager. "Now, who's accountable for dat?"
That word accountable is one of the keys to the show. It's a measure of Sun's graceful method that she conveys a vivid anger about the way these kids are treated without turning the play into a screed. From its title on, she's indicting President Bush's vaunted No Child Left Behind program, the underfunded, "accountability"-happy initiative that mainly gets in the way of preparing these kids for life. But the blame doesn't end at the White House. "Go back," says a bullying security guard when the metal detector beeps. "Go back." It's a delicate way for Sun to show us the face, and the discouraging mantra, that enlightened New York has presented to these kids for their entire lives. And though it passes so quickly you might miss it, Sun aims a dart at you, too, dear comfortable theatergoing Manhattanite. At one point, the janitor quite casually notes that the school is only an eighteen-minute subway ride from 59th Street, one of the wealthiest neighborhoods in the country. The implication stings.
Sun has a blurry moment now and then in presenting a character, and in wrapping things up she indulges in four corny moments when two would suffice. Still, in its modest and engaging way, her play tells us something vital about our world and does it without resorting to tacky spectacle or feckless celebrities. I almost wish it were longer.
No Child
By Nilaja Sun. Barrow Street Theatre.