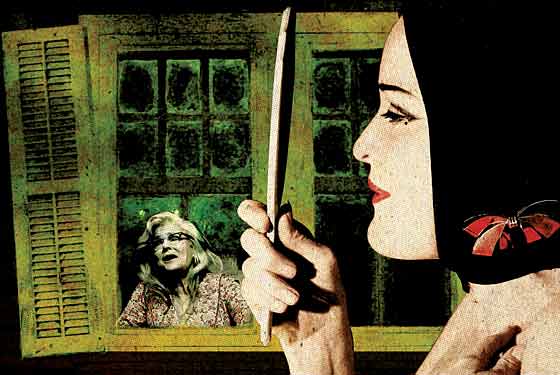 H ands planted on kidneys, weight cantilevered back on one leg, figure wrapped in a crazy combination of skirts and blouses and snood, Christine Ebersole strikes one of the weirder poses to earn a spot in the gallery of iconic Broadway roles. In the musical version of Grey Gardens that just transferred to the Walter Kerr, she plays the lucidly nutty Little Edie Beale. She plays Edie's mother, too, in a prequel to the Maysles Brothers' cult documentary, one that depicts Edie's fictional engagement party in 1941. But it's the second-act strangeness that people will remember, with reason.
Intermission ends in a cascade of twirly harp music, the kind you associate with a house spinning from black-and-white Kansas into Technicolor Oz—a suitably fantastical prompt for Ebersole's appearance. "You look absolutely terrific, honestly," she effuses to the audience. She has the odd look and gawky bearing—and that silly aristocratic accent—to nail the elegant and monstrous Edie, though you could dismiss this as merely high-grade mimicry. But then she starts to sing. By this point, Ebersole has already flexed her gorgeous voice, tossing off a few bars of Puccini (and many bars of composer Scott Frankel) in the first act. Now, in "The Revolutionary Costume for Today," she offers a concise, hilarious explanation of her topsy-turvy fashion sense. It's nearly a patter song, and the onetime SNL trouper wrings every laugh dry.
The real secret of the performance, though, doesn't lie in Ebersole's ability to do so many things so well; it's a sly, subtle quality in the way she does them. In the film, Little Edie shows occasional flashes of self-awareness, fleeting glimpses of a mind recoiling from a wasting body. Onstage, Ebersole plays this divided, introspective self with such conviction, her performance takes on a weirdly Brechtian quality, as if we don't just see the character, we see the actor presenting the character. It takes enormous skill to pull that off, and guts to match. So, yes: Her performance really is as good as you've heard.
In part because Ebersole has more to do, Grey Gardens is a noticeably better show now than when it premiered this past spring Off Broadway. Doug Wright's libretto links the 1941 and 1973 scenes more clearly around Little Edie's desire to get away from the house and her mother (an otherworldly Mary Louise Wilson), and Michael Greif's staging is even crisper and more assured than before. Yet the limitations of the material are still plain. Even with the elaborate setup about the young Little Edie (Erin Davie, not dangerous enough for the role) and her doomed romance with Joe Kennedy (Matt Cavenaugh, accent thickah than chowdah), the show's creators remain stuck trying to dramatize a situation with no particular drama: Its arc doesn't bend.
This might not bother you much if you're the type to get huffy when people call a cast recording a soundtrack. Because Grey Gardens is the real deal, the endangered breed: an old-school Rodgers and Hammerstein–style book musical. The scene in which Grandpa (John McMartin) lines up the brood to join him in a song about the importance of marrying well—they already know the lyrics, naturally—comes right out of the Mickey-and-Judy playbook. These conventions look, to me, a little peaked these days. But old-fashioned craft does have its compensations. Michael Korie's lyrics are wonderfully smart and funny, even when—especially when?—he's just showing off, like rhyming "Fanny Hill" and "De Tocqueville." Sondheim aside, they're the sharpest in town.
Nathan Lane, like Christine Ebersole, seems to be followed by a spotlight at all times. How could it resist? With his pert features, perfect timing, and ideal comic voice—high, with a hint of agitato—he may be the most popular actor on Broadway. All the greater a challenge, then, to play the title role in Butley, Simon Gray's bitter comedy about an English professor left by his wife and boyfriend on the same day.
I suspect Lane could make a terrific Butley, though I wouldn't call him one in the new revival at the Booth. Outside of a couple of vicious moments, director Nicholas Martin doesn't seem to have pushed him very hard to find the full sourness of a heavy-drinking man who enjoys inflicting pain on others. Without a grotesque Butley at its center, this isn't a play worth reviving. (And maybe not even then.) There isn't an audience that Lane can't charm—a wonderful ability for an actor, in almost any circumstance but this one.
Grey Gardens
Lyrics by Michael Korie. Music by Scott Frankel. Book by Doug Wright. Walter Kerr Theatre.

Butley
By Simon Gray. Booth Theatre. Through January 14.