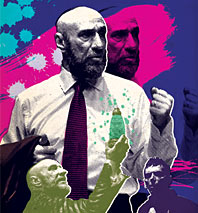 You want to laugh, it's so grotesque. At a time when we listen hard for stray notes of anti-Semitism, Theatre for a New Audience mounts two plays that sound a full blast of the bigot's Philharmonic. The Merchant of Venice and Christopher Marlowe's The Jew of Malta both feature Jewish characters who seek bloody vengeance on Christians who've wronged them. Greedy, vicious, and homicidal, they're beyond anything in Mel Gibson's fevered dreams, though possibly not his nightmares.
It bears noting—and quickly—that the productions themselves aren't anti-Semitic, in either intention or effect. In fact, pairing these plays turns out to be an inspired and enlightening move. I didn't love either half of the rotating repertory on its own: Though it makes sense to treat the Grand Guignol of Marlowe's play as a comic romp, the show ought to be, you know, funny; and while Shakespeare's play benefits from the sleek modern treatment it gets here, all good suits and PowerBooks and espresso, director Darko Tresnjak misses some of its passion. Still, by letting us watch two great playwrights juggling religious dynamite side by side, TFANA gives us a better sense of what the plays are trying to tell us than we'd get from seeing either alone.
For one thing, they're trickier than they seem. The right answer to the question "Is Marlowe's play anti-Semitic?" begins "Yes, but … " Even accounting for the prejudices of Elizabethan England, there's real venom in his depiction of Barabas, the financier-supervillain who brags about poisoning wells and filling debtors' prisons with Christians. But he's hardly the lone offender. All evening long, somebody leans across John Lee Beatty's excellent thrust stage to tell us about the atrocities he'll soon commit: deceit, blackmail, necrophilia—and that's just the friars. In Marlowe's dirty world, Barabas excels at a game everybody's playing.
If you put the question of anti-Semitism to Shakespeare's play, you get a different answer, and the difference is telling: "Yes, and … " Shylock's desire for a pound of Antonio's flesh marks him a villain. Yet next to Barabas, Shakespeare's creation seems all the more radical. Never having met a Jew, and in the face of enormous cultural bias, not least Marlowe's play itself, he wrote an anti-Semitic tract that is also a tract against anti-Semitism. "Hath not a Jew eyes?" asks Shylock, expressing the noblest sentiments even as he plots the most heinous deeds.
These extremes are what's often missing from F. Murray Abraham's Shylock. He's wise to project an unruffled calm to match his neat gray suit. But again and again they recur in the text: words of "lodged hate and certain loathing," fierce and ugly emotions that Abraham tends to give only mild expression onstage. His muted quality—a weird sense of his trying to inch out of the spotlight—is one reason why co-star Kate Forbes's luminous Portia leaves a sharper image in memory.
In fact, Abraham's strongest impression comes from The Jew of Malta, which otherwise gets a sophomoric production from David Herskovits. Barabas's mustache-twirling is agreeably lurid, and the asides to the crowd have a wicked charm. But he's at his mesmerizing best in the realistic scenes, as when he's summoned to the court. "Better one want for a common good, / Than many perish for a private man," the Duke tells him. That would be an admirable Christian sentiment, if it weren't being used to justify seizing Barabas's money. Repelled by the high-minded thievery, Abraham hits all the right notes of pride and scorn. "Preach me not out of my possessions," he says, though of course it does him no good. Religion as a guise for injustice, good arguments employed for wicked ends, falsely pious force squashing cool reason: It's not just the anti-Semitism that gives these plays an upsetting pertinence today.
It's only right that Six Feet Under, of all shows, would keep on giving from beyond the grave. Last week, series creator (and lapsed playwright) Alan Ball came back to Off Broadway with All That I Will Ever Be. For an hour or so, it's an accomplished return. Omar (Peter Macdissi) works in a cell-phone store, except when he's having sex with men for money. He's from Persia, unless it's Beirut, or Morocco. His identity shifts with what his listener wants to hear, a habit that Ball seems to think speaks to a larger human condition. Alas, the neuroses of the rent boy have just been probed more than adequately by The Little Dog Laughed, and the identity-shifting minority recalls John Guare's Six Degrees of Separation, though not in any flattering way.
A more intriguing work from the Six Feet Under alumni association comes from the show's writer-co-producer Kate Robin. In Anon., she finds a way—and I mean this as a compliment—to write a play about sex addiction that doesn't try to be sexy. Everything is great between normal guy Trip (Remy Auberjonois) and his attractive girlfriend Allison (Michelle Federer), except that he no longer finds her attractive. One problem is his video cabinet, which houses the Whitney Biennial of porn. But there are others, and as Allison prods Trip into exploring them, Robin floats some good questions, namely: How do you maintain a sane relationship in a society that's sex-mad?
For form's sake, I guess there had to be some religion here. (Into each psychosexual trauma some Catholicism must fall.) But Robin doesn't get much juice from a subplot about the passion of the outer-borough Catholics, nor does she convince with a support-group frame that slides perilously far into Eve Ensler terrain. To be honest, I'd begun to tune out the meandering story until Robin won me back with a provocative and delightful late suggestion: The scrambled sexual morals of the nation's young, like its doomed finances and poisonous political life, are pretty much the boomers' fault.
The Merchant of Venice
By Shakespeare.
The Jew of Malta
By Marlowe.
Theatre for a New Audience. The Duke on 42nd Street.

All That I Will Ever Be
By Alan Ball. New York Theatre Workshop.

Anon.
By Kate Robin. Atlantic Stage II.