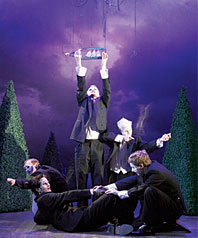 T he doors spring open and across the stage tumbles a 1980s supergroup: a guy in bad yellow floral print, another dressed vaguely like a bellhop, a man in red leather, a retro hipster toting a sax. On closer inspection, they're not really a band, though they play plenty of music (and the short gent in the trench coat isn't Peter Lorre, no matter how much he resembles him). This is Propeller, Edward Hall's aggressively entertaining troupe of actor-blokes. They have returned to Brooklyn to remind us uptight Yanks that it's not wrong—really, it's okay—to laugh your ass off at a Shakespeare play.
The play in question is The Taming of the Shrew, and by the time it had reached that tableau—the many suitors lining up to compete for the hand of wicked Kate and her sweet sister Bianca—the show had reminded me of all the reasons I love these guys. Their premise is so simple, the implications so profound: If the company that first staged these plays 400 years ago was all-male, and boys back then were like boys now, the rehearsal process would have been noisy, rude, and rambunctious. And if the audiences were thousands of illiterates, standing in the sun with the occasional trawling prostitute, then no matter how pretty the poetry or acute the psychological understanding, that rough-and-tumble energy would need to find its way to the stage. At its best, like the troupe's impossibly wonderful A Midsummer Night's Dream, Propeller proves that you're not getting the full measure of Shakespeare unless a show taps his inner Will Ferrell.
For Shrew, Hall's innovation is to make Christopher Sly, the drunken tinker in the show's prologue, a loutish boor on his wedding day. When the guests act out a play, he joins them as the thrill-seeking, wife-hunting Petruchio, which makes the taming seem a thuggish male fantasy. The high jinks are just as hilarious as you'd hope, but, more important, Hall's actors don't miss the soft, subtle stuff. The excellent Simon Scardifield balances Kate's knockabout shrewishness with a wounded quality: Deep down, she wants to be loved. When her spirit gets crushed by Petruchio's brutality, the evening grows as disturbing as it had just been funny.
The same isn't always true of Twelfth Night, the other half of Propeller's repertory, though it has its moments. The problem has something to do with sensibility. I like my melancholy served up with a comic twist, à la Stephin Merritt's 69 Love Songs; in this story of gender-swapping frustrated love, Hall goes for the bitter desolation of a Bright Eyes record. Amid the cold light and gloomy shadows, the company's acting is unusually wobbly. Still, you have to admire the theatricality—somebody's always wandering onstage, playing an instrument—and the way these guys can convulse you with laughter at the drop of a hat. Or pants.
At the Al Hirschfeld, Curtains looks like a rearguard action from an establishment on the run. This backstage murder mystery from John Kander and the late Fred Ebb (with libretto by Rupert Holmes, based on one by the late Peter Stone) has a pleasant score, a couple of solid jokes, and some fine performances—including one from Debra Monk, who, as the brassy producer of the show-within-the-show, overcomes having to say lines like "Aaron and Georgia, you keep writing tunes that bounce; Oscar, you keep writing checks that don't." Most years, a musical that commits no graver sins would be welcome. But in 2007, I found myself sitting there wondering why I was sitting there watching this in 2007.
So really: Another Broadway musical, with big sets and lots of costumes, about Broadway musicals? The detective (David Hyde Pierce, amiable as ever) loves show people. Wouldn't you know it, everyone loves show people. (They sing about it, in a song called "Show People.") The Drowsy Chaperone proved there's life left in this genre if you treat it with enough comic brilliance. If you don't, it tends to look like you're writing about Broadway because that's the one subject a Broadway audience has self-selected itself to be interested in: I think the term for this is narcissism.
It's not just the reverberations of Spring Awakening (rock) and In the Heights (salsa-rap) that make the show feel dowdy. Even among traditional musicals, a sleek, streamlined approach lately—have you noticed?—has begun to take hold. Though they apologized for being "semi-staged," the Philharmonic's My Fair Lady concert and Follies at Encores! may have been the two most delightful nights of the season. On Broadway, John Doyle's stripped-down Company has more vitality than any revival since his even-more-stripped-down Sweeney Todd. Next to these lithe, imaginative triumphs, the mild, ambling fun of Curtains seems brontosaurian.
Seeing Jack Goes Boating is like watching a tall man navigate a low-ceilinged room. We know that Philip Seymour Hoffman can connive (The Talented Mr. Ripley), weep angelically (Magnolia) and be Truman Capote. In Bob Glaudini's new play for the LAByrinth, he does none of the above. Buttoned-up—figuratively and literally, in coat, scarf, hat—he's a zhlubby driver for a car service who's being fixed up on a date. Others have found much to praise in the play's off-kilter vibe. The nervous Jack listens obsessively to "Rivers of Babylon," takes swimming lessons so he can join his girl (Beth Cole) on a boat, and makes a stab at braided hair. Me, I found the acting static, the metaphor labored ("I'm not in the deep end yet"), and the tedious swimming scenes a ringer for some kind of outré, audience-baiting performance art. But if the comedy lets you down, there's always nostalgia. Weed, reggae, people trying to be funny: Your memories of freshman year are as close as this play's curtain.
The Taming of the Shrew and Twelfth Night
By Shakespeare. BAM Harvey Theater.

Curtains
By John Kander and Fred Ebb. Al Hirschfeld Theatre.

Jack Goes Boating
By Bob Glaudini. The Public Theater.