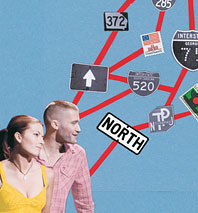 Say what you will about the charms or horrors of the jukebox musical: The genre has been throwing its weight around. Last year, Jersey Boys won the Tony for Best Musical and now, with Mamma Mia!, usually stands near the top of the weekly grosses. At the other extreme, plenty of people rank the Bob Dylan dance vehicle The Times They Are A-Changin' high (or is it low?) among the Broadway wipeouts of recent memory. As an unashamed fan of the jukebox musical (or at least its creative possibilities), I find the gigantism bad for business. Today, when so much of music is moving toward the narrowcast, the quirky mash-up, and the fan site, you'd think that the catalogues of pop songwriters would stand a better chance of yielding something vivid and original away from the boom-or-bust, mass-market glare of Broadway.
That's why I'm glad that a show like 10 Million Miles exists, despite its stumbles. Taking cues from stories and characters in the songs of Patty Griffin, the modest show follows a mechanic named Duane (Matthew Morrison) and his onetime flame Molly (Irene Molloy) as they drive north from Florida in his red pickup. Griffin's alt-country sound is not something I've spent much time listening to, nor do the performances here always inspire me to start. (Molloy has a gorgeous voice but a weakness for burying it in effects: now American Idol, now a yodeler.) Still, the songs do what good pop never fails to do: reel you in with one catchy melody after another, leaving you eager to hear more.
The same can't be said for the story, alas. For all its weightiness—a pregnancy, an almost-wedding, run-ins with the folks—the romance of Duane and Molly is just pedestrian. But at least librettist Keith Bunin evades the most heinous of all jukebox traps: The Rhonda Problem. During the Beach Boys musical Good Vibrations, my faith in the genre's potential to tap the greatness of pop had its severest test when the show introduced a random character named, inevitably, Rhonda. It was so clumsy, so heavy-handed, so hard to stop banging my forehead with my Playbill.
Maybe I'm wrong, and ardent Patty Griffin fans will spot shortcuts here just as cheap as the Rhonda thing. If you love the song "Making Pies," for instance, about a woman who wears a plastic cap to her mundane job at a factory, maybe you'd wince with recognition when Molly's aunt turns up, during her break, wearing said cap. Not hearing a chorus of groans around me, though, I have to think that the Atlantic Theater Company and producers Tom Hulce and Ira Pittelman (the team behind Spring Awakening) realize the wisdom of staging jukeboxes from a pop composer who is less ubiquitous than Lennon, Dylan, and the tragic Brian Wilson.
Even better, they realize that the best jukeboxes don't just yield good songs, they conjure the richness of a world. After slipping and tumbling through Duane and Molly's romance for half the night, Bunin broadens the lens and lets us see the other figures in her lyrics. They work blue-collar jobs without much complaint, sing earnest songs to the Virgin Mary, and worry about God's plan. Director Michael Mayer makes these scenes affecting but not sappy, funny without being condescending. It helps that all the female roles are played by the astonishing Mare Winningham. Each time she appears—as a tipsy divorcée, Duane's put-upon mom, the aunt who makes the pies—she is transformed, and note-perfect.
These late glimpses of the Springsteen demographic are so good—so much better than the love story that's supposed to hook us—I wonder if even an Off Broadway theater is the wrong place to build a show around these songs. Would they resonate more away from the bright lights, closer to where these lives are lived? Outside Manhattan, the show might also duck the larger problem facing modest jukebox musicals: ticket prices. It's pleasant to catch a show with good pop, a terrific performance, and lots of eye candy (whatever your taste). Still, $65 buys a lot of Patty Griffin CDs.
10 Million Miles
Songs by Patty Griffin. Atlantic Theater Company. Through July 15.