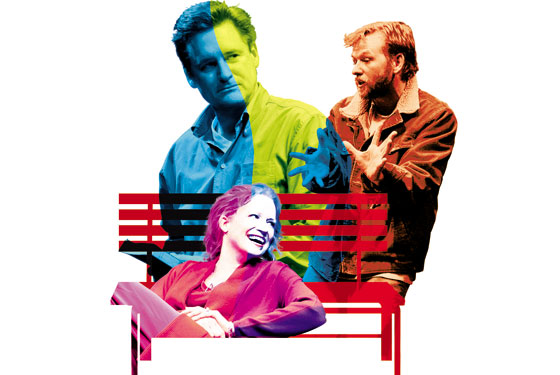 The industry-stalling, mystique-wrecking stagehands' strike may have shut down Broadway—new motto: "The show generally ought to go on, or whatever"—but just outside the blast zone, Off Broadway has much better news to report. Two happy returns, to be exact.
At Second Stage, Edward Albee is doing what Tennessee Williams, Arthur Miller, and Thornton Wilder all failed to do: finish strong. Vigorous and hard at work at 79, he still has plenty of opening nights ahead of him. But Peter and Jerry shows that he's already managed to thrive well beyond the point where weariness and drift hobbled even his greatest predecessors. He hasn't picked an easy way to show it, either. Half of his new play is a revival of The Zoo Story, the tale of publishing executive Peter (Bill Pullman) running afoul of the transient Jerry (Dallas Roberts) on a Central Park bench. Despite this being one of his most popular works, and in defiance of some gruesome cautionary examples—I'm looking at you, George Lucas—Albee has dared to write a prequel to the play that made his reputation. "Homelife," the first act of Peter and Jerry, lets us see Peter in his living room with Ann (Johanna Day), the wife we've only heard about until now. Their quietly upsetting conversation sends him out of the house and into his collision with Jerry.
Improbable as it sounds, the new stuff doesn't just hold up next to the famous bench encounter—it's better. In The Zoo Story, you sometimes hear a talented 30-year-old straining for writerly effects—the symbolism gets laid on pretty thick, especially in Jerry's epochal monologue about trying to befriend, then destroy, a vicious dog. Peter's conversation with Ann, by contrast, is taut, understated, and calculated to unnerve. She talks about circumcision, he recounts a grisly story from his youth, and both of them fantasize about destruction. In a sure sign of a writer in full command of his powers, the dialogue gets more matter-of-fact as the subjects grow more perverse—like watching a Balthus canvas come to life.
Director Pam MacKinnon draws three strong performances from the cast, but it's Bill Pullman who really grabs you. His bland good looks and congressional hair make you think, How could anything bad ever happen to him? When it finally does, Pullman's wonderfully baffled reaction makes it all the more disturbing.
The week's other pleasant surprise comes from the New Group. Jonathan Marc Sherman, a talented young playwright who'd gone missing in part because of substance troubles, has returned with a new play in part about substance troubles. He entrusted it to a movie-star friend with no Off Broadway directing experience and a cast featuring a couple of faces more familiar from the big screen than the theater. Combined, these particulars emit the faint sound of a hipster train wreck in the making.
Yet Things We Want turns out to be a slightly whimsical, slightly affecting, largely entertaining look at three brothers trying to get by. Give Ethan Hawke credit for some assured and (usually) understated direction, particularly in the way he steers a gifted cast away from the histrionics that sometimes beset actors turned directors. Paul Dano is endearing as Charlie, the youngest of three sons whose parents committed suicide. Just as he starts a relationship with a neighbor (Zoe Kazan)—she's a recovering alcoholic, like Charlie's middle brother (Peter Dinklage)—his eldest brother (Josh Hamilton) goes to pieces because a guru skipped town with his money, self-esteem, and will to live.
The story itself is nothing special, leaning heavily on the drug-addled anomie of David Rabe's Hurlyburly. Also the spectacle of a damaged yet handsome man tampering with a damaged yet fetching girl who can't resist his advances is one plot point that male Off Broadway playwrights really, really need to retire. But Sherman's dialogue is too vivid, too lyrically charged for the play to ever feel merely run-of-the-mill.
"Anybody ever tell you you've got skin like alabaster and belligerent hips?" the boozy Hamilton asks Kazan, in a query that's part taunt, part come-on.
"Not that I can recall."
"Well, half of it's true. Where's the bottle?"
Some of these exchanges are just showy virtuosity, but I like a little virtuosity now and then. A bright style can take a playwright a long way in the theater. Just how far is a question we will get to answer when this strike ends and dialogue whiz Aaron Sorkin's new play opens at last.
Peter and Jerry
By Edward Albee. Second Stage Theatre. Through December 30.

Things We Want
By Jonathan Marc Sherman. Acorn Theatre. Through December 15.

E-mail: theatercritic@newyorkmag.com.