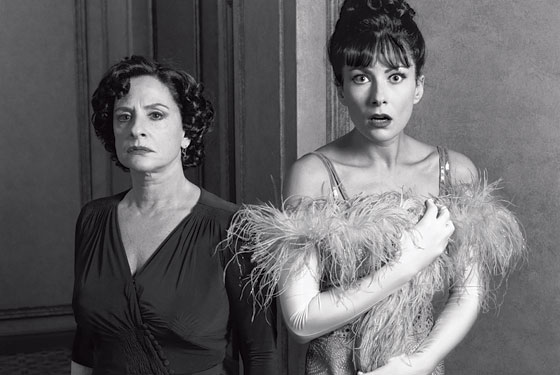 Pale and pigtailed, Laura Benanti spends much of the new revival of Gypsy looking about as wallflower-y as a wallflower gets. As Louise, the less stageworthy daughter of the overbearing Momma Rose, she wears a bashful smile even when she demeans herself: "I don't have any talent," she says. Benanti's ability to navigate the tomboy's transformation into the stage-prowling stripper Gypsy Rose Lee is plenty impressive; her ability to do so while breezing through a dozen other emotional shadings—a plain girl's heartsickness, the petulance of a star—makes it astonishing. If she isn't the definitive Louise, I'd be awfully eager to see who is. So eager, in fact, I might even be willing to sit through Gypsy again.
Of all the canonical musicals, this one leaves me coldest. Sure, sure, it's the work of a bunch of geniuses, and it exhibits a level of craft that would break most artists in two. Arthur Laurents's libretto keeps a tight pace; when it doesn't, the phenomenally lovely songs of Jule Styne and a promising young lyricist named Stephen Sondheim bail him out. It is now getting a skillful revival from a director who knows his material (Laurents himself, an indomitable 89), featuring the latest assured turn from Boyd Gaines, whose amiable Herbie shows he accrues more of the rumpled virtue of Henry Fonda by the day. Then why so little affection?
For one thing, it's about showbiz. That's not, by itself, disqualifying—it also goes for Show Boat and some of the choicer bits of Guys and Dolls. But as Rose steamrolls her daughters through the seedier precincts of live performance, the show forces you either to revel in the campiness of the terrible vaudeville kiddie act, the tacky patriotic revue, and the world's worst strippers, or to cringe through the eighteenth reprise of "Let Me Entertain You."
More to the point, it's about little but showbiz. The story's relentless focus on Rose and her daughters does wonders for dramatic tension, but unlike, say, Show Boat, it doesn't shoot little tendrils of interest into the larger world. For a team whose other gig (with Leonard Bernstein instead of Styne) was the far-reaching tragedy of West Side Story, even the most vivid, masterfully wrought depiction of fame-seeking and ambition seems a trifle minor.
For the 1959 premiere, Jerome Robbins could punch through the show's narrow concern with a pneumatic drill named Ethel Merman—a titanic performance that remains scary even on record. At the St. James, Patti LuPone sings with force and poise. She flits from high and operatic one moment to low and torchy the next, to the delight of her voluble fans. But her charm works against her, as she loses a little of the vulgarity that makes Rose the vaudeville answer to Richard III and that might have—just maybe—made the whole evening as fascinating as Benanti's performance.
Playwrights tend to create a familiar kind of drinker: morose, brooding, Irish in spirit even if not in fact. Now Adam Bock tricks out the stage drunk with up-to-date conveniences like cell phones and irony. In his new play The Drunken City, a bride-to-be and two bridesmaids trek into the big city for a bachelorette party. While bobbing on a sea of "really pretty pink drinks that sparkled," they run into two guys at least as drunk as they are. Trouble—naughty, gut-spilling trouble—ensues.
Though Bock indulges in the occasional whimsy à la Sarah Ruhl, there's a searching quality that makes this 80-minute comedy seem more like a Charles Mee symposium play. His characters look for love in a world that's too noisy, where too many people try too hard to make their relationships work. The fact that their tribulations happen to be hilarious reflects well on Bock—and his director.
Over the last few years, Trip Cullman has put together a body of work that holds up next to almost anybody's, even with some dubious scripts. He's got a distinctive visual flair, a knack for drawing fine performances out of young actors, and, to judge by the soundtrack that runs through his shows, maybe the best-stocked iPod in town. More and more, he is, like Bock, somebody whose name I'm glad to see on a marquee.
Gypsy
Book by Arthur Laurents, music by Jule Styne, lyrics by Stephen Sondheim.
St. James Theater.

The Drunken City
By Adam Bock.
Playwrights Horizons. Through April 20.

E-mail: theatercritic@newyorkmag.com.