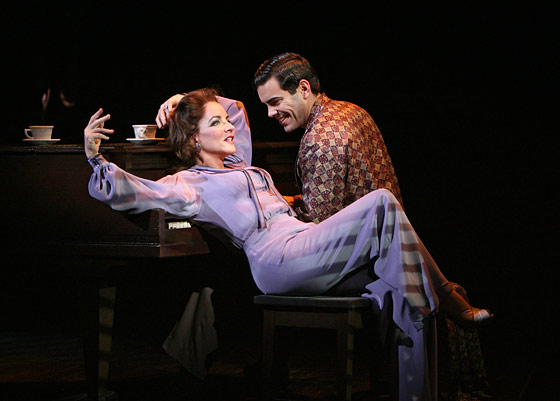 The Roundabout's revival of Pal Joey has had an All About Eve journey to opening night. The lead, former Jersey Boy Christian Hoff, left the show a week into previews claiming a foot injury (and amid rumors he wasn't up to the part), to be replaced by his understudy, Matthew Risch, whose previous biggest role was as a second understudy in Legally Blonde. ("Never having a real speaking role before, I've been having to work hard on my, you know, my enunciation, my articulation," he told the Observer recently.) And so it's pleasingly consistent with the classic backstage story to report that a major singing-and-dancing talent has arrived—except that it's not Risch. It's the heretofore serious actress Martha Plimpton, who displays not only the expected comic timing as Gladys Bumps, the nightclub singer with a heart of blackmail, but also a powerful singing voice.
Risch is game, but he's just not up to the job. Pal Joey is the story of Joey Evans, a workaday nightclub song-and-dance man, successful Lothario, smalltime con man, and occasional gigolo. He's desperate for success and uses people to get it, but he's winning enough that the people he's using know it and more or less like him anyway. He courts the good girl and bewitches the rich one; even after they know about each other, they both still want him. The character exudes confidence and rakish charm, but Risch doesn't have the charisma or the personality of a gigolo (or a Broadway star). He's entirely competent, and a quick-footed dancer. But there's no obvious reason—other than his dark good looks—all these women love him. And there's also the sweat problem. Risch struggles mightily, works hard, dances his heart out, and by the end of the second song—"You Mustn't Kick It Around"—is shiny-faced with perspiration, like Nathan Lane trying to dupe old women into financing a show about Nazis. But while Max Bialystock is a hondler, a schemer, a shvitzer, Joey should be calm and collected. Instead, he's just damp.
Everything else in this well-conceived, timely revival is dark, dangerous, and dry. In Scott Pask's Runyon-goes-to-Chicago set, an enormous, ominous El circles the stage, which is kept dim and smoky. Stark spotlights hit the actors as minimally as possible, giving the whole production a feel of desperate people in dingy clubs during tough times. (This Joey, like the original stage production but unlike the sunny film, is set during what we might now call the First Great Depression.) Stockard Channing may be driest of all—a powerful, intelligent, sexually confident woman of a certain age, happy to use her wiles (and her money) to bed the sultry young go-getter. Her Vera—the Rita Hayworth role to Frank Sinatra's Joey in the 1957 movie—is the ur-cougar. It's a variation on standard Stockard, but she does it well. You see why Vera is the queen of Chicago society. She has presence. And she knows her way around an arch one-liner. Having not sung onstage in two decades—and not in the movies since Grease—she doesn't much know her way around a song. But director Joe Mantello and Richard Greenberg, who wrote a new book for this revival, have worked her songs into scenes rather than presenting them as stand-alone musical numbers. That allows Channing to give them—even "Bewitched, Bothered and Bewildered"—the Rex Harrison–style speak-sing treatment, and she pulls it off.
When Pal Joey debuted in 1940, John O'Hara wrote the script from his own New Yorker short stories. Greenberg, whose Take Me Out won a Best Play Tony in 2003, worked from the same material but simplified the story and removed much of the old script's gangster gothic. (From the original: "Gladys: I think she was stuck on him and he gave her the brush, that's all. Lowell: The broken heart? The fractured ticker? The crushed pump?") He made it smarter and sexier, and bleak. Where the movie ended with Novak and Sinatra walking off into the California sunshine, this ends with Joey alone on a dark street corner, wondering—like so many right now—what the hell to do.
See Also
Q&A With Stars Stockard Channing and Martha Plimpton
Pal Joey
At the Roundabout Theater Company