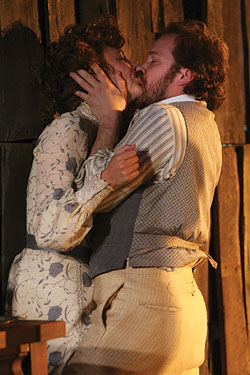 'I don't like this house," crabs the vampiric Professor Serebryakov (George Morfogen) to his bored young wife, Yelena (Maggie Gyllenhaal). "It's like a maze … Everybody wanders off, and you never find them." You said it, brother: In Austin Pendleton's twitchy new production of Uncle Vanya at the Classic Stage Company, those famously aimless offshoots of the Voynitsky–Serebryakov clan wander hither and thither, knocking around Santo Loquasto's intentionally intrusive set—itself a ramshackle nightmare of country life gone to seed—in search of some human outlet for their torpid, trammeled dreams. They find none, of course, and this is Vanya, its essence distilled.
But the actors, too, find little in the way of solid purchase for their characters' pain—their flourishes feel like flourishes, their characterizations slip their gears—and this, I suspect, is not Vanya but Pendleton. He's given his performers plenty of room, and a sizable jungle gym to play in. What he seems not to have given them is direction, in the most primitive sense of the word. The blocking is loose, the sightlines refracted by the busy set—sit in a different seat and you'll see a different show. The message is: In this play where, we all know, nearly nothing happens, anything can happen, and does. People practically bump into each other, partly because they're negotiating a rambling centerpiece (a staircase that is, quite pointedly, almost unused), and partly because they're barely looking at one another half the time. No one's floundering, exactly, but everyone's obviously fishing: There's a lot of bubbly, unmotivated laughter, and lot of frustrated vocalizing. Yes, the ache of life is keenly felt, and no one's expecting a cure—but would it be too terribly much to show us where it hurts and how much? This is Chekhov with fibromyalgia: An exquisite suite of symptoms radiating from nowhere, culminating in little.
Not that there aren't plenty of pleasures to be had along the way. The great Denis O'Hare, that human string of Christmas lights, is a game and rabbity Vanya, and he's clearly having a blast up there. I'm just not entirely sure he's in Uncle Vanya. His version of Voynitsky, a schlemiel pressed into stewardship of his celebrated brother-in-law Serebryakov's dacha, is an antic, aging Hamlet still spoiling for that climactic duel. He glitters with tics and smirks and winks, which, problematically, make him seem far more urbane and sophisticated than his lust object, Serebryakov's glamorous, dangerously restless trophy bride, Yelena. Gyllenhaal reacts to this asymmetric fabulousness by swanning around like a soccer mom doing a Mae West impression. Gyllenhaal is a marvelously honest actress in the right role, but swanning, I think, is not her sport. It seems to exhaust her, and not in a dramatically productive way, either.
Then there's the bent hypotenuse of this love triangle, the saturnine conservationist Dr. Astrov, played by Peter Sarsgaard, Gyllenhaal's real-life partner and fellow vowel-hoarder. Perhaps it was just where I was sitting, but I am fairly certain that, over the course of almost three hours, I never once saw Mr. Sarsgaard's eyes. His is a hooded gaze, by nature, but my impression was of a performance aimed squarely at the floor, vocally, physically, and energetically. And once down, it did not get up again. So much for Vanya's big three. This is the sort of production that will probably improve exponentially over the course of its run: Its wandering stars will align, its jangling bones will knit, and its potential will be released. If only that could have happened before opening night.
But for right now, keep your eye on the excellent Mamie Gummer, who shines as the doomed, chipperly dispossessed Sonya. Gummer grasps the giddy side of Chekhov, and does her own little dance on the chasm's edge—but she never tips into the abyss, never forgets the scene she's in, whom she's talking to, and what job she's doing. Part of that is the role, of course, but a great deal of it is Gummer. At the play's crepuscular conclusion, she's the one real person in the room—which makes her fate, as the survivor, the endurer, all the more pitiable. "I have faith," she weeps, "I have faith!" And, for a half-second, we do, too.
More harrowing scenes from country life are unfolding over at Manhattan Theatre Club, where Lynn Nottage's Ruined has roared into town. It's one of those hot-blooded, un-self-conscious Chicago productions—the full-throttle ensemble reminds me of the crew from Chicago Shakespeare's ripping Rose Rage—and it brims with unsubmerged, un-Chekhovian, unapologetic melodrama. All of which feels not the least bit outsize once you know the premise: Nottage, the writer of Intimate Apparel, has (very) loosely adapted Brecht's Mother Courage and Her Children, repatriating it to the battle-ravaged Congolese rain forest of the recent past. Here, war is never-ending, factions and casus belli are interchangeable and mostly irrelevant, and women's bodies, all too often, are the battlefield: Rape is the preferred weapon of mass destruction, so cheaply and effectively does it lay waste to the social structure. Yet Mama Nadi (Saidah Arrika Ekulona, Earth Motherly to a fault) has found a way to survive, even prosper, in the eye of this hell-storm: She runs a bordello that caters to soldiers and miners—ominously, there are increasingly more of the former than the latter—and shelters and employs many of the raped and, in some cases, "ruined" (i.e., genitally damaged) young girls the war has produced.
Mama's grim blend of mercy, pragmatism, and profit disturbs us perhaps not quite as much as it should, but then Ruined, galvanic and unflinching as it often is, still has a touch of the tourist about it. Nottage, with her lyrical ear, picks out the music of suffering with such ease that she occasionally lets us get a tad too comfortable in Mama's juke joint. When two of the girls—a walking corpse named Salima (Quincy Tyler Bernstine, in an effortless-seeming yet devastating turn) and closed, clever Sophie (Condola Rashad)—turn out to carry with them some extra baggage and intrigue, Mama makes unthinkable choices in order to protect and exploit them. It's to Nottage's credit that Ruined's finale is no simple reckoning, but it does constitute a kind of redemption. This is a relief. But it's wrong. We've seen too much of this place—this hot twist of love and blood, cruelly beautiful music, stingy mercies, and generous horror—to accept such a soft landing. The playwright leads us into the heart of darkness, then plays us a song that says things just might be all right, that we can do better if we keep the faith. But, by that time, we have precious little faith to keep.
Uncle Vanya
By Anton Chekhov.
Classic Stage Company. Through March 8.

Ruined
By Lynn Nottage.
Manhattan Theatre Club. Through April 12.