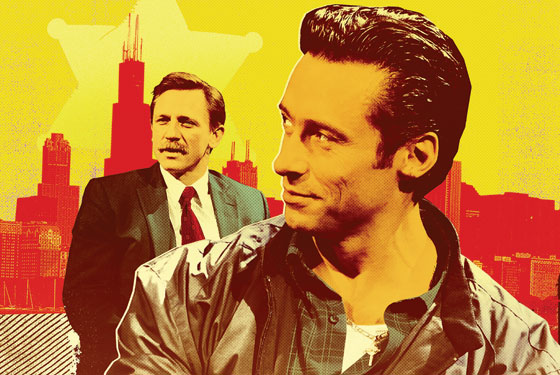 Keith Huff's hard-boiled four-hankie two-hander A Steady Rain and Tracy Letts's starchy-sweet melodrama Superior Donuts were developed and set in Chicago, yet they're not really from there, or from anywhere. These are highly proficient pantomimes played out on the deserted Burbank sets of long-canceled nighttime soaps and cop dramas, and they are not unenjoyable, for the same reason TV is not unenjoyable: because it is familiar. (And because the actors are more than the sum of their parts—which I'll get to in a moment.)
But it's frustrating. Both of these Chi-town playwrights, Huff and Letts (the former a promising newcomer, the latter the Pulitzer-anointed author of August: Osage County, the show that recapped and revived the aspirational massiveness of twentieth-century American drama), are muscular, unpretentious storytellers, the sort we need more of. And both are capable of better. Huff, especially, is onto something promising in the opening moments of A Steady Rain. His subject is the fraught loveship-hateship-friendship of two Southside cops: hearty, ballistic alpha-dad Denny (Hugh Jackman) and Joey (Daniel Craig), a sweet ex-lush with a sad mustache and a one-room, bare-bulb personal life to match. We're just beginning to enjoy these guys, as they bicker over conspicuous consumption and the relative prestige of being "a Nielsen family," when blammo!, A Steady Rain lurches deep into gothic Dick Wolf territory. The Keystone koans (is he who hunts monsters himself a monster?) and cliched abominations (baby in a trash bag!) of the standard police procedural arrive like commercial breaks. All that's missing are the Law & Order chung-chungs.
Jackman does an excellent job playing a man who heedlessly jumps the median between superego and id, in the best tradition of the self-mythologizing American sociopath. The erstwhile X-man has never spelled danger, with or without muttonchops, yet Craig looks scared enough of him to keep us on edge. Don't expect to see a trace of the unsettlingly marmoreal Bond: Craig locates Joey's peculiar strength in his unrepentant vulnerability. (Kinda wish they'd switch off roles on alternate nights, True West style.)
Huff's testimonial conceit soon grows frustrating, with Denny and Joey stuck reciting stacks of three-by-five storyboard cards when all we want is to see these guys effin' go at each other. But even as the play thins, Jackman and Craig know how to make a mudpuddle look hip-deep—a great help to any audience member trying to square his $125 ticket price with the fact that he saw all of this last night on TNT. I mean, come on: foreboding rain? A loose cannon paired with a Schmo Friday? A man who "has every right to do anything it takes to protect his family"? A sinister figure, lightning-limned in the doorway? This is a basic-cable-grade stuff, Mr. Huff. It's not even HBO. It's TV. You've got a voice. Go get a subject.
Superior Donuts is the tale of aging "defeatist" and draft dodger Arthur (Michael McKean); his talented but troubled black employee, Franco (Jon Michael Hill); and the doughnut shop they run together. It should have been titled The Sad Lebowski Finds Forrester: an after-school special for graying white boomers, built on a reliable set of cues for audience approval, disapproval, and raucous release. It's practically call-and-response. Race, class, immigration—Superior does it all, deploying flimsy sitcom ironies (including the occasional well-turned one-liner) against even the thorniest social conundrums. Again, the performances give ample cover: McKean does burnout futility about as well as can be done, and he finds ways to nuance Arthur's old-stoner space-outs into lushly wordless monologues. This is fortunate, because his actual monologues—hacky flashbacks about hippie guilt so generic you can practically see the Wikipedia citations—are draggy as a deep inhale of pure, uncut oregano. What life the play has really resides in Hill, a Steppenwolf veteran who surges with honesty and electricity, even while trapped inside a character seemingly concocted in a white-liberal ecstasy in the early hours of November 5, 2008. You could watch Hill watch paint dry. (And—spoiler alert—you do.)
See Also
• Q&A With Hugh Jackman
• A Comic Imagining of A Steady Rain Rehearsals
See Also
• Q&A With Tracy Letts
• Michael McKean on Serving Up Redemption
A Steady Rain
By Keith Huff.
Schoenfeld Theatre. Through December 6.

Superior Donuts
By Tracy Letts.
Music Box Theatre.