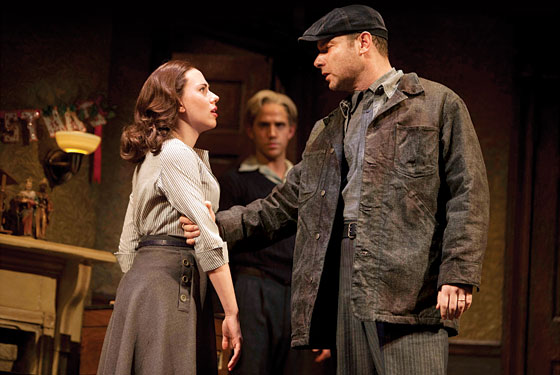 In an Arthur Miller play, human decency isn't an everyday code of living to be carried out casually and instinctively but a set of guidelines just waiting to be intoned. And so, early in A View From the Bridge, when the twinkly-crusty lawyer Alfieri (Michael Cristofer) steps forward with a thumbnail lecture on the rough moral code of Red Hook in the fifties ("Oh, there were many here who were justly shot by unjust men"), there's nothing to do but sit back and take notes. It's Miller time.
Yet soon enough this production, directed by Gregory Mosher, begins to breathe. Liev Schreiber is Eddie Carbone, a Brooklyn longshoreman who's worked his butt off to care for his wife, Beatrice (Jessica Hecht), and his comely niece, Catherine (Scarlett Johansson), now 17. Complications—including forbidden, semi-incestuous attractions—emerge when the Carbones make a temporary home for Beatrice's illegal-immigrant Italian cousins, Corey Stoll's Marco and Morgan Spector's Rodolpho, the latter of whom instantly falls in love with Catherine.
And who wouldn't? Johansson's Catherine is a mousy bombshell, a sweet minx who goes about her day in tweedy straight skirts and not-so-high heels. The va-va-voom is implied: Johansson knows Catherine would never spell it out, though she does, of course, long to test it out, particularly on Rodolpho (who, as Spector plays him, strikes the right balance between suave and rough-edged).
What the actors know, as Mosher does, is that there's juice and not just heady moralizing in A View From the Bridge. Even the set avoids the usual "drab working-class existence" visual cues: The Carbones' flat includes the kinds of personalized touches that suggest that characters in plays, like their real-life counterparts, actually want to be happy: a squishy chair that's not just worn, but actually looks comfortable; an embroidered tablecloth instead of a plain one.
In the midst of that almost-happy life is Schreiber, playing a suffering working man with incomparable lightness. Instead of fighting his way through the material, Schreiber moves through it with agility and offhanded courage, finding small complexities in the play's margins as well as its text. He honors the spirit of Miller's dem-dese-and-dose dialogue, but he keeps it springy and airborne rather than chomping down on it. That's not to say he doesn't take Eddie's predicament seriously. When things get really tough for Eddie, Alfieri describes—twice—how lousy he looks, with the line "His eyes were like tunnels." If Miller had known that someday he'd have an actor like Schreiber interpreting his character, he wouldn't have needed all that emphatic underlining. Schreiber, so vital in the play's early scenes, becomes a husk of a man in the later ones: His workman's jacket hangs sadly from his shoulders; from the inside out, its very cloth seems dejected.
Schreiber even manages to look stunned by the violence at the show's climax, as if Miller hadn't been signaling it from the start. Schreiber recognizes it as a moment of Shakespearean grace, as Hecht's Beatrice does—her body folds around his, protectively, like the petals of a flower. But it's not time to go home yet: That noble wet blanket Alfieri is lurking nearby, ready to send us off with a final, mournful monologue. Yet even he brings a delicate touch to Miller's speechifying. Can actors save a playwright from his worst impulses? This A View From the Bridge may be everything a playwright, living or dead, could want: People who care enough not just to keep your language and your ideas alive, but to watch your back.
A View From the Bridge
By Arthur Miller.
Cort Theatre.
Through April 4.