Torino
Torino, or, as it's known in English, Turin, is the northern Italian city that's hosting the 2006 Winter Olympics, which began on February 10. In advance of the Games, NBC Sports chairman Dick Ebersol declared that the network's announcers would pronounce the city "Torino," rather than "Turin," because it "rolls off your tongue, sounds so Italian, so romantic … 'Turin' just doesn't do it for me." Some observers ridiculed the decision, though Torino is, in fact, the city's actual name. The city, population 900,000, is home to the disputed religious artifact the Shroud of Turin, and also lent its name to the Torino Impact Hazard Scale, a method for measuring the potential danger of "near-Earth objects," such as asteroids. The scale, created by an MIT professor, was officially adopted at a conference in Torino in 1999.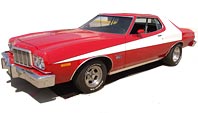 The Ford Torino
The Ford Torino, produced between 1968 and 1976, is best known as a precursor to the slightly modified Gran Torino (pictured), a car popularized on the TV detective series Starsky & Hutch. The long, low lines of the Torino were typical of the styling of the era, not to mention perfect for sliding across the hood and generally looking badass while chasing criminals through the fictional "Bay City." The original Torino was available as a midsize two-door and four-door, a station wagon, and a convertible, and its front end was used as part of the car-pickup hybrid the Ford Ranchero, which was Elvis Presley's favorite car. The release of the original Torino also spelled the end of the popular Ford Fairlane, the car that later lent its name to a terrible movie starring comedian Andrew Dice Clay.
Lee Trevino
Lee Trevino, age 66, won 29 PGA events and six majors over his golfing career, earning the nickname "Supermex." Born in Texas, Trevino grew up in a modest home on the perimeter of a local golf course. In 1975, he was injured when struck by lightning during a tournament in Chicago, at which two other players were also struck. (The PGA consequently adopted new safety standards.) Trevino now plays on the professional senior circuit, and is known as one of the sport's most quotable personalities. ("If you are caught on a golf course during a storm and are afraid of lightning, hold up a one-iron. Not even God can hit a one-iron.") He lent his name (sort of) to golfer Lee Carvallo on The Simpsons, for Lee Carvallo's Putting Challenge, an incredibly boring video game given by Marge to a disappointed Bart.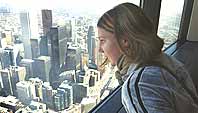 Toronto
With a population of 2.5 million, Toronto is Canada's largest city, as well as its financial and cultural center. Though Toronto is not home to any disputed religious artifacts, nor has it lent its name to any astronomical-disaster scales, the city does boast many vibrant ethnic communities, a lauded literary scene, and the CN Tower, the world's tallest freestanding structure. (Whether the tower is actually a "building" is a matter of dispute, given that it's essentially an enormous tourist attraction–radio antenna.) Toronto also made serious bids to host both the 1996 Olympics (lost to Atlanta) and the 2008 Games (lost to Beijing), and was featured in a 2002 episode of The Simpsons in which the family travels to Toronto, though this has been referred to by fans as "one of the worst episodes ever."