It has been accused of killing youth culture, and the city's schools are urging students not to watch it. But for all the casual sex, drugs, and booze that permeate the CW's Gossip Girl, is the show really that bad? Underneath the modern trappings of Sidekick and Guitar Hero, the students of Constance Billard are the same characters (living the same plotlines) we've been digesting for decades, if not centuries. Some Cliffs Notes:
CHARACTER: Blair Waldorf. Uses her wardrobe and parties to keep the serfs of Constance Billard in her thrall.
ARCHETYPE: Queen Bee. An exquisite bully who charms, manipulates, and intimidates the young and insecure. Trades on envy, insecurity, and pride, too.
PREVIOUS APPEARANCE, SCREEN: Heather Chandler (Kim Walker) from 1989 film Heathers. "Transfer to Jefferson," she barks at an underling. "No one at Westerberg is going to let you play their reindeer games!"
PREVIOUS APPEARANCE, LITERATURE: The Marquise de Merteuil, from Les Liaisons Dangereuses. The ultimate cruel mistress, De Merteuil uses her sexuality to play those around her like puppets. She jealously tries to destroy happy relationships among friends.
CHARACTER: Serena van der Woodsen. Anchors the show as Blair's BFF/rival.
ARCHETYPE: Reformed Courtesan. Essentially wise and good of heart, she tries to make up for past mistakes, but her efforts are often greeted with suspicion and distrust.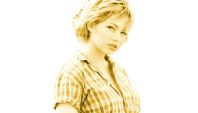 PREVIOUS APPEARANCE, SCREEN: Jen Lindley (Michelle Williams) on Dawson's Creek. After she is caught having sex in her parents' bed, young Jen is exiled to Capeside. She then tries to live a steady life, only to end the series a dying single mother.
PREVIOUS APPEARANCE, LITERATURE: Violetta in Verdi's La Traviata. A courtesan and popular party hostess, Violetta tries, with tragic results, to change her ways after she falls in love with the middle-class Alfredo.
CHARACTER: Chuck Bass. Heir to a real-estate fortune, lives a life of leisure and vice at the Palace Hotel.
ARCHETYPE: Rich Ne'er-Do-Well. With no parental constraints, he beds many a woman and battles emotions with apathy and sarcasm.
PREVIOUS APPEARANCE, SCREEN: Steff (James Spader) in 1986 film Pretty in Pink. A scotch-sipping louche teen used to getting what and whom he wants, Steff becomes vengeful when his romantic overtures are rejected.
PREVIOUS APPEARANCE, LITERATURE:
Dorian Gray. The forever-young rake indulges the hubris of wealth and beauty, frequenting opium dens and whorehouses. He specializes in ruining relationships, but becomes so revolted with himself that it destroys him.
CHARACTER: Dan Humphrey. Lives in Williamsburg, writes poetry, falls for Serena.
ARCHETYPE: Artistic Outsider. While purporting not to need the approval of his peers, he at once disdains his wealthier classmates and craves their acceptance.
PREVIOUS APPEARANCE, SCREEN: Keith Nelson (Eric Stolz) in 1987 film Some Kind of Wonderful. The loner from the wrong side of the tracks, Keith crushes out on the wealthy, popular Amanda Jones, bruising the heart of his tomboy best friend, Watts.
PREVIOUS APPEARANCE, LITERATURE: Pip from Great Expectations. "I was always treated as if I had insisted on being born, in opposition to the dictates of reason, religion, and morality, and against the dissuading arguments of my best friends."
CHARACTER: Jenny Humphrey. Sweeps into school as Blair's naïve (but conniving) protégée.
ARCHETYPE: The Aspiring Ingénue. Underneath her sweet exterior, she's a coolly calculating climber underestimated by her social superiors.
PREVIOUS APPEARANCE, SCREEN: Cady Heron (Lindsay Lohan) in 2004 film Mean Girls. "I know it may look like I was being like a bitch," explains Cady about joining the catty clique the Plastics. "But that's only because I was acting like a bitch!"
PREVIOUS APPEARANCE, LITERATURE: Jane Fairfax from Jane Austen's Emma. The youthful Fairfax is at first taken in by Emma, who uses her as part of her playful romantic machinations, only to become threatened by Jane's beauty and talents.
CHARACTER: Nate Archibald. Raised to live his father's dreams, longs for more.
ARCHETYPE: The Dissatisfied Heir. Blessed with a trust fund, a beautiful girlfriend, and fabulous cheekbones, he is beset with familial obligations.
PREVIOUS APPEARANCE, SCREEN: Blane McDonnagh (Andrew McCarthy) in Pretty in Pink. A "richie" cool kid with a hot car and a perfect future, he fears his parents still believe in arranged marriages.
PREVIOUS APPEARANCE, LITERATURE: Prince Hal from Shakespeare's Henry IV, Part One. Heir to the throne of England, he roams the city's bars and dens of sin, buckling under the pressure of his father's expectations.