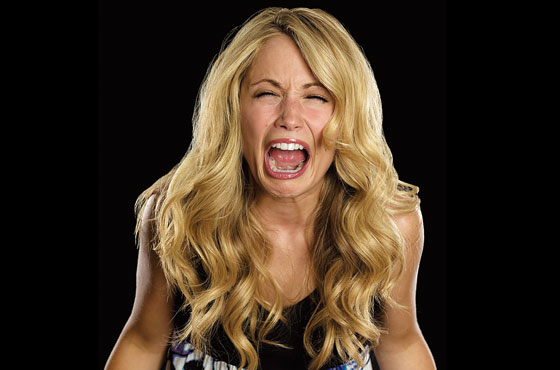 Is there such a thing as overacting on soap operas? Believe it or not, yes. And the actors who don't—the ones whose relative restraint and natural charm make the (forgive us, die-hard fans) often-overwrought writing bearable—are keeping the creaky genre alive. We assembled a distinguished team of connoisseurs (listed below) and asked them to pick promising New York–based up-and-comers: the most likely to follow in the footsteps of such lauded soap graduates as Meg Ryan (As the World Turns), Guy Pearce (Australia's Neighbours), and Melissa Leo (All My Children). And we asked the hopefuls to do what they do best: emote.
Marcy Rylan, 27
PLAYS: LIZZIE SPAULDING ON GUIDING LIGHT
"A sitcom superstar in the making," says Logan. "Or is she? For all her irresistible zaniness, she's a hell of a tragedienne—the kind who grabs your heart and won't let go."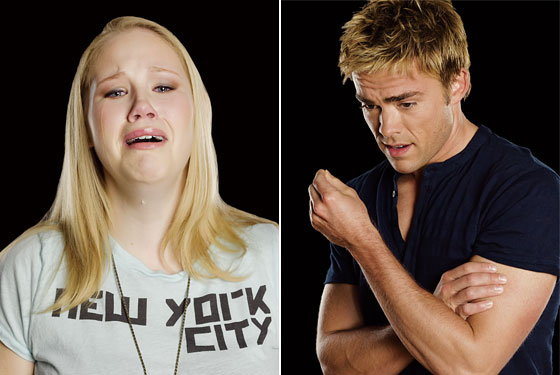 Caitlin Van Zandt, 23
PLAYS: ASHLEE WOLFE ON GUIDING LIGHT
"She's like a raw nerve moving through Springfield," says Hinsey. Adds Logan, "This sexy, plus-size wonder broke all the rules in Soap-land, going from minor player to leading lady in record time. A rare and true original."
John-Paul Lavoisier, 28
PLAYS: REX BALSOM ON ONE LIFE TO LIVE
"Underneath the runway-gorgeous looks, there's a biting wit and a fierce, scary, unpredictable intelligence," says Logan. "He's hilarious and dangerous all at once."
Van Hansis, 26
PLAYS: LUKE SNYDER on AS THE WORLD TURNS
"A sweet, tender, immensely brave actor," says Logan, "who has weathered a firestorm of controversy in a landmark role." (Hansis plays one of the rare gay men on soaps.) "Even the anti-gay, Christian-right grannies gotta love him."
Kristen Alderson, 17
PLAYS: STARR MANNING ON ONE LIFE TO LIVE
"What fans love most about Kristen is that they watched her grow up on the show," says Hinsey. "They know her. So when something happens to Starr—like her unwanted pregnancy at 16, for instance—it's not just a soap character in trouble. She's a member of the family."
THE JUDGES
• Connie Passalacqua Hayman, longtime soap journalist and professor of journalism at Marymount Manhattan
• Carolyn Hinsey, editor of Soap Opera Weekly
• Michael Logan, who writes TV Guide's weekly soap column
• Terry Morrow, TV critic for the Knoxville News Sentinel
• Ed Martin, TV editor for JackMyers.com.