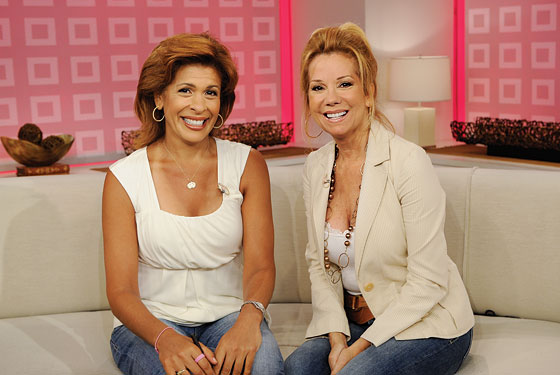 Just your average American mom, thrust into the public eye and pummeled with unfair, borderline-sexist attacks. We speak, of course, of Kathie Lee Gifford—wife, mother, chanteuse, champion cross-talker—whose squawking presence on the Today show's fourth hour provides priceless daily cringe fodder. Below, a sampling of the past two weeks, rated according to pitiable co-host Hoda Kotb's tormented facial expressions.
"Put twelve gay guys together like that, you're gonna have some problems!"
—KLG's analysis of a new movie about a Christian "ex-gay" deprogramming center.
HODA FACE: Moving on …
"I think they're Korean. I hope they are … They are now."
—KLG on the people who attach her many hair extensions, whom she referred to, reflexively, as "Korean."
HODA FACE: Tight rictus.
"Oh, yeah. That's the kind of guy I want to impregnate my daughter."
—KLG on Levi Johnston, upon hearing Hoda read his profanity-laced MySpace profile.
HODA FACE: Amusement. This was actually a good line.
"He's big over there. He's like nothing here."
—KLG on their guest, British comic and Hamlet 2 star Steve Coogan, whose career Hoda had described as "hot."
HODA FACE: Rictus plus tic.
"Aren't the Mets in first place? Look at the stands: There's nobody there!"
—KLG's compassionate response to a Web video of a young boy falling out of the stands.
HODA FACE: Horror.
"Not to be confused with hip-hop!"
—KLG's nonsensical, free-associative response to a guest nutritionist's discussing foods that get "a bad gas rap." KLG brings up intestinal gas at least one more time.
HODA FACE: Rictus plus tremors.
"Charlton Heston would love her!"
—KLG on lifelong NRA member Sarah Palin.
HODA FACE: Mentally mouthing, "If he were alive, you twit."
"You mawwied to old man!"
—KLG imitating an Al Roker voice mail (Charlie Chan squint included), which she threatened to send to TMZ after not being invited to join the Today crew at the Olympics.
HODA FACE: Mortification.
"Once that thing does a facial too, it's mine."
—KLG on a remote-control bidet.
HODA FACE: Queasy-looking eye-bulge.