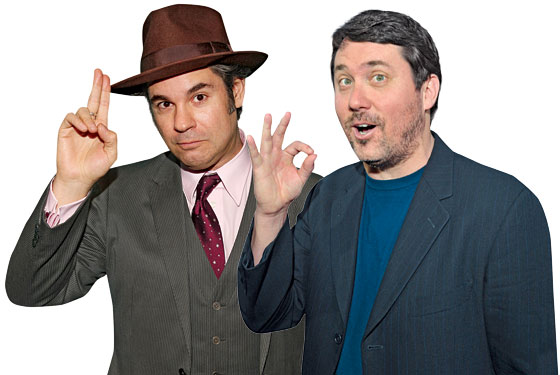 Last fall, when VH1 installed the foppish comic Paul F. Tompkins as the host of its Zeitgeist omnibus Best Week Ever, fans decried the end of the show's talking-heads era. But Best Week's increasingly absurdist direction has revitalized the series, making for one of the strongest seasons in its five-and-a-half-year run. The show goes on sabbatical on June 12, and therefore its hosts will sadly miss their chance to riff on this summer's finest entertainment product. So we asked Tompkins and his co-star, Doug Benson, to preview the pop-culture detritus—via movie trailers, TV spots, and possible hit singles—they won't be able to riff on during their break.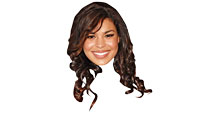 JORDIN SPARKS, "BATTLEFIELD"
Jive Records
The 2007 American Idol winner makes a play for "Umbrella"-size ubiquity with this anguished breakup anthem.
Paul F. Tompkins: I can never remember who wins American Idol. Did she? God bless her that she has a career at all, because she's not particularly memorable.
Doug Benson: But she's a good singer. Put her in the same outfit and dance moves as Pat Benatar in "Love Is a Battlefield," and that would be a sweet video.
DATING IN THE DARK
ABC; premieres July 20, 10 p.m.
From the producers of such upper-tier lowbrow hits as Fear Factor and Big Brother comes this new reality series, which follows a group of singles as they interact in a pitch-black house.
DB: Survivor did a more primitive version of this. They would use night vision for sex scenes or when they were in a tent during a storm. It makes their eyes look crazy.
PFT: Everybody looks like a demon.
DB: There's an actual restaurant where the premise is, you do everything in complete darkness. Which is horrifying to me.
PFT: And unsanitary.
DB: I'm really into looking at food before I put it in.
PFT: I'm really into knowing where I am. And what I'm doing. And who's around me.
G.I. JOE: THE RISE OF COBRA
August 7
The director of the Mummy films tries for another FX-intensive summer franchise, adapting the action-figure line.
PFT: The time has passed for when I would have found this prospect very exciting. As a 40-year-old man, I can't think of any toy that, if they brought it to life now, I'd be like, "Oh, yeah. I'm gonna see those things talk to each other!" This is one of those movies where, if I don't see it the day it comes out, I'll never see it.
DB: I didn't even pay to see it yet, and I want my money back.
HUNG
HBO; premieres June 28, 10 p.m.
DB: Now this is about a jury, right?
PFT: Or William Hung? He finally got his own show?
It's actually about a high-school teacher with a large penis who becomes an escort.
PFT: You know how white people have all sorts of problems? And you know how a white man with a giant penis has more problems than anybody? That's what this show's about.
DB: This should at least be really outrageous. It looks kind of blasé: "Oh, isn't it crazy that this guy has a huge dong?"
DAUGHTRY, "NO SURPRISE"
Sony BMG
Yet another Idol single, this one a turgid dirge from alarmingly multiplatinum runner-up Chris Daughtry.
PFT: I always feel bad for the other people in this band. Frank Sinatra wouldn't go out with a twenty-piece orchestra and say, "We're Sinatra." Just say you're Chris Daughtry.
DB: "I used to play in Manilow, and I was in that band Cher for a while."
PFT: This is perfectly tolerable music—it's not awful, but it's not enjoyable. I don't think it has "song of the summer" potential.
DB: It's not as anthemic as previous Daughtry outings.
PFT: Can you call songs "outings"?
METEOR
NBC; July 12 and 19, 9 p.m.
A two-part disaster mini-series that NBC will likely promote every 30 seconds, starring Christopher Lloyd, Ernie Hudson, and a very excitable Jason Alexander.
PFT: When Jason Alexander gets all worked up, it's impossible not to see George Costanza.
DB: It just seems like he's overreacting, because we're used to Costanza overreacting.
PFT: I used to love this stuff. But there's only so many things that can hurtle from space, and I think we've seen every one at least twice.
DB: This just seems to have a lot of people in a field, yelling.
PFT: There's a lot of discussing the meteor. Which is the problem with meteor movies. All that talk: "Once that thing gets here, it's not gonna be good."
COBRA STARSHIP FEATURING LEIGHTON MEESTER, "GOOD GIRLS GO BAD"
Atlantic Records
Sneer if you like, but the last time this pop-punk group tried a movie crossover, it was the hit "Snakes on a Plane (Bring It)." The Gossip Girl star supplies guest vocals.
DB: It's a whole song written from the point of view of Joe Francis.
PFT: Is that her singing? She's all Auto-Tuned. I guess Auto-Tune is the American dream—"Hey, you want to sing? So what if you don't have any innate talent? We have a machine!"
INGLOURIOUS BASTERDS
August 21
Quentin Tarantino's long-anticipated Nazi caper drew mixed reviews at Cannes, but how could a Brad Pitt–Cloris Leachman team-up be missable?
DB: Tarantino. There's hardly a more talented and annoying person alive.
PFT: Has he been working on this for a decade?
DB: Yeah, he got distracted by the amazingness that is Grindhouse.
PFT: I like that they throw Hitler in there at the end, like, "Special appearance by Hitler!"
DB: Do you think there'll be a one-eyed Tom Cruise cameo?
PFT: [Someone] told me that you can only enjoy Valkyrie if you imagine it's actually Tom Cruise going back in time to kill Hitler.
DB: Because he would do that if he could. I could see Tom Cruise in story meetings going, "Are you guys sure I can't succeed in killing Hitler? Why do I have to fail?"