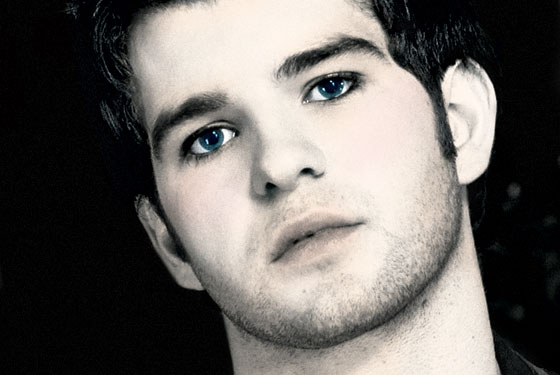 Peter Cary "PC" Peterson, 18 years old and a senior at Dwight, is sitting at Philippe on the Upper East Side, talking about the way the world works, based on his extensive experience. "Everything in New York City is about connections," he explains, his eyes glinting and head lolling back. "It's who you know and how much money you have. It's really sad. And I am not saying I'm like that. But that's what New York is: money and power."
Peterson, who is the grandson of Pete Peterson, illustrious billionaire banker, is the star of Bravo's new reality show NYC Prep, its most eligible bachelor, its cattiest gossip, and its most profound philosopher, spouting teen epigrams in a polo shirt with an upturned collar. "Money flows like the wind," he says. Or "people want to strive to act like an asshole." He, of all castmates, seems to be enjoying himself thoroughly. His family, never press-shy in the past, is mortified by his new celebrity. But PC is living large in a way his grandfather never contemplated.
In fact, much of the reality of NYC Prep we've seen before, as fiction. This is the Gossip Girl lifestyle: shopping excursions to Bergdorf, fake I.D.'s, getting drunk at clubs, confabs at restaurants in the meatpacking district. And these are Gossip Girl–style bad values—the naked pursuit of money, sex, and social position, as if there's a gigantic chalkboard somewhere on Park Avenue charting the relative popularity of every kid in the city. But the denizens of this world are real teenagers. At least, they were before they began taping the show.
In NYC Prep, as in many low-culture products, the emerging picture of Manhattan is an upper-class farce. The city is a capitalist hell, with mood lighting, frenetic shopping, and "18-year-old girls who cry when they lose their eyeliner," as Peterson puts it. Post-crash, the city is a symbol of spiritual emptiness, an island of lost souls, almost submerged in colorful cocktails. And much of America wants to laugh at New Yorkers suffering for their sins.
The creators of this weird fishbowl are New Yorkers in their thirties: Matt O'Brien and Liz Alderman, a Brearley graduate who was also a teacher at the school for four years. In December 2007, Alderman and O'Brien, who'd met while working as producers on Tim Gunn's Guide to Style, hatched an idea to cast a real-life Gossip Girl with kids from private schools. "These kids are so smart in the way that they deal with their issues, so snarky and sarcastic with each other, and we wanted to capture that," says Alderman. She began crisscrossing Manhattan with O'Brien in her Porsche—"The casting mobile!"—staking out corners near the Brearley-Chapin nexus, on East End Avenue and 80th Street; Lexington and 86th, near Dalton and Regis; and, on the West Side, near Collegiate and Calhoun. They faxed requests to schools, without response, and stuck casting flyers on the back of dressing-room doors at Intermix and Forever 21. When these strategies were largely unsuccessful, they turned to Facebook—a tricky way to contact minors who would likely not engage with adults otherwise, and often frowned upon by some news outlets, like the New York Times. "It took a little while to get traction, but once we did, hundreds of kids went through the process in some way," says O'Brien, who taped auditions with these teenagers at a rented space on Wall Street.
Once the pair sold the show to Bravo, they set themselves up at Le Pain Quotidien on Madison Avenue, scheduling appointments with parents on Park Avenue: Because the characters on the show are minors, their parents needed to sign a production contract. Doors began to close. "This is one of the hardest shows to cast that has ever made it on air," says Lenid Rolov, an executive producer on the show. Desperate to fill out the cast, the producers did a hard sell for the final character: Kelli, a junior who was brought to the audition by Real Housewife Jill Zarin's daughter, Ally, a schoolmate. "I went to the interview for the show on Friday and rushed to the Jitney right after for the Hamptons," says Kelli, over lunch at a Rockefeller Center café with her thin blonde mother and her father, an impeccably groomed owner of a printing press. "When I got home, I went into the den with my parents and told them, 'Um, after school today, Ally took me to audition for a reality show, and we have to sign the contract by tomorrow.' " She and Ally don't speak anymore; if you really want to know the gossip—which I'm not sure you do—Ally says that Kelli didn't invite her to her birthday party, so she's done with her.
"I also promised my parents that it wouldn't interfere with my homework," says Kelli, digging into a banana split.
"Junior year's a big year!" says her mom.
The show taped a few hours a week for months, with at least a half-dozen crew members trailing the kids. Kelli liked it, mostly. "I'm very allergic to nuts, all nuts," she says. "Once, we were out to dinner, and I took a little bite of food and then asked, 'Are there nuts in this? Guys, are there nuts in this? Omigod, I could go to the hospital, don't you understand?' And the guys just sat behind their cameras, like, whatever." She laughs. "I guess that's good TV."
In the past, reality shows about the rich were, for the most part, a West Coast phenomenon. The conspicuous consumption, exhibitionism, and lovably bad values belonged to the Tori Spellings and the Osbournes, entertainment families that crave the spotlight at all costs. New York's bright lights seemed almost tasteful compared with those on the other coast. Sex and the City, in particular, was a kind of romance with New York, about the way that women could make their way in a town with too many options to choose from. The glittery lifestyle of Town Cars and Cosmos seemed like something to covet, a fantasy of a fabulous life that was easy to satisfy with the right handbags and shoes. Beneath the wardrobe, these girls were real people. The show was fundamentally about love.
But even before the crash, the image of the city was beginning to change. Gossip Girl is the Sex and the City of its moment—a soap opera about privilege and the unfailingly nasty things that people do when they have it. Whereas in Sex and the City money was a means to a beautiful end—Manolos, most often—cash, not love, is the real currency in Gossip Girl. New York is a Louis XIV court, beautiful and decadent, making nothing, obsessed with its own intrigue, on its way out.
NYC Prep is a further evolution of this idea. The first episode, which attracted over a million viewers, sells it as a high-stakes drama about the "elite of the elite," as Peterson calls it (at one point, he sums up the current economic climate as "the recession's my bitch"), but really it's a comedy about the silliness of the rich. As you may or may not know, it's deeply uncool, as a student at a New York private school, to be a fan of Gossip Girl—it's too outsized, too camp, for kids who are living that life to enjoy. It might also hit too close to home. Some details are right in NYC Prep, like the way Upper East Side kids speak: a hybrid of Valley Girl–speak and East Coast boarding-school lockjaw, meant to communicate that the person is blasé, unconcerned, cooler than you. Of course, to survive in this shark tank, you have to be a gorgeous monster. As in most private schools, the hair of the girls on the show is possibly the best tended in the city, long and luxurious, flipped very quickly back and forth over shoulders in a furious mating call.
Actually, NYC Prep is modeled on the Real Housewives franchise, which is buoying Bravo after the loss of Project Runway. The formula is a reality show with irony, with a wink, a step more sophisticated than the bitch-slappery on VH1. "In a sense, NYC Prep is The Real Kids of New York City," says Andy Cohen, a senior vice-president at Bravo Media. "Those kids could be the offspring of the women on the Housewives show." In a brilliant marketing move, the Housewives, which has ballooned to include Orange County, Atlanta, New Jersey, and possibly D.C., is set to become a powerhouse all year long, rotating geographical locations every couple of months. (The debuts of NYC Prep and Miami Social, another "docu-soap" about similarly voracious spenders in that city, complete the picture, bridging the gaps between Housewives installations.)
The Housewives series, of course, is a freak show. Some of the New York Housewives dress like anchors on Entertainment Tonight, all perfect hair, plastic surgery, and magenta party dresses (with the exception of Kelly Killoren Bensimon, who makes up for her impeccable fashions by frequently making no sense). They strip the pretense from New York striving, show it for the laugh riot it is. Do you want a place in the upper class? "The admission price is going to charity events, political events, gifting, naming hospitals after yourself," explains Zarin on the show. Are you going to the Hamptons because you really love the beach, or is there another motivation at work? "We escape to the Hamptons because it's great for socializing," admits LuAnn de Lesseps, a countess, she explains, since her ex-husband's family built the Suez Canal. Are you nervous about losing status by moving to another borough, even though the rents are cheaper and the services comparable? "It was a big change to move to Brooklyn," says Simon van Kempen, husband of housewife Alex McCord. "I was worried how people would react."
Some of the Housewives are fabrications of society women: "I had $8,000 in my bank account when I signed up," says Bethenny Frankel over a lunch of shrimp salad and Perrier at Barney's. Before she was cast on Housewives, Frankel was a runner-up on Martha Stewart's Apprentice. "At first, I was like, 'I will work so hard and be the best,' because I thought they really wanted an apprentice," she says. "But they don't care what you say; they just want you to slap someone."
Frankel was approached for The Real Housewives by a producer at a polo match in the Hamptons, but initially turned it down. "I thought it would be tragic, just tragic, a bunch of women drinking and acting like idiots, and I would be the idiot who'd been on two reality shows," she says. But she went to a party where she met the rest of the cast and changed her mind. "I thought, Maybe I should do this, because there is no way I could look like a crazy person with all these crazy people." She lets out a guffaw. "You can't believe these shows are real, because you don't believe that people could be this insane, but everything is 100 percent genuine." She sighs. "You know, the things we've all done and said to each other … they're unforgivable. If I met these five women at a party in the Hamptons, we'd love each other, but this—it's too much. Everything comes out about your life. And nobody cares. And you learn that if you don't care, nobody else cares. It's good not to be ashamed. I had a picture taken of me the other day, and my nipples were showing, and I was like, 'Well, at least they were lined up.' "
Whereas Manhattan's Real Housewives are largely predatory, the producers of The Real Housewives of New Jersey have allowed its characters to have souls. They may get their hair cut at the Chateau salon and dine at restaurants named Lu Nello, but they're lovable and support each other—except for Danielle, the preening, Botoxed mother of two with a phone-sex relationship with a man named "Gucci-model" and a criminal past involving cocaine and escorting. (She pines for love, but it's not really what she's after: "For me to chase someone who makes less than $25,000 a year? Excuse me, I owe more than that to Neiman Marcus.") On a recent morning in Franklin Lakes, a town where trees barely reach the top of gargantuan nouveau houses, the two sisters in the cast, Caroline and Dina Manzo, sit around Caroline's marble kitchen in her 6,000-square-foot home—above a window, there are words written in large gold paint: TO LIVE, TO LOVE, TO LAUGH, TO BE HAPPY, an interior-decorating trend of which I was formerly unaware. Caroline points out a few furnishings, like a filigreed yellow bowl that she purchased in Jordan, on a trip she took as a guest of the king, she says, set up by her "very close, very best friend" Bernie Kerik, the disgraced NYPD commissioner. "I was in Petra, like, 'I'm stepping here, right where Moses walked, get friggin' out of here!' " she says. "The Princess of Jordan called me the other day, and she said she likes the show." She points a finger. "You know, Bernie is a true patriot. Even though his country shit on him, he still loves his country, and that shows character."
In the city, that kind of remark could ruin your social schedule, but not south of the Hudson. "Here, in New Jersey, we're not trying to get somewhere else, like in New York," says Dina, folding her hands in her lap. "We're happy where we are."
PC Peterson's family may be the richest to ever be featured on reality TV: His grandfather Pete, a self-made billionaire from a first-generation Greek-American family in Nebraska who has just published his memoir, The Education of an American Dreamer, has been the secretary of Commerce, CEO of Lehman Brothers, and, most recently, chairman of the Blackstone Group. After the company went public, he vowed to donate $1 billion to study America's fiscal challenges. Paris Hilton didn't have this kind of background when she was cast on The Simple Life. The Peterson family, an eccentric, gregarious group who usually court publicity—Pete Peterson's wife, Joan Ganz Cooney, is the founder of Sesame Street, and Holly Peterson, PC's aunt, is a journalist who wrote an Upper East Side novel last year about male nannies—has discouraged PC from speaking publicly about the show. It's high drama, with whiffs of a lost inheritance. In one sense, it's like one of those upper-class parables in which the callow heir besmirches his good name with his debauched youthful pursuits—but in this case, the kid has remorse. "He feels humiliated, degraded, and hurt by the show," says a family friend.

Peterson's parents are divorced: His father, David, Pete Peterson's son, and his mother, Paige, a painter and former soap-opera actress, brought him up on the Upper West Side. Peterson, who is going to college for theater in the fall, wants to be an actor and saw the show as an opportunity to get hours in front of a camera. He was recruited by his best friend at Dwight, Jessie Leavitt, a "teenage yenta," as she calls herself, one with an advanced sense of social status. (On the show, when Peterson calls her from Columbus Circle, she drawls, "Ew, are you wearing a fanny pack?") Over breakfast at the Madison Avenue Pain Quotidien, she's ebullient and deeply tanned, from a graduation trip to Barcelona. "We did our contracts together," she says, proudly. "If PC signed it, I would sign it, and the same the other way around." (Because Peterson was 18 when filming began, his parents did not need to sign a contract.)
Peterson has some opinions that are not quite funny when taken out of context and thrown onto television: "Let's get off the college subject before I mass-murder everyone," he advises some friends over dinner; "Everyone has sex with each other and betrays each other" is the way he explains his clique. He even invites cameras into his shrink's rococo office—"All kids in New York have a therapist or psychopharmacologist," he says, sinking into a red velvet couch with gold tassels. He taunts the younger kids: "Can we have the virgin talk, because I feel like a lot of people here are going to be a yes," he drawls. Peterson can also seem trapped by his wealth, made to live a less genuine life because of it. Plus, there's a healthy dose of camp here—he's posturing, goofing, even though he was also slightly horrified by the rest of the show's cast, which includes a few prim underclassmen. "It's true that there was an issue for PC and I, because we have so many older friends, that so many of the other kids on the show were so … young," says Leavitt, struggling to be diplomatic. "I think he was a little shocked sometimes, because he felt they were really … at a different stage of their lives."
Post-crash, the city is a TV symbol of spiritual emptiness, an island of lost souls.
That doesn't mean, of course, that it wasn't fun to corrupt these kids a little. Peterson's message resonates with Taylor, a 16-year-old student at Stuyvesant, who explains, with heartbreaking studiousness, "It's important to be perceived as having status and money because it changes the way people look at you."
Walking down Amsterdam Avenue, last week, in a form-fitting black dress and red lipstick that matches her toes, she cocks her head when asked if money matters in high school. "Money can help with your social status, because if you get a thousand dollars a night to go out, you can do a lot more than if you only get $200," she says quietly. "My mom is generous with money, but she won't give me a thousand dollars for no reason."
In Peterson's NYC Prep boastings, a thousand dollars is loose change. You can buy your way into everything, including school, he explains. (Which raises the New York snob's question of why, if everything is about money and power, PC is at Dwight.)
This talk about money—it's astounding. Kids, even in Manhattan, tend to be precognitive on the subject, even if their parents aren't. Families, and schools, drill into them that merit is the coin of the realm, and they believe it, because why else would everyone put such an obscenely high value on grades, homework, and college? Living in such close quarters with parents, never safe from prying eyes, also has a way of making a lot of kids more sheltered than they would like to admit. Most private-school teenagers' lives are passed in the safe bubble of Carnegie Hill, and whatever bus they might take to get there.
Catty and cliquish as real teenagers can be, their status markers are subtler than Peterson's incessant money-power syllogisms. An East Seventies townhouse with a Hockney may help a little in the coolness department. Cooler still is an apartment of whatever size where parents aren't home. There's often little understanding of the differing outcomes that wealth can provide until college acceptances are handed out: When Brown accepts kids who have always been tracked into low-level academics, but whose parents are always in the biggest type on donor lists, the veil begins to slip.
So I wasn't surprised when some of the NYC Prep cast I interviewed suggested that the people they were onscreen were not the people they were in real life. Kelli, for example, says that she doesn't live alone—on the show, she lives in an apartment while her parents stay in the Hamptons, popping in once in a while—and also claims to have never been interested in Sebastian, on whom she is supposed to have an unrequited crush. The show has a way of taking hypothetical statements as fact, like "what am I supposed to say, that my mother doesn't work, she never has," from Leavitt, when her mother was actually a teacher at Dalton; a close friend says Peterson was supplied trappings of wealth by the production company, even a private plane. "The initial experience of being on TV makes most people uncomfortable," says Andy Cohen. "It's a potential minefield. But I think these kids have a great sense of humor about themselves and the show."
Some of the parents beg to differ: "These producers completely manipulated these kids, feeding them lines and telling them to insult each other," says one. "This is going to hurt these kids emotionally, because they are saying that they are something they are not. It's a terrible lie." And the schools are unamused as well. Dorothy Hutcheson, Nightingale's head of school, sent a letter of condemnation to parents—"As with most series of this genre, the show is 'reality' in name only," she wrote. Stephen Spahn, the chancellor of Dwight, was so displeased with the portrayal of Leavitt and Peterson that he threatened expulsion to kids who might participate in such a show in the future.
On Madison Avenue, real-life teenagers are quick to dis NYC Prep as unrealistic, claiming that it's scripted, pointing out that none of the students from Dalton or most academically challenging schools took the bait. Who would be so uncool as to be on a reality show? "I think all those kids have, like, issues, because otherwise why would you let a camera follow you around all day," says an underclassman from Fieldston, her hair swinging back and forth. She laughs a little. "Actually, the other day, I think it was a Wednesday, my friends and I were out partying and we didn't have anywhere to go, and we were like, 'Let's call up Kelli, she has a free house!' "
The denizens of NYC Prep may be ingenues who've fallen in with the wrong crowd. Sweet children, under it all. But youthful mistakes, however innocently made, are not so easy to extricate oneself from.
Last week, the morning after Michael Jackson's death, Bravo held a runway show for another recent offering, The Fashion Show, inviting the ladies from The Real Housewives and the kids from NYC Prep to sit in the audience. A knot of news photographers stood at the end of the runway, taking pictures of these "VIPs" as they filed into the cavernous space, lit a deep purple. It was very odd, an event turned in on itself, a fake fashion show in a spot where many real fashion awards are doled out.
From their front-row seats, the Real Housewives of New York City mingled with the Jersey ladies, in between pushing their brand extensions of HSN jewelry and new books ("Secrets of a Jewish Mother!" barks Zarin). "You've got your hands full!" Zarin told Danielle, she of the sordid past. "I was abused, too, so I understand," said Ramona Singer, reaching out to touch her.
The girls from NYC Prep sat in the second row, listening to the chatter, not sure what to do. Once a reality show makes you a celebrity, that's who you are. You have to own your shame or become shameless. This is the drama that PC Peterson and his friends may find themselves living. They're characters in a morality play about New York decadence. It's a tough thing to be famous for.
Additional reporting by Mike Vilensky and Sam Jewler