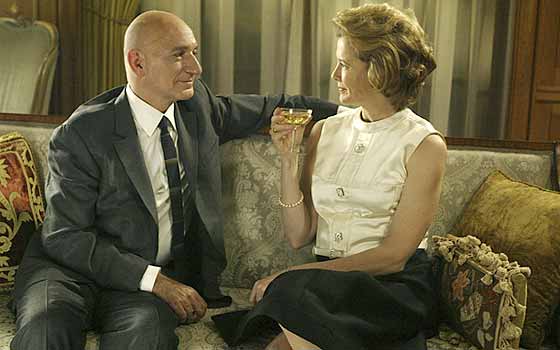 Before O.J., there was Jean Harris. Hard to believe that only a quarter century ago, during a trial to determine whether the headmistress of a private school had murdered a cardiologist as rich as Halliburton, we actually hoped to learn something about money and class, jealousy and rage, Wasps and Jews, sex and calories. You may not remember that Diana Trilling left Morningside Heights to cover this trial and then wrote a book about it, Mrs. Harris: The Death of the Scarsdale Diet Doctor, in which the names Emma Bovary and Anna Karenina were mentioned. Fortunately, Mrs. Harris, the entertaining television movie, has nothing to do with that book.
Playwright Phyllis Nagy's screenplay was inspired instead by Very Much a Lady, an account of the case Shana Alexander wrote after covering it for Newsweek. We may end up not knowing what we are supposed to think, but at least we are under no illusions that there is anything profound for us to think about. You will want to hear about the astonishing cast, but first some props for Nagy, who also directed. What she has done is tailor this tabloid material to several different narrative tastes, which alternate as the movie shifts from love affair to temper tantrum to gunfire to murder trial and back again: with warm rich colors for the dancing, the boating, the eating, and the sex; harsh, breaking-news, 16-mm. light for documentary-style interviews with friends and family members; and a deep purple Perry Mason eggplant for the courtroom scenes.
Meanwhile, with a wicked whimsy, we are treated to apposite snippets of film noir, including William Holden's taking a bullet and falling into the swimming pool in Sunset Boulevard, and a soundtrack of pop songs about obsessive love, from "Put the Blame on Mame" to Minnie Riperton's "Lovin' You." The odd, encompassing effect is as if we were inside the media bubble itself, trapped in its tropes, turning like a disco glitter-dome in some pharmaceutically enhanced barn.
Now, then, the cast: What else do you really need to know besides Annette Bening? If you have seen Being Julia, American Beauty, or The American President, it isn't possible to imagine a better choice for Jean Harris, around whom scarves writhe like Kali's necklaces of skulls and severed hands. Svelte, genteel, the divorced mother of two boys, a magna cum laude from Smith—why shouldn't this woman have a stable job by day and a thrill ride every night? Just because she has good genes doesn't mean she lacks erotic depths. So what if she spent fourteen years and thousands of miles on the interstates, ferrying to and from his bed, putting up with his obnoxious sister, finding out he'd never marry her, discovering other women's lingerie in his bathroom? Without him, she says, "I was a person sitting on an empty chair." Besides which—and I'm not sure Mrs. Harris makes enough of this—he was her dealer: From him she got the uppers and downers to which she was addicted, the amphetamines and Percodan that might have scooted her over the murderous edge.
And who better to play the Scarsdale diet doctor than Ben Kingsley? Since Sexy Beast, he has specialized in being mean. His Herman "Hy" Tarnower is equal parts Peter Pan, Don Juan, and old goat. With a sex organ like Gargantua's (there is a coy locker-room scene), he shouldn't even need his limo and chauffeur. But women—well, women are either cufflinks or trophies, like the stuffed heads of the dead beasts he brings back from African safaris. There isn't room in his narcissism for an intimacy that transcends the kill. So, of course, he will trapeze, which in this movie means swinging from Ellen Burstyn to Brett Butler to Chloë Sevigny, none of whom has enough to do, though what little they do is choice.
Also classing up the joint are Mary McDonnell, chewing gum to get our attention, Philip Baker Hall in a growly cameo, Frances Fisher as Jean's worried friend, Frank Whaley for the prosecution, Bill Smitrovich for the defense, and Cloris Leachman as Hy's sister Pearl. Her practiced hostility might have been the occasion to reflect on the diet doctor's complicated social ambitions—a Brooklyn Jew of Eastern European descent, he may have been more interested in impressing his snooty German-Jewish neighbors than he was in bagging a Wasp—but this is the one place where Mrs. Harris blinks.
Still, the eye and ear enjoy themselves. For a certain portion of the middle class, worried about its sex life and its weight, Harris and Hy were reality TV before its time. Out there in public on the nightly news, the well born, the overeducated, and the swishy thin were caught carrying on like trailer trash and popping pills like Manson groupies. That so many of us took this tawdry tale as seriously as Trilling did suggests that there was too much nineteenth-century baggage left over in our attics—an excess of oboes, opera, romantic poetry, psychoanalysis, and venereal disease.
Mrs. Harris
HBO. Premieres Saturday, February 25, 8 p.m.