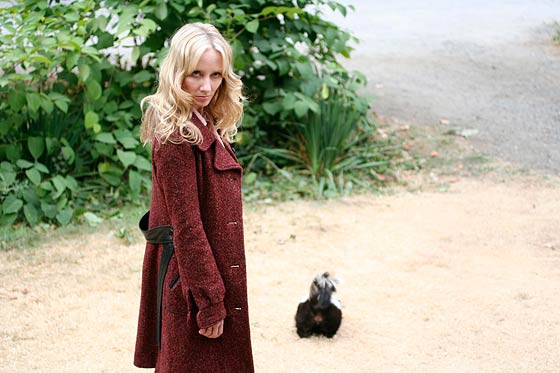 Although not quite Northern Exposure for morons, Men in Trees makes you want to climb one, just to get out of the way of the smirks. Anne Heche, channeling the ditz that made her so exasperating to Harrison Ford in Six Days Seven Nights, plays a big-city "relationship expert" and self-help author who ends up frazzled in a small town in Alaska after her fiancé cheats on her. In this hamlet, there are many men, mostly strong and silent like tranquilized caribou, and few women, though they talk more. Plus, a bar, a radio station, a biplane, a fish-and-game biologist, and a skunk. The skunk explains a bathtub full of Anne and tomato soup. There is, however, no excuse for the charity bachelor auction.
You won't get up from Men in Trees dumber than when you sat down. But it is worth remembering that on Northern Exposure, between gay weddings and wheelchair Olympics, a marathon of hairy naked men ran through the dawn-stricken streets as if they were Pamplona bulls, and references were made to Nietzsche, Trotsky, Jung, and the Albigensian heresy. None of this will happen on Men in Trees. It's not just that TV is about TV, recycling whatever seemed to work before. It's also that sitcoms worsen by the season. Imitation is a form of battery, brutalizing the original. Still, networks seek a boffo hit across the demographic spectrum, lowering their brows to do so. But suppose there isn't a mass audience anymore. It's been balkanized by cable.
If Men in Trees is Northern Exposure for slow readers, Help Me Help You is Bob Newhart for psychobabblers. Recycled Ted Danson plays a shrink whose estranged wife, Jane Kaczmarek, is sleeping with a car salesman, whose daughter, Lindsay Sloane, dates a psychology professor old enough to be, ahem, her father, and whose group-therapy patients are the saddest sacks in the grocery store (antisocial, suicidal, closeted, furious). While therapists and psychiatrists are usually reviled in novels and films, they're often valorized on the small screen—from M*A*S*H to Monk, from Law & Order to The Sopranos—maybe because an intimate medium is predisposed to believe, like Freudians, that most of our ogres live at home, under the bed, instead of outside in the lousy weather of politics and history. But if you bring back Newhart, he'd better come with Suzanne Pleshette.
'Til Death recycles every ectoplasmic cliché in the sitcom parallel universe, where middle-aged married people are sumo wrestlers circling for a fatty fall. It also wastes the considerable talents of Brad Garrett, whose star turn as Jackie Gleason in a 2002 TV movie proved he was more than Ray Romano's brother. Twenty Good Years, with John Lithgow as a divorced surgeon and Jeffrey Tambor as a widowed judge, is The Odd Couple so amped up it sounds like NASCAR. I liked Lithgow even when he came from Mars. But why, to get our attention, do they think they must hit us with a shtick?
Which leaves The Class, whose creators, David Crane and Jeffrey Klarik, sharpened their fangs on Friends and Mad About You. I'd prefer to never look at another twentysomething feeling sorry for him- or herself before or after food or sex, and now they ask me to look at eight of them, who reunite after not having seen each other since third grade. If past is prelude, they'll invent new miseries. Except that these young pediatricians, photographers, prep-school teachers, construction workers, TV-news reporters, and trophy wives surprise themselves as often as they surprise me. "You don't know how much sister you have till you sponge-bathe her," Lizzy Caplan tells Jason Ritter. And it's true, we don't. The fact that we really and truly don't know what will happen next makes The Class the one new comedy worth attending.
BACKSTORY
Anne Heche wasn't the only person to benefit from the publicity around her infamous meltdown in 2000, when she turned up at a stranger's door babbling about a forthcoming UFO trip, then later revealed she had another personality called Celestia. L.A. writer Pamela Ribon mounted Call Us Crazy: The Anne Heche Monologues, a comedy that featured musical numbers, reenactments, and monologues drawn from sections of Call Me Crazy, Heche's tell-all memoir. Heche and her husband even popped in late one night to watch the end of the show, though neither Heche nor Celestia stuck around to offer their impressions.
Men in Trees
ABC. Fridays, 9 p.m.

Help Me Help You
ABC. Tuesdays, 9:30 p.m.

'Til Death
Fox. Thursdays, 8 p.m.

Twenty Good Years
NBC. Premieres Wednesday, October 11, 8:30 p.m.

The Class
CBS. Mondays, 8 p.m.