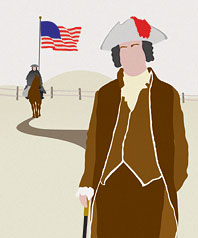 Short, fat, and cranky were the adjectives that came to David McCullough's mind when he was asked to describe the hero of his Pulitzer Prize–winning biography of our very first vice-president. As brilliant as John Adams may have been, he was nowhere near the American masculine ideal of a cowboy or a quarterback. Still, how many of our Founding Fathers can we realistically expect to have looked as matinee melancholy and romantic as Thomas Jefferson? And we needed every one of that extraordinary bunch, from cracker-barrel Ben Franklin to narcoleptic George Washington, to dream up and nail down the nascent republic.
So it shouldn't come as a surprise that Adams, in the seven-part HBO mini-series adapted from McCullough, is played by Paul Giamatti and therefore looks mostly like a frog. For those of us who remember George Grizzard as the farmer-lawyer from Massachusetts in the thirteen-part The Adams Chronicles on public television 32 years ago, or William Daniels singing and prancing through the Continental Congress in the musical 1776, this takes some getting used to, especially considering how often Giamatti must doff and don his wig, as if to telegraph with blinding light from a bald dome. Perhaps we are being asked to see Adams through the indulgent eyes of his wife, Abigail. Since Abigail is played by Laura Linney, there can be no better vantage. Anyone who's dipped into the thousand letters that passed between John and Abigail during their 54 years of marriage knows that Abigail was at least as smart as James Madison. Anyone familiar with Linney knows that she can be as smart as the situation needs—and simultaneously exasperated.
We're in excellent company, from the Boston Massacre to the Declaration of Independence to Adams's plenipotentiary missions to Versailles and the Court of St. James to his unsought but extremely gratifying vice-presidency in the first Washington administration. As Jefferson, Stephen Dillane broods upon liberty with a gothic passion. Tom Wilkinson's Franklin fills us with impatience and intends to. David Morse as George W. seems taxidermic, a huge stuffed squirrel of secrets. Zeljko Ivanek as the Pennsylvania delegate John Dickinson makes a remarkably eloquent case for Quaker pacifism. Scriptwriter Kirk Ellis (Into the West) and director Tom Hooper (Longford) are equally interested in ideas and personalities. And their camera, whether on location in Colonial Williamsburg or in Budapest pretending to be Paris, likes to point as much at peach trees, bullet molds, smallpox victims, and warships as it does at French gardens, despondent faces, and flags like bloody bandages. On one gruesome hand, the tarring and feathering of a British officer; on another, the thrilling levitation from Paris of the Montgolfiers' hot-air balloon.
When this balloon goes up, a skeptical Adams turns rapturous. Here is a metaphor for his republic. You may recall that Simon Schama, in his tendentious account of the French Revolution, Citizens, also made hot-air metaphors out of these eighteenth-century balloons. By establishing a direct, unmediated relationship with enormous multitudes of ordinary French, balloonists robbed Louis XVI of his control of spectacle, injuring the king in his ceremonial mystique. According to Schama, a balloon in the air belonged not to the hierarchical world of the monarch, but to the democratic people. Well, up the republic, with flags and flutes for this worthy mini-series, too. Yet as we watch, we'd do well to remember the words of the late Molly Ivins, who once suggested, "It is possible to read the history of this country as one long struggle to extend the liberties established in our Constitution to everyone in America." No doubt the equally estimable Abigail Adams and Laura Linney would both agree.
New Amsterdam
Fox. Premieres March 4, at 9 p.m.
You'll be relieved to know that although New York homicide detective John Amsterdam is immortal, he is not a vampire. Instead, he is a 400-year-old Dutch soldier who was gutted while protecting a Native American maiden from genocidal Europeans, after which indigenous shamans promised he will live forever, solving crimes and saving lives, at least until he finds his one true love. Having reviewed the pilot last fall, I was skeptical. But the resulting series features trick photography, murder, romance, and—much like the Fox Terminator series—more clever ideas and witty jokes, not to mention cool jazz, than the audience expects or deserves. I won't reveal the father-son secret, but mention must be made of a Delmore Schwartz reference, as well as a taste for paradox: "To die is what makes life worth living." Nikolaj Coster-Waldau plays the immortal cop who also makes furniture; Zuleikha Robinson is the partner who has doubts about him.
Terminal City
Sundance. Premieres March 6, at 9 p.m.
A very dark comedy in ten episodes, this Canadian import navigates between giggles and a gag reflex. Maria del Mar (Price of Glory, 24) is the happy-go-lucky wife of Gil Bellows (Ally McBeal) and live-and-let-live mother of two teenagers and a 7-year-old. No sooner does she learn that she has breast cancer than she finds herself starring in a hospital reality-TV show initially called Post Up!, in the course of which she will narrate her own mastectomy on camera. So the fatal-disease-movie-of-the-week meets a metacritique of reality shows, and it's almost too scary to watch. The family goes not so much dysfunctional as berserk. Besides Champagne, marijuana, and a baseball bat, plot points include the Holocaust and golf. In no other television program that I have ever seen has any other father felt called upon to caution his children to be careful by saying, "Your mother has been reading Schopenhauer."
John Adams
HBO. Premieres Sunday, March 16, at 8 p.m.

New Amsterdam
Fox. Premieres March 4, at 9 p.m.

Terminal City
Sundance. Premieres March 6, at 9 p.m.