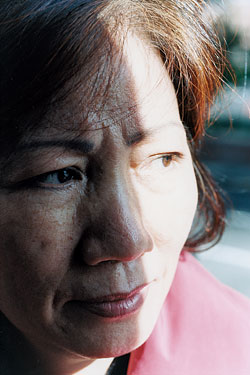 Susan Kim didn't set out to be the whistle-blower of New York's nail-salon industry. In fact, she liked her job at 167 Nail Plaza on the Upper West Side. "I thought of the customers as my family because they were so great to me," she says, with the help of a translator. The salon is near ABC's headquarters, and over the years she did the nails of producers and on-air celebrities. By 2005, Kim was earning $92 a day plus another $70 or so in tips—nearly $40,000 a year, pretty good money for a salon worker who speaks little English.
That's not to say the job didn't have its drawbacks. Most days, Kim and her co-workers worked grueling ten-and-a-half-hour shifts with hardly a break. Sometimes she'd have to skip lunch, carrying home the same untouched brown bag she'd brought with her in the morning. Her elbow and shoulder would ache from filing fingernails for hours on end, and the chemicals she used often left rashes on her forearms. She dreaded requests for silk wraps— a nail-strengthening process that can take up to 90 minutes—because the glue and powder made her eyes itch so badly.
As at many nail salons, a number of the workers at 167 Nail Plaza could not speak to each other. Kim is from Korea, and so was her boss, but most of the manicurists were Chinese. The language barrier put Kim in a sometimes uncomfortable position: She was one of the only employees who could communicate with their boss. It was up to her to complain about what the others could not.
Near closing time on March 17, 2005, Kim made a suggestion. The boss had said she was planning to hire another manicurist to replace someone who was quitting. "Why don't you hire more people?" Kim asked. "I want to rest, to have breaks." It was an innocent comment: With more employees, she figured, everyone would be able to take regular breaks. But her suggestion didn't go over well. She was fired the next day.
Kim tumbled into depression. "I was embarrassed to tell people I was fired," she says. "I thought people would look down on me." At 53 years old, she couldn't persuade another salon to hire her—not when they could get a less-experienced manicurist for almost half the price. To make money, she traveled around the city with her equipment, visiting the homes of former clients.
One day, a former co-worker suggested she visit the Chinese Staff and Workers' Association. For the first time, she learned about overtime pay and labor laws. It was a revelation. "She was angry, like anybody would be, if after seventeen years you voice what seems to be a fairly legitimate complaint and suddenly you're fired," says Kenneth Kimerling of the Asian American Legal Defense and Education Fund. The organization filed a lawsuit on her behalf, charging that Kim's boss did not pay overtime and had wrongfully terminated her. And before long, Kim was picketing weekly in front of her old salon.
Her case went to trial in federal court in October, and after four days of testimony, Kim prevailed. Her lawyers had asked for close to $150,000, but the jury did even better, awarding her $182,000 for back pay, overtime, and damages. News of her courtroom victory raced through the city's nail-salon industry. A coalition of groups representing service-economy workers called Justice Will Be Served! had created a new Nail Salon Workers Network, and the hotline began buzzing with calls from manicurists alleging health problems and wrongful terminations.
"I'm really happy," Kim says. "More than the money, I'm happy I found justice." What she wants now is her old job back; her lawyers have asked the judge to reinstate her. "Some people may think I'm crazy," she says. "But I do want to go back to the same salon." Then she clarifies, "If the working conditions change."


SEE ALSO:
• A Revealing Look at the Spa Industry
• Exposed: 100-Person Poll