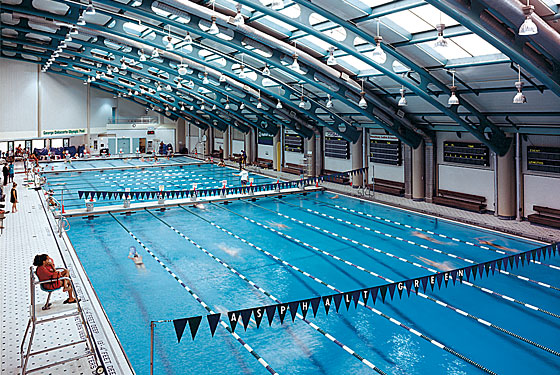 SWIMMING POOL

555 E. 90th St.; 212-369-8890

Asphalt Green's 50-meter Olympic-size pool, pictured here—the only one you'll find in Manhattan—is divided via electronic partitions among training triathletes, kids, and ordinary folks looking to stay in shape. Throughout the spring and summer, the Asphalt Green will undergo a gradual face-lift—the main pool will be closed June through August, so take advantage while you can.

PUBLIC GOLF COURSE

1001 Richmond Hill Rd., Staten Island; 718-351-1889

Staten Island's La Tourette, an eighteen-hole par-72 course in the surprisingly bucolic Greenbelt park, remains a favorite among local pros for its challenging holes and well-maintained facilities. Look for La Tourette's signature third hole, a par three over a brook, and the challenging fifth hole, a 438-yard par four with a slight dogleg to the right.

SOCCER FIELD

West Houston and West St.; 212-627-2020

Pier 40's well-maintained fields are favorites among local leaguers. The Hudson River Park Trust has converted this former FedEx depot into a modest but substantial soccer emporium. The building itself is nothing to speak of (no locker rooms as of yet), but Pier 40's three fields (two outdoor, one indoor) are some of the first to use state-of-the-art FieldTurf, the fake surface now preferred by the pros. The real gem is the smaller rooftop field, where breathtaking sunsets over the Hudson may, on occasion, detract from your "A" game.

BASKETBALL COURTS

Hangar 5, Floyd Bennett Field, Brooklyn; 718-758-9800

The recent demise of Basketball City has left a void when it comes to affordable indoor courts. Journey to the eastern edge of South Brooklyn to Aviator Sports and Recreation, a 170,000-square-foot athletic complex with three pro-size basketball courts, where just $10 gets you court time and includes full locker-room access. Be sure to grab a bite while you're there: The food court specializes in Brooklyn-bred goodies like Grimaldi's pizza.