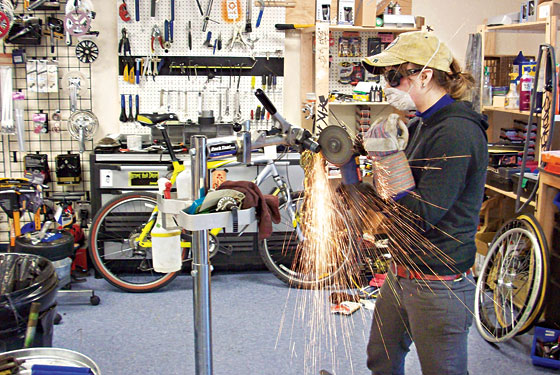 KT Higgins, at Velo Brooklyn, Bushwick Bike Shop

1342A DeKalb Ave., nr. Myrtle Ave., Bushwick; 347-405-7966; velobrooklyn.com

When it comes to the three R's of bicycle maintenance—repair, replace, rebuild—KT Higgins is your woman. She'll take on any steed (fixed gear, single speed, racing bikes, mountain bikes, custom builds, you name it). She always finds time to educate riders, often lending out tools and hosting free upkeep classes in her Bushwick locale. Female cycling advocates appreciate her lack of condescension; she's not going to remind you that a Schrader valve is the "fat one" or make any assumptions. Trained as a wheel builder, Higgins cut her teeth as a bike messenger while working at the city's top shops (Bicycle Habitat, Bike Works) for a decade before going out on her own. And unlike some of the more reserved old-timers, the 29-year-old is up on trends and is known for her lively builds, like pairing a vintage frame with BMX parts to create a stylish, yet strong, Dutch cruiser.