1. France

469 Broome St., at Greene St. 212-219-2284

Marant's boutique feels like a romantic clothing museum filled with artfully arranged floral dresses, baggy jackets, and silk vests.

2. The Netherlands

273 Lafayette St., at Prince St. 212-966-3300

Despite its "Amsterdam couture" tagline, the label's collegiate-style casualwear is more Abercrombie than Armani.
3. England

512 Broadway, nr. Spring St. 646-862-1832

At this British fashion behemoth, the décor is flea-market-inspired and the clothes are steampunk-chic.

4. Canada

123 Mercer St., nr. Prince St. 212-925-1455

The Montreal outerwear brand's U.S. debut plays up its new women's clothing line of riding pants and jazzy dresses.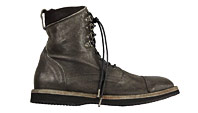 5. Italy

54 Mercer St., nr. Broome St. 212-226-7229

The British-by-way-of-Italy designer's shop is as unfussy as the men's and women's boots inside it.

6. Romania

438 W. Broadway, nr. Prince St. 917-691-0012

No sensible shoes here. Sky-high pumps and boots occupy every inch of shelf space.

7. Argentina

85 Mercer St., nr. Spring St. 212-966-2535

The Buenos Aires– bred accessories shop is all about brights—coral satchels, celery clutches, and fiery heels.

8. New Zealand

102 Wooster St., nr. Spring St. 646-861-2523

Home to all-natural workout duds, designed to breathe and wick sweat away.

See Also
• Slideshow: Scotch & Soda Buyer's Guide
• Slideshow: Mackage Buyer's Guide
• Slideshow: A Look at the Musette Collection