Restaurants
Week of March 11, 2002
The Cheesesteak Czar
What the Doughnut Man is to doughnuts, what the Soup Nazi is to soup, what Melampo is to soppressata sandwiches, that's what Gary Thompson (pictured) wants to be to Philly cheesesteaks — not so much a didactic monomaniac as simply someone who's perfected his craft. If you were interviewing Thompson for the position, however, you might consider him either underqualified (he's from New Jersey) or overqualified: His father cooked for General MacArthur, his Japanese mother was a chef, and for twelve years, Thompson ran the charming French-eclectic restaurant Sonia Rose. The restaurant closed in September, and three weeks ago, Thompson opened BB Sandwich Bar on one of Greenwich Village's least charming blocks.

The move is extraordinary, rather as if Daniel Boulud were to get himself a chili-dog cart, but Thompson is unrepentant: "I've been perfecting this sandwich for years," he says, "tweaking spices, sweating onions." Philly aficionados should know up front that Thompson's is an interpretive cheesesteak. The standard thin-sliced rib eye and American cheese are joined by deeply flavorful onions he's macerated for four hours. (When he runs out of onions, he closes, just like Totonno's. And you'll need the breath mint he tosses in the bag.) Some die-hard Pat's and Geno's fans might also question Thompson's automatic addition of ketchup and a fancy chili-pepper condiment made with balsamic vinegar, and especially his use of poppy-seed kaiser rolls ("That's bogus," says one native Philadelphian forcefully). But even sticklers couldn't deny that the unusually structurally sound end product is an ethereal melding of sweet, salty, and tangy flavors, and a perfect addition to Manhattan's fast-food universe. The no-frills store is easy to overlook, and so far, the NYU lacrosse team and the bar staff of the Fat Black Pussycat down the street have made up most of BB's clientele. To spread the word, Thompson is running a two-for-$5 special through April, or at least until the cheesesteak-chomping multitudes start lining up outside. -- ROB PATRONITE

BB Sandwich Bar
120 West 3rd Street
212-473-7500

best of the week
Celebrate Greek Orthodox Lent at Estiatorio Milos
Owner Costas Spiliadis is once again throwing a Clean Monday celebration to mark the start of Greek Orthodox Lent. While no meat, butter, eggs, or cheese is permissible, the seafood's going to be flying thick and fast. Be brave and order the octopus, which is world-class. (March 18; to order tickets, call 609-683-0800.)

Estiatorio Milos
125 W. 55th Street
212-245-7400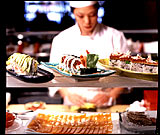 Su-She
Ever wonder why there aren't more woman sushi chefs? According to tradition, women's hands are warmer than men's, which isn't good for the fish. Chicama's new sushi chef, Arisa Suzuki, has overcome such dubious medical claims, however, and as far as we know, she's one of two female sushi chefs in New York. Her new menu takes a decidedly Latin approach to sushi, and if her rolls taste hot, it's from ingredients like jalape˝os, chili oil, and shichimi a´oli.

Chicama
35 East 18th Street
212-505-2233
Ask Gael
You're on jury duty, and you're smiling?
I leave my cell phone behind and bask in the languor of the court, waiting for the drumroll to spit out my name. For us type A's, it's an island vacation. And then there's lunch. Dealt a two-hour slide, I study the Citizen's Jury Project "Where to Eat" guide and settle into a sunny spot at City Hall (pictured, 131 Duane Street; 212-227-7777), requesting speedy service, then luxuriating in the special salmon club with fabulous fries and a lush chopped Caesar. Overdressed, the way I like it, though underaccessorized. That leaves 45 minutes for Key-lime pie, espresso, and the walk back. Next day, I collect a few gourmandlich hopefuls from the compound for a run to Yummy Noodles in the Chinatown Arcade (46 Bowery; 212-374-1327) for crispy pig, soya chicken, wonderful beef chow fun, and too much more for a pittance. Alas, Gary's Hot Spot on Church Street, with its wondrously fatty oxtails and crunchy macaroni, is gone, but Nam (110 Reade Street; 212-267-1777), with its stylish and refined take on Vietnamese cooking, is kinder to the arteries.


Bites & Buzz Archive
Week of March 4
Prune's new brunch; a cheese lover's handbook; Gael gets taken for a ride in Rego Park
Week of February 25
Breakfast cooking classes for kids; Montparnasse's dazzling duo; Gael gets an eyeful at Mexico Magico
Week of February 18
The lowly radish gets a makeover; Two Little Red Hens take Manhattan; a breadmaker's best friend; Gael racks 'em up at Slate




Photos: From top to bottom- Carina Salvi (2); Patrik Rytikangas