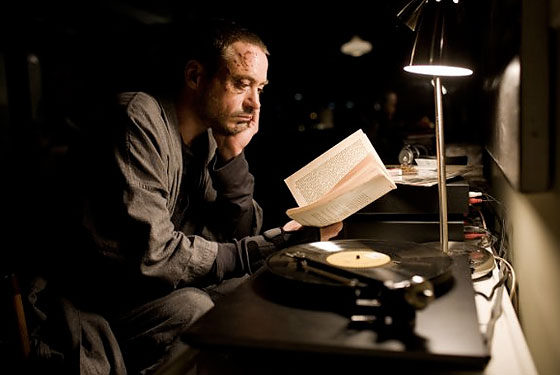 Saw The Soloist last night (I'll reserve judgment on the movie for now), and it's easier to see why Robert Downey Jr. bristled when asked what his character in Tropic Thunder would say about Jamie Foxx's performance as the brilliant, schizophrenic cellist Nathaniel Ayers — easier to see and easier to excuse.
Not to get all Sartre on you, but actors (especially Method actors) create themselves anew in every role, and if last year Downey was an egomaniacal movie star holding forth on the necessity of going "the full retard," then this year he's Los Angeles Times columnist Steve Lopez, still struggling every day over how invested he should be in this marvelous, volatile, incurable man. Even to acknowledge "the full retard" in this context must have seemed to Downey disrespectful — not just to Foxx but also to Ayers, Lopez, The Soloist, and his own performance. It would be disrespectful to the mentally disabled men and women who appear in the movie and whom he came to see through Lopez's eyes.
So what are we left with? Speaking metaphorically and not clinically, a schizophrenic profession in a schizophrenic culture. I still wish Downey had acknowledged the contradictions, but if he could be that playful while promoting The Soloist, he likely wouldn't be the (great) actor he is.