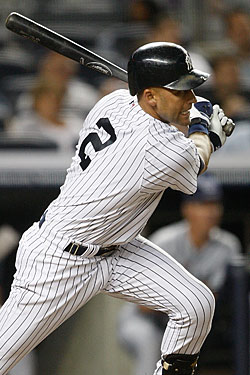 In the bottom of the sixth inning of the second game of the Yankees' dominating sweep of the Tampa Bay Rays last night, the Yankee Stadium crowd was booing lustily. Rays right-hander Jeff Bennett, there just to mop up an eleven-to-one mess, couldn't throw Derek Jeter a strike, walking him as flashbulbs popped and throats emptied bile. It was Jeter's ninth plate appearance of the day, and it was his last. It was a bad day for history.
After Jeter's three hits Sunday in a loss at Toronto, yesterday turned into Jeter Day at the stadium. He came into the doubleheader needing three hits to tie Lou Gehrig for the all-time Yankee hit lead, and four to pass him. It is a measure of just how robotically dominating the Yankees have been in the second half of the season that this was as excited as the fans have been for a non–Red Sox game in a month. Jeter's had a multiple-hit game four times in the last week-and-a-half; they had to like their odds. The Stadium roared every time he strolled to the plate, and the digital cameras snapped their eerie strobe at every at bat.
But the whole vibe felt strange: It was bizarre, against the natural order of matters, for a guy like Jeter — whose value has never been measured in counting stats — to receive the Barry Bonds and Mark McGwire treatment. Jeter was uncomfortable at the plate both games, and he ended up zero for eight. It made a certain amount of sense. So rarely is Jeter that much the center of attention — fans cheering specifically for the individual that is he, rather than Derek Jeter, Captain of the Yankees — that it clearly knocked his concentration akimbo. When the Yankees pinch-ran for him after the Bennett walk, Jeter looked almost relived on his jog to the dugout.
Naysayers have often accused Derek Jeter of being disingenuous in his constant "It's not about me, it's about the team" mantra. But watching him grip the bat so much tighter than usual last night, you'd be hard-pressed not to believe him. Everyone was focusing all their energy on Derek Jeter for seven hours yesterday, and he quite obviously did not like it. He's probably more eager than anyone to get the Gehrig record out of the way, and move on with his life.
He has eight more home games in a row to deal with it. One suspects he'll figure out a way.