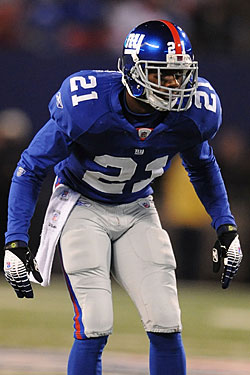 On Sunday, the Giants begin a stretch of three very winnable games: at Tampa Bay, at Kansas City, and home against Oakland. The combined record of these three teams: 1–5. Not to get ahead of ourselves — there's really no such thing as a gimme in the NFL, except of course for the Lions — but this team could very well start out 5–0. If it does, it would be hard to overlook the parallels to last year's team that started almost as hot — winning its first four games and eleven out of twelve, before, well, you remember.
There's another parallel, though, that's not quite as exciting: The loss of a key defensive player for the season. Last year, it was Osi Umenyiora going down in the preseason; this year, it's safety Kenny Phillips, who will miss the remainder of the season with patella femoral arthritis of the left knee. But we always try to stay positive (note: this is a lie), so we'll look at the bright side and say that at least the Giants got two games out of Phillips, including seven tackles in a tight Dallas game and a team-leading sixteen tackles overall.
But like we said, Phillips or no Phillips, this is a game they should win. And since it's against a team that's allowed 67 points through two games (second-worst in the NFL), this might be an excellent time for the Giants to work on using a more balanced offense that — and we can't believe we're saying this — incorporates a running game. And remember: Washington and Dallas were prepared to stop the run and allow the Giants to throw the ball; Tampa Bay now knows that might not work.