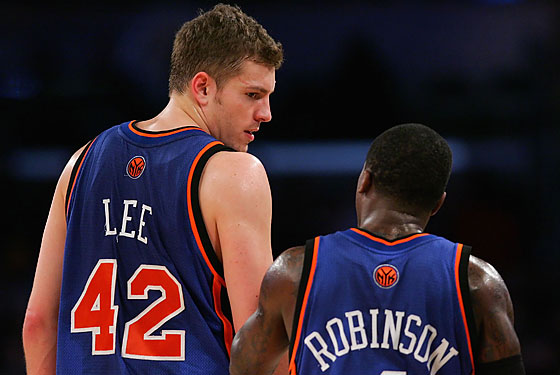 Whatever your thoughts on the Knicks' chances of bringing in LeBron James or Dwyane Wade, or having the opportunity to be halfway decent again, like, ever, you cannot say they don't know how to play hardball. The Knicks went into the off-season vowing that they wouldn't give David Lee or Nate Robinson more than a one-year contract, and despite endless speculation, posturing in the press, and some high-stakes tweets, nothing changed that. It looks like Lee and Robinson will be back for one more season, just like the Knicks said all along.
Keeping Robinson and Lee around — the market the two players were expecting just never developed — for a season keeps the Knicks as far under the cap as possible for LeBron Cash Dash 2010, and it will ensure that the team will at least have enough players to fill out a full roster this season. Just in time, too: Training camp begins a week from today.
Right now, the roster looks roughly like this:
Guards
Wilson Chandler (many expect Mike D'Antoni to play the swingman at the two spot)
Toney Douglas
Chris Duhon
Larry Hughes
Nate Robinson
Forwards
Danilo Gallinari
Al Harrington
Jordan Hill
Jared Jeffries
David Lee
Centers
Eddy Curry
Darko Milicic
Okay, so that's not exactly going to strike a lot of terror in the hearts of opponents. But it's a real team! With real players! Imagine what the lineup would have looked like without Robinson and Lee. At least the team will be more watchable now and still not be stuck with a contract for either player past this season.
It's worth remembering just how well the team has done at untangling itself from the Isiah Thomas clusterphooey. Donnie Walsh has only two players he didn't draft under contract for next season: Eddy Curry (whom he won't be able to unload until some other team hires Isiah as their general manager) and Jared Jeffries. Everyone else is one-year flotsam. Is it enough to bring in LeBron? Probably not. But they've done all they can. So avert your eyes one more season, and then the Knicks will really get down to business.