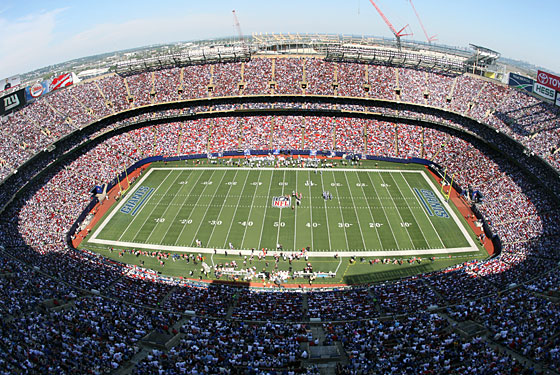 Our long-term plan of turning New York into a weekly glossy solely about sports is reaping some short-term fruit. There be sports everywhere in the mag this week. Witness! Will Leitch analyzed Eli Manning's contract. Will Leitch and Joe DeLessio charted the Yankees' fourteen walk-off wins. Fordham quarterback phenom John Skelton talked to Richard Morgan. And, because we missed it the week before, Stephen Rodrick on the pressures of Little League. Go read! Fun!
This week in the magazine, we lamented the loss of ugly, old Giants Stadium, an eyesore that happened to be useful, "multipurpose," and beneficial to the community at large. Fittingly, this Sunday's Giants-Redskins game, the last season opener at "the Meadowlands," is only the third opportunity you'll have to see it this weekend.
When researching this story, we were taken aback, once again, by just how New Jersey uses the bejesus out of that place. It's a wonder they have time to prepare the place for NFL games. Look at the schedule just this weekend.
Friday: the High School Football Kickoff Classic, at 6 p.m. It's a doubleheader! St. Joseph of Montvale plays Depaul, with Bergen Catholic vs. Iona Prep directly afterward. Tickets are $12 ($9 for kids).
Saturday: Red Bulls vs. Kansas City Wizards, which is a competition in something called "American professional soccer." We remain befuddled at just how expensive Red Bulls games are, with upper-deck tickets at $24 and near-field ducats hitting $100.
Sunday: Giants-Redskins. That's sold out, of course, but sideline seats are a wee 900 to 1,200 bucks. That's decidedly more expensive than heading to see U2 in a couple of weeks.
If you are foolish enough to side with our theory that we are losing something important when we lose Giants Stadium, and therefore absolutely cannot stand another week without kissing the sacred ground of East Rutherford, we'd recommend the high-school game Friday night. You'll have a nice view of the lights downtown, and it's cheaper. Play U2 in your car, if you must.