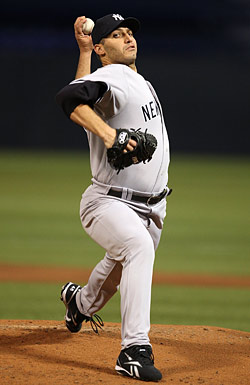 Thus far in the ALCS, it almost feels as though the Yankees are getting away with something. This isn't to say that they're not the better team — they are — but it wouldn't be a stretch to say that Games 1 and 2 could have gone very differently if the Angels played better defense, which they almost always do. And if any of this weekend's terrible defense was weather-related, the Yankees won't be able to count on those Angels miscues as the series shifts to Southern California today.
As great as the Yankees pitching has been, both from their starters and their bullpen, the Angels pitching has been almost as good. Through two games, they've allowed just one more earned run than the Yankees have. The difference is that the Angels' errors, unlike the Yankees' errors, have led to runs. (The other difference, as always, is that the Yankees have Mariano Rivera, and the Angels have someone who isn't Mariano Rivera.) The Angels are batting .154 as a team in this series, yet they're an A-Rod home run away from being tied.
The Yankees won two out of three in Anaheim last month (though today's starter, Andy Pettitte, took the one loss). Couple that with wins in Games 1 and 2, and we should be done once and for all with any talk about the Angels having some sort of mental advantage over the Yankees. In this post-2004 era, a series will never again be over until it's over, but a Pettitte win today would get the Yankees as close to over as you can get without uncorking Champagne. A loss, and it's CC on short rest tomorrow, in front of fans that will feel as though they've got the Yankees right where they want them.
By the way, Alex Rodriguez is five for fifteen lifetime against Angels starter Jared Weaver, with four home runs. This is a very good thing.