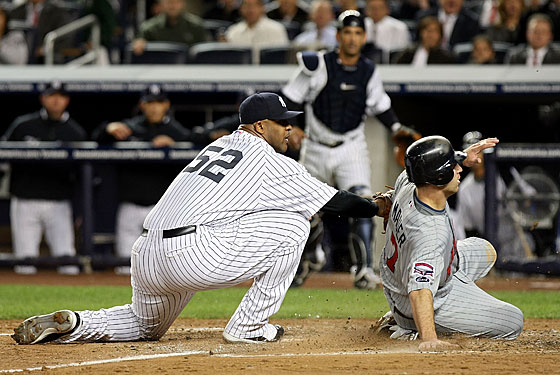 A.J. Burnett made sure yesterday that everyone, including Jorge Posada, knew that he had nothing to do with Jose Molina starting Game 2 tomorrow. We sort of already knew this; Joe Girardi had said that the decision was his alone, and that he didn't ask Burnett's opinion on the matter. After Posada's ugly performance behind the plate last night, we doubt anyone would be blaming him anyway.
Posada allowed two passed balls in the first three innings, the second of which allowed Joe Mauer to score on a weird play in which Mauer hesitated on the third-base line and still managed to beat Posada's throw to CC Sabathia covering home. He also let runners advance on a wild pitch in the seventh (this really wasn't his fault, but it's another play he didn't make) and allowed another to steal second easily.
We're not trying to say that Posada shouldn't catch ever again or anything — they did win the game last night, so his pitch-calling was certainly good enough when the signals weren't crossed — but if he was looking for any sympathy after being passed over in favor of Molina, he won't be getting it today.