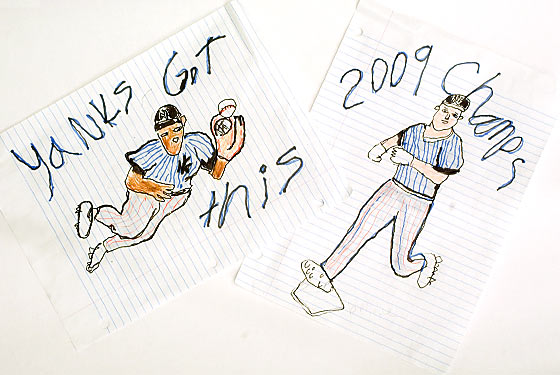 It wasn't all Yankees-Phillies World Series this week, was it? Well, let's see. We talked to Bill Simmons three times. The Yankees celebrated the American League Championship on their own field, and many Yankees saw their first World Series. The Giants lost to the Buzzsaw That Is the Arizona Cardinals. John Sterling warbled.
What else?
We had five questions with Peter King and Basketball Prospectus. Jimmy Rollins said nothing of consequence. The Natrix was introduced.
The World Series began, and Cliff Lee caused pain. The Knicks' season opened, and nobody noticed. Stephen Rodrick introduced us to the UFL's Ryan Hoag. The Yankees won Game 2 to send the series back to Philadelphia tied.
Yeah. It was pretty much just about the World Series. Anyway, that'll wrap it up for this week, but because we are absolutely certain you will be spending your Halloween refreshing this site, we will be back with "stories" after each game. Scary!
See you then.