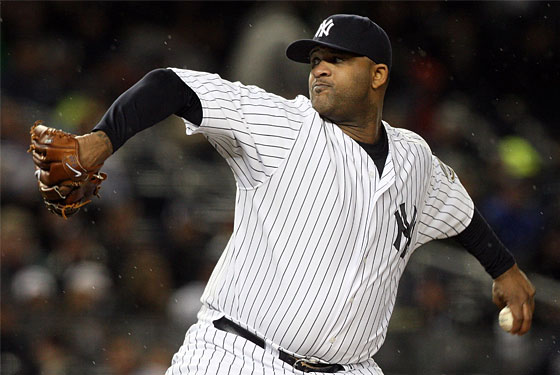 Joe Girardi's first tough call of Game 4 has come long before the first pitch is to even be thrown. Though the decision to start CC Sabathia isn't exactly controversial (especially when compared to some other recent decisions), it's still something of a risk. On the heels of an eleven-inning game last night, getting length out of their ace on short rest is even more important.
For what it's worth, Sabathia says he feels fine and that pitching on three days' rest is no big deal, but he also admits that he doesn't expect to have the same stuff he has on full rest. From the Star-Ledger:



"You know that going on certain rest that you're not going to have like your best fastball," he said. "So you've just [got] to stay under control and make (sure) my delivery is good, and make sure I go out there and throw strikes."
The Angels opted not to pitch anyone on short rest, though that decision is made easier when your fourth starter is Scott Kazmir and not Chad Gaudin. Sabathia pitched well on three days' rest for the Brewers late last season — at least until he didn't pitch well on short rest in the playoffs. Sabathia was excellent in Game 1, so anything even approximating that performance will put the Yankees in good position tonight.
Unfortunately, as much as he'd probably like to, Sabathia won't be able to help the Yankees offense, which has been terrible with runners in scoring position so far in the series. (That's assuming that Girardi doesn't move his DH into the field in the third inning, which is always a possibility.) Yesterday, they went 0–for–8 with runners in scoring position, stranding ten men after getting runners on base in eight different innings. For the series, they're just 3–for–28. Their apparent game plan of "wait for A-Rod to hit a dramatic, clutch home run" can only work for so long.