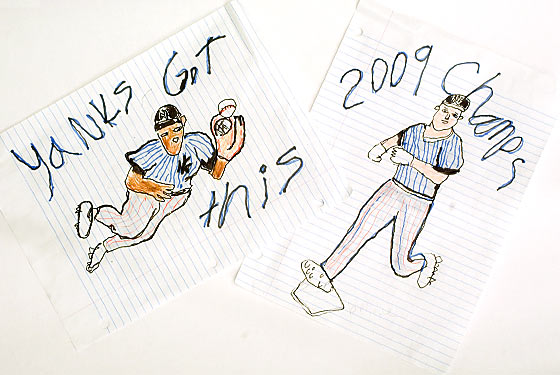 On our way into the office this morning, a college kid was handing out drawings like those pictured above to commuters on the L train. Intrigued by the images of the Yankees' players and slogans, we introduced ourselves as a writer for a sports blog, and asked the young gentleman why he was doing this. He explained that he was a student at the School of Visual Arts, and that we'd just become a part of a school project, the point of which was to get people to interact with him and with each other. (For the record, we were the only one in our subway car to accept the drawing.) This would almost explain why his associate was taking pictures of us while we conversed, though it doesn't quite explain why exactly one would receive college credit for such an endeavor.
Anyway, our guess is that the player on the left is supposed to be Robinson Canó, and the one on the right is Mark Teixeira. Unfortunately, he departed the train before we could ask any follow-up questions, such as: What does this project have to do with baseball? Why are the pinstripes on the pants red? Did you draw these yourself, or did you get help from 13-year-old Sam Anderson? And why doesn't Canó have a mouth?
We'd also like to point out that even L-train hipsters are supremely confident in the Yankees right now. The drawing on the right doesn't declare them "American League champions" or "World Series participants." That's right, SVA kid just knows they're going to be the "2009 champs." They got this.