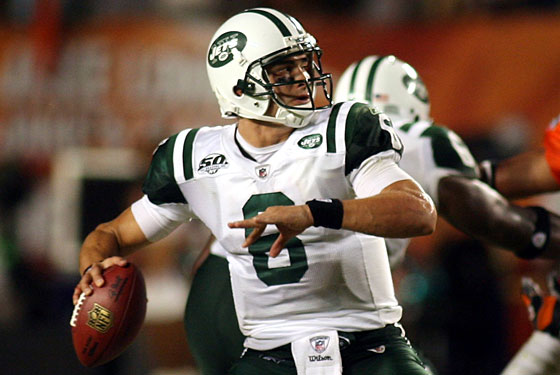 Generally, there isn't an ideal time to play the Patriots, who, after all, are consistently one of the best teams in the NFL. But a week after a ridiculously high-profile loss, one in which their famously cranky coach was second-guessed more than ever in his life, with the Pats eager to take out their frustrations on a longtime division rival … that would really not seem like the ideal time.
Nonetheless, the Jets have no choice but to travel to Foxboro this week, their own season teetering on the brink, Rex Ryan crying and wailing, and whatever else might be going on. (If the Jets were a television drama, we'd have a pregnancy scare, or maybe just someone falling into the pool.)
The Jets' win over the Patriots earlier this season announced Rex Ryan's emergence as a serious player in the AFC … and, though we didn't know it at the time, it would be the season's highpoint in East Rutherford. The Jets are 2-5 since then and have fallen to the middle of the conference pack. That game seems like an awful long time ago.
Realistically, the Jets' season is over if they can't pull an upset Sunday: Does this feel like a team that can rattle off six straight wins to close the year? Really?
In other words, it'll all be over soon. If anyone is going to put the Jets out of their misery, we suppose it's only right that it be the Patriots.