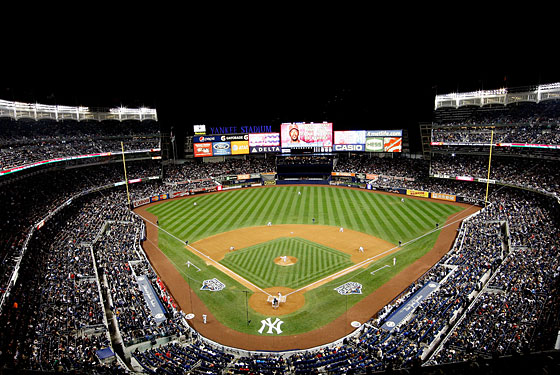 New Yankee Stadium does, in fact, get loud. The noise during Derek Jeter's chase for the team's hit record was epic and staggering. When it's alive and rollicking, it's actually louder than the old place. But it hasn't been alive and rollicking that much this postseason, and it definitely hasn't been so this World Series. Sorry, Yankees fans, but the maniacs at Citizens Bank Park have kicked your ass.
There are many theories as to why this has been the case so far: More affluent, bandwagon fans are sitting on their hands and leaving early. Everyone was miserable during Game 1 and nervous during Game 2. The new place doesn't feel appropriately postseason-electric yet. People in Philadelphia are insane and probably setting something on fire this very second.
Whatever the reasons, the time to reverse this is now. The Yankees have a chance to win their 27th World Championship tonight, and they can do it in front of their own fans for the first time since 1999. (The last World Series they won was clinched at Shea. Yuck.) The new Stadium, and its fans, need to rise to the occasion. Many accusations have been leveled at the new place — all of which are pretty much true and devastatingly detailed here — but this time of year, the only one that matters is that it's quiet and mannered in there. This cannot stand.
We'll be at the game tonight — follow us on Twitter, where we'll update occasionally if we're able to feel our fingers — and we'll have a post up after the game. If the Yankees win, we'll have several. The Yankees can win the World Series tonight. (Again.) Probably worth paying attention to.