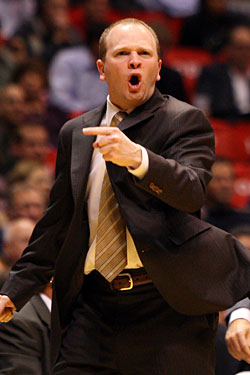 In November of 2004, I found myself eating a cheeseburger at the New Jersey Nets' practice facility in East Rutherford with coach Lawrence Frank. He was prepping his chronically depleted team for their season opener against the Shaq-led Miami Heat. It was election night, and eventually he clicked from game tape to CNN. Frank watched for a minute and then had a question. "Now the Electoral College, what's that all about?" he asked in his always-raspy voice. He was serious. After a brief civics lesson, Frank wrinkled his brow and stood up to stretch. "Man, that's screwed up. Do they vote tonight?"
Now Frank has all the time in the world to catch up on electoral politics. The Nets fired him yesterday. His Nets tenure had an improbable symmetry: Frank began with a thirteen-game winning streak and ended with a sixteen-game losing streak. Another one-in-a-million distinction: He was an actual Nets fan, having grown up an exit away in Teaneck. When he was hired in 2004, Frank was 33, had never been a head coach, and had never played even high-school ball. This angered the basketball gods. On the day Frank was hired, Charles Barkley pronounced, "I have never heard of Lawrence Frank." Larry Brown carped about Frank's quick rise through the coaching ranks, chiding Nets management for sending the message that "'Look, anybody can coach.' They're really, basically saying that."
Brown, as usual, was exactly wrong. Like the Moneyball nerds studying WARP in their spare time at college, Frank spent his entire life preparing to be a coach. He went to Indiana University with the sole hope that Bobby Knight would select him to be a student manager; Frank was chosen and spent four years in Bloomington picking up towels, breaking down tape, and wiping Knight's spittle off his sweater. He then worked twenty-hour days as a college assistant, an NBA scout, and, finally, as a Nets assistant. All of it came at a cost: He told me in all seriousness he wouldn't have had time to court his wife, Susan, if not for the 1999 lockout. He saw his children very little during the season, leading one of his daughters to ask, "Why is Dad stuck on the television?"
As Nets coach, Frank endured superstar carping — Jason Kidd, Alonzo Mourning, and Vince Carter all moped their way out of the New Jersey swamp — and a franchise chronically mooning over its dream move to Big Rock Candy Mountain, a.k.a. Brooklyn. The move never actually happened, and crowds grew so small there was talk of moving the franchise to Newark. That's always a bad sign.
"In coaching, there's winning and there's misery," Frank told me. With the Nets, he experienced more of the latter as the team descended to comic-book ridiculousness: The owner trades away every single one of the team's marquee players and then sells the team to the Russians. (The deal isn't official yet.) Frank's worldview might have been small, but his rise through the ranks instilled a humanity rarely seen in professional sports. He never publicly called out his players or bemoaned his fate as head coach of one of the NBA's historically anemic organizations.
Not long after that election night, I visited with Frank at his Englewood, New Jersey, home. After dinner, I headed out into the remnants of a hurricane to make the drive back to New York. Frank looked at the sideways-falling rain and insisted on leading me to the George Washington Bridge in his car. "It's complicated, and there could be trees down," explained Frank with a tired smile. By the time I reached home, he had left three messages wondering if I was safe. It's hard to imagine Larry Brown doing that.