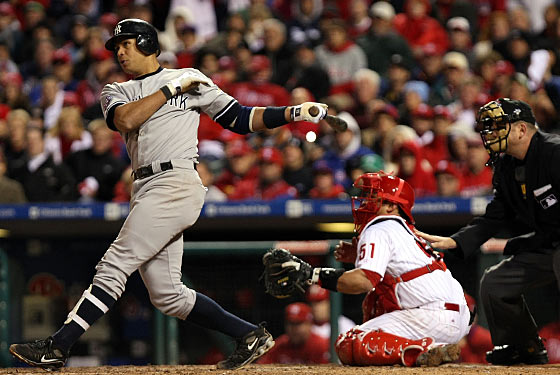 He might be a centaur, he might be as socially awkward as ever, he might be — as Pete Abraham hilariously put it — ridden by Wade Boggs around Citizens Bank Park tomorrow night if the Yankees clinch, but no one will ever, ever accuse Alex Rodriguez of not being clutch again. It's almost a shame: What will we all talk about now?
When Alex Rodriguez retires — and he has many years to go, obviously — with his Hall of Fame credentials and home run titles and whatever other history he has made, they'll show his super-massive-holy-crap clutch hit in the ninth inning off poor, atrophied Brad Lidge first, and they could probably just show only that. A-Rod is one of the greatest players in baseball history, but he's never seemed like it outside of his statistics, because of his lack of moments like last night's. Now he has won in the World Series. And he's one game away from a championship, something Ted Williams and Barry Bonds, two of his few comparables, never achieved.
History won't remember that Brad Lidge, panicked about throwing a slider past catcher Carlos Ruiz after Johnny Damon's incredibly cool swipe of second and third base, threw A-Rod the fattest of all possible fat fastballs. (Fast, straight and up in the happy zone: Rodriguez probably could have singled Damon home if he'd had the bat upside down.) All that will matter is Alex Rodriguez has his signature moment. He has his Legend Comes Up Huge In October (or November, anyway) Highlight. Lidge is making a habit out of handing those to legends.
Now, this series isn't as capital-O over as it seems at this second. The Yankees still have to face the wizard Cliff Lee on Monday night, and if Lee can beat a short-rest A.J. Burnett, the Yankees will be relying on the shaky prospect of a short-rest Andy Pettitte to avoid a teeth-clenching Game 7. In the World Series — as was proven tonight — circumstances can change in a minute, in a pitch, in a night, in a crazy Johnny Damon smart-guy play. Nothing is won yet.
Still: Ask Philadelphia fans if they think their team can come back right now, after that devastating loss. It's not time to reserve the Canyon of Heroes just yet. But it's close. It's so, so close now.